This week, Transgender Law Center teamed up with the San Francisco LGBT Community Center and the Transgender Economic Empowerment Initiative to condemn the promotions for the forthcoming ABC television show Work It, set to premiere Jan. 3.
According to ABC, Work It is about "two unrepentant guy's guys who, unable to find work, dress as women to get jobs as pharmaceutical reps. ... They've learned the hard way that the current recession is more of a 'man-cession' and their skills aren't in high demand."
People have asked me why we would make a fuss over a comedic television show, and others have worried that speaking out would only give the show higher ratings. Some folks have said to me, "Oh, lighten up." We owe it to our constituents to speak out anywhere we see an injustice, no matter how big or how small. This show will be seen by millions of viewers nationwide, and the icky promotions are already in full swing.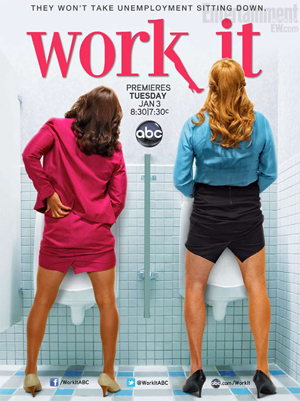 One advertisement shows the two main characters in drag, standing at urinals. I believe that images like these only make it more difficult for transgender people to gain full equality -- including the important right to access public accommodations appropriate to their gender identity.
These advertisements uphold the same rigid gender norms that have been used to keep all of us from safely expressing our authentic selves. To be frank, any man who has been called a sissy and any woman who has felt pressure to be hyperfeminine is impacted when pop culture promotes rigid gender norms.
Contrary to the absurd premise of this show, that it is easier for people who present as women to get a job, women continue to face high rates of workplace discrimination and get paid less than men. Furthermore, transgender and gender non-conforming people face extraordinary levels of violence and discrimination in their communities and the workplace.
Recent reports show that transgender people encounter especially high rates of discrimination.
The report "Injustice at Every Turn," published this year by the National Center for Transgender Equality and The Task Force, showed that compared to the general population, transgender people face:
Double the rates of unemployment
A strong correlation between job lost due to bias and other ruinous consequences, such as four times the rate of homelessness
Four times the likelihood of a household income of less than $10,000 a year compared to the general population
We know ABC can do better because they've celebrated positive portrayals of LGBT people and people who transgress societal gender norms on past shows, from the young boy on Ugly Betty to Chaz Bono on Dancing with the Stars. Let's hope they have a change of heart. In the meantime, we'll be fighting for full equality.
Related
Popular in the Community