The notion of 'Having It All' has been with us since the early days of the women's movement. It was maddening to us at Ms. magazine to see how the empowering-sounding phrase was used against us by the individuals and institutions that had a vested interest in the status quo. By highlighting the impossibility of having it all professionally and personally, the question distracted from the real issue -- that women are entitled to have equal access to it all.
Since then, the phrase has become a synonym for the elusiveness of "family-work balance." While articles like Anne Marie Slaughter's 2012 bombshell: "Why Women Still Can't Have It All" set the controversy off for a new generation, the underlying issue hasn't changed: the system is still rigged against finding that balance--for both women and men. In researching my new e-book Can Men Have It All? I unearthed some fascinating research that may help illuminate the problem and lead to real solutions for American families.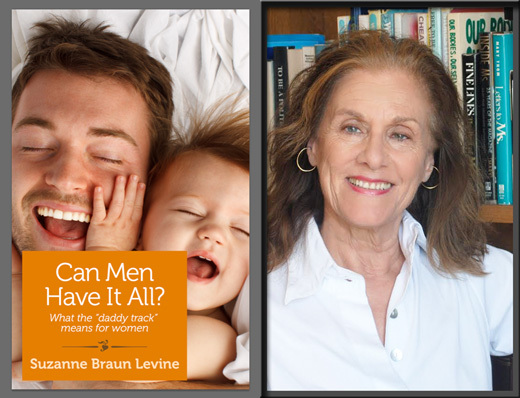 *First of all, according to a Work and Families Institute study men are indeed beginning to suffer from the same kind of unrealistic expectations that women know so well; the study calls it "the new male mystique." The having-it-all model of masculinity is turning out to be as stressful as the Master of the Universe model was 20 years ago. The study concludes that fathers in duel-earner couples now feel even more work-life conflict than mothers. What's more, a 2013 Pew Research Center poll reported that 46 percent of fathers said they were spending too little time with their kids, compared with 23 percent of mothers.

*Another study -- in the June 2013 Journal of Social Issues "The Flexibility Stigma" found that care-giving fathers were teased and mistreated at work far more often than fathers in a traditional setup or men without children. Men who took time off to be with their children faced worse consequences -- in terms of ratings, pay, and promotions -- than women who did so.

Like their female colleagues, a man who commits himself to greater participation in home life is taking on a second job, one that brings with it a higher degree of frustration and lower level of status than the one he is paid for.
An orthopedic surgeon I spoke to hadn't expected the dramatic differences he discovered between his two jobs. "I read an article about how women were escaping to the workplace because they didn't want to be home with the kids. It's been like that for men for years and years, and suddenly it's like that for women, too. I can see why. Work is a totally controlled environment--there aren't so many variables. When you talk about a 19-month-old child. It's nothing but variables. When I take a week off like I did last week with the boys, I love it. But it's hard work." And chaos is only the half of it. The never-ending "To Do" list that women live with every hour of every day is totally unknown territory to men like the good doctor.

A useful analogy to the way men and women approach family life can be found in how they drive home from work. Statisticians for American Demographics magazine tried to categorize a typical end-of-day ride for an average working woman. It could "count as a commute," they speculated, "but perhaps a school trip as well -- and it could also be two shopping trips, if she stops to pick up dry cleaning and shop for dinner." A man's commute is much easier to track; it's "more likely to be a simple point-to-point journey." What that mean, the report explains, "is that women on their way to or from work are more likely than men to be thinking about buying things and taking care of other people."

To their credit, men are doing more housework, as well as more child-care, than they used to do. Every year a few minutes are added to the average number of hours men spend doing chores (it is up to 9.8 hours per week in 2011 from 4.4 hours in 1965, according to the Pew Research Center). For the most part those minutes come off the number of hours that women are doing (down to 17.8 hours per week in 2011, from 32 hours a week in 1965).

All the shared housework in the world won't resolve the larger issue -- that the society we live in talks the sentimental talk of domesticity but barely walks the walk in terms of supporting families. Unlike other industrialized nations, for example, we are the only one that does not offer government supported child care. And fathers are not included in many benefits for new parents.

Josh Levs, a CNN reporter, ran into this blind spot and decided to do something about it. Ironically, he works for a company, Time Warner, that has a generous policy by current standards: birth mothers are entitled to 10 weeks of paid leave. So are men and women who adopt or have a child through a surrogate. "Biological fathers, on the other hand, receive only two paid weeks," reported Tara Siegel Bernard in the New York Times.
Levs claims that the policy discriminates against fathers, and he points to the same legislation, Title VII of the Civil Rights Act of 1964, which prohibits employment based on sex, that women used to confront other workplace injustices in the '70s. He is what Joan C. Williams, founding director of the Center for Work-Life Law (at the University of California, Hastings), calls a "new work-life pioneer." These are "young egalitarian men" who are "acting in ways that mothers have always acted: 'I have family responsibilities that aren't going away, and either you accommodate them or there is going to be a fight against it.'"
Boston College's Center for Work & Family study identifies a major trend here: "In homes across the country, fathers are launching a quiet revolution...While the changing face of fatherhood has its seeds in the shifting and uncertain economic fate of men, it is equally born of a new, growing spirit of determination among young men to fully embrace their roles as fathers."
A community of "pioneers" is gathering at The Good Men Project web site, where discussions of family and gender issues offer "a glimpse of what enlightened masculinity might look like in the the 21st century."
When men's complaints are presented, not as the whines of disgruntled dads who want to have it all, but as a rallying cry to expand human options and make life better for families, you have the potential for an agenda that is both personal and political. Stewart Friedman, a Wharton Business School professor, has a program and a best-selling book called Total Leadership that promises to help people integrate "work, or family, or community, or self (mind, body, and spirit)." His message is that leadership in business cannot be just about business any longer. The fact that many companies are working with Friedman to change their corporate culture is especially promising.

Also promising is the prospect of banishing the troublesome phrase altogether. In an opinion piece, "'Having it all' is so 1980s" in the Christian Science Monitor activists Courtney E. Martin and John Cary argue that the issue is not how to have it all but how to have enough. What matters to them are "core joys: family and friends around us, careers aimed at making the world a better place, as well as a lot of flexibility, and enough money to live without insecurity, but not so much that it becomes a focus of our days." That sounds a lot more satisfying than chasing the impossible dream.
PHOTO GALLERY
The Seven Myths Of Middle Age
Calling all HuffPost superfans!
Sign up for membership to become a founding member and help shape HuffPost's next chapter