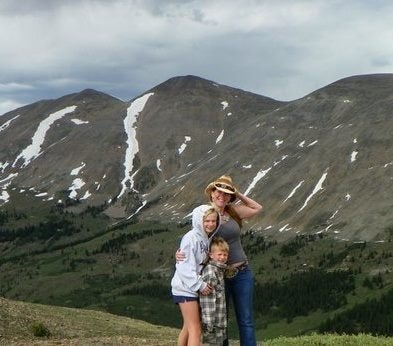 Several years ago, my life was the picture of success.
I had a high-level executive position in a wealth management office in Philadelphia. I lived outside of the city, in the affluent suburb where I had been raised.
Every day, I woke up in the dark, roused my two young children and began my morning routine: get out the door by 6 a.m., drop both children off at their private school and race like mad to catch the train.
Most of my memories from those years revolve around work. I felt very proud of my expensive old Victorian home, my two nice cars, my career. I'd worked from the bottom up in the investment world, starting just two weeks out of high school. I'd fought the male-dominated industry, triumphed over not having a college degree and balanced having a demanding career and a family (or so I thought).
My Life Until Then
Yet, I'd known that something was off-kilter in my life for a while. My marriage was falling apart after ten years and my career required me to be "on" all the time. I came home late and took calls at midnight with international clients. I was buried under files and my laptop. I knew my kids were not getting the kind of attention I envisioned giving them, but someone had to pay for this life that we lived.
Sadly, I realized they were the ones paying for it. I was only funding it.
This wasn't the way I wanted to raise kids. Although I didn't want to be a stay-at-home mom, I tried for so long to be Superwoman. At a certain point, I realized I was a version of Superwoman, but my priorities were off. I focused on giving my kids material things, some of which were causing our growing credit card debt. My husband and I ended up accruing at least $25,000 in credit card debt, some of which he brought into our marriage and some of which we accrued together.
Yet, despite the long hours and credit card bills, the bigger sense I wanted to give my kids was an appreciation for material things because they represent security and gratitude.
The Day That Changed Everything
One day when my son was 3 years old, I was sitting on the train after a long day at work. My husband (a carpenter whose day ended at 3 p.m.) sent me a text message: "Meet me at the ER. Zachary had an accident." I reread it several times. I called his cell; it was off because he was in a hospital. I'd never felt as helpless as when I silently pleaded with the train conductor to blow through every stop before mine.
I lambasted myself on that half-hour ride and continued to do so while racing to the hospital. What kind of mother couldn't be there quickly when her son had an accident? How bad was it? Was he calling for me? Would he make it? I had no idea how bad his accident had been, but I imagined the worst. It remains the longest hour of my life.
What Had Happened
When I got to the hospital, they ushered me back to where my son sat, his face covered in blood -- yet smiling. I could barely stand. I clutched the bed while tears ran down my face. His runaway Big Wheel had driven him directly into a picnic bench, leading to eight big stitches on a very little 3-year-old face.
It took me a long time before I could talk, not to mention let him go. I couldn't figure out why he looked confused and concerned, my daughter looked panicky and my husband had no idea why I was so upset. But then I had the sad realization that my son hadn't expected me to be there at all. After years of experience, he'd learned that Mommy wouldn't come.
The day after, I returned to the office and told my colleagues what happened. Though they listened, they couldn't understand why I was so upset over a few stitches under my son's eye. This motherly, emotional side of me wasn't one they were used to, and it made them uncomfortable.
I took off work for several weeks, traveling with my parents, kids and niece. We went west to Wyoming, where some of our family lives. I saw a different pace there, in which people slowed down, spoke to one another and enjoyed life. On my way out of Wyoming, I glanced at the rearview mirror and saw the blazing sun lowering over high mountain peaks. I knew that when I returned, something would have to change.
How I Changed My Life to Better Suit Me
It took me about a year after returning from the Wyoming trip, but finally I resigned from the high-stress, fancy job. I haven't looked back.
I learned to budget and left my materialistic side behind, donating piles of shoes and clothes to women's shelters. I contacted a debt consolidation company, which took over all of our debt and negotiated with our creditors to set a realistic payoff of $25,000. It was a 5-year plan, but I scrimped and saved and paid it off much faster than I otherwise would have.
My next step toward changing my life for the better was to ask for a divorce, but I didn't want to do so with debt hanging over my head. When my marriage ended, I was glad to have nothing to divide but the house.
It's been a few years, and my life looks radically different. I couldn't be happier. I work full-time from home doing sales for a fantastic company. I spend each morning with my kids, putting them on the bus and walking them home in the afternoon, making them dinner and doing homework. I live within my means in a cottage in the woods of Bucks County, Pennsylvania.
These days, I spend my time gardening or writing versus blowing money and schmoozing. I ventured into online dating (yikes!) and found someone who loves to travel and live like I do. Together, we take our three kids on all kinds of adventures in our RV.
This past summer, we returned to Wyoming. Looking out over the plains and mountains, I was thankful that I had listened to my heart. Because now, a few short years later, it is full and singing.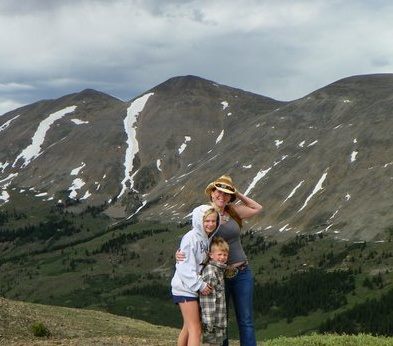 Love reading other people's financial tales? Check out more great LearnVest-exclusive personal stories.
Michelle Wire is a writer, single mom and reformed executive from Bucks County, PA. She is the author of Dust and Wanderlust and is in the process of finishing her first novel. She spends the warm months living out of her travel trailer while exploring the country with her family.
LearnVest's free Money Center will help you create a budget. Our free bootcamps will help you take control of your money, cut your costs or get out of debt. And our premium financial plans--managed by LearnVest Certified Financial Planners--can help you chart a course for the future you want.