 Every Thursday, ARTINFO reviews the carnage and glory of the previous night's episode of Bravo's art-world reality show Work of Art. (Be sure to visit ARTINFO each Friday for an interview with the participant(s) voted off the show.)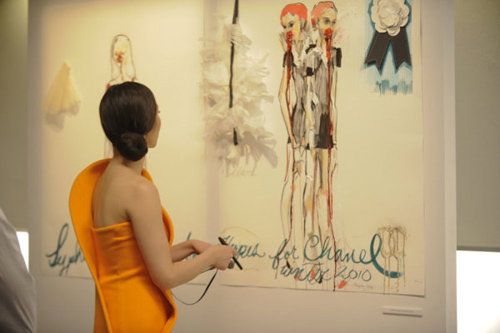 Credit: Bravo TV
ARTINFO has a wedding to get to in a few hours, so forgoing the usual format of this recap, we will offer notes on the show in real-ish time (read: as the show downloads on the Hyatt Regency Newport Beach's incomprehensibly slow wi-fi). If ARTINFO misses anything, it is because we got stuck in a "blush"-colored bridesmaid's dress and fell over, briefly knocking ourselves out on the edge of the bathtub.
1. The scene-setting shots that start off this episode seem to sum it all up: Jaclyn Santos does crunches even though you could bounce Simon de Pury off her abs. Nao Bustamante is inexplicably wearing a plastic bag on her head. She is not outside in the rain; she is in the living room. Miles Mendenhall is approaching full-fledged sainthood, offering to help a nervous John Parot choose an outfit while simultaneously making him coffee and doing the dishes.
2. Speaking of Miles, the show's heartthrob says he's sleeping better now that Judith Braun is gone, but he still looks like a vampire that hasn't slept since 1742. That's OK. ARTINFO is hip to this newfangled undead fad.
3. When the gang is herded to Simon de Pury's gallery, the artists are given the opportunity to try to pronounce his name. Sy Man Da Poorie? Jamie Lynn Henderson points out that "Phillips de Pury is a renowned auction house. You see advertisements for it all over." Translation, Jamie Lynn views Phillips de Pury as the Doctor Zizmor or the "Dan Smith will teach you guitar" of the art world.
4. Ratings must need a boost because Bravo brought on artist Andres Serrano to say the word "sh**" a lot to introduce this week's challenge: "create a shocking piece of art." Life, art, politics -- it's all the same sh**. But in a way I was saying everything is relative, and people in general always think that their sh** is the best sh**, so I would just say if you want to see some real sh**, come check out my sh**, because I know I have the best shit in town. China Chow, wearing a very odd skirt, looks like a cupcake. She demurely giggles every time Serrano says sh**. She looks like a cupcake that has never heard the word sh** before. And then Simon de Pury intones, "I hope to see some good sh**," making the curse word sound like a fine cheese that pairs well with an aged nose-thumbing chutney.
5. Erik Johnson takes on theology, saying of the Bible, "Wow, that's old." And then, "I read a statistic once that said there were more Catholic priests living with AIDS than there were everyone else." While ARTINFO can't always make sense of all of those wacky statistics out there in the world, this seems incorrect. And now ARTINFO is afraid that while standing on the altar today, the hand of God may strike us down for having printed this. God, please smite Erik instead.
6. Just noticed that Peregrine Honig has been wearing a silver-sequined bunny suit for the entire episode -- which makes her comment to Nicole Nadeau, that the latter's wax thumbs "look like little kid dicks or something weird" -- all the creepier. Also, the artists seem to be behaving in more and more shocking ways throughout the episode, not reserving their sexual puns and lewd stories for their pieces, but rather going loopy in the studio and saying things that would make China Chow Cupcake blush. Meta-realization #321: each episode is the challenge, and ultimately the work of art. Making us all the next great artist. Everyone is Gossip Girl. Kristen Bell is Gossip Girl. Jerry Saltz is Gossip Girl. Simon de Pury is a work of art.
7. Jaclyn is at it (naked) again. "I want to make it seem like the girl in the picture is not aware of composition or formal elements," she says of photographs of herself in various states of belly-button-ring-baring undress. Check. "I think they're gorgeous to look at and certainly give you a rush of blood, to put it mildly," says the cheekily smirking Simon de Pury. Oh, come on.
8. Things are starting to be blurred out. As in, dirty things. As in, John's fancifully illustrated autofellatio image. (He says of de Pury's reaction to this work, "I think autofellatio kind of scares him." Ha!) Let's hope there's never a challenge where Bravo has to show ancient Greek statuary or anything vulgar like that. Cover up, Venus de Milo, there could be children watching this show!
9. Miles just went into the bathroom with his drawing. And then he, you know, ehem, does something on it. If that's not clear, interpret this: "The piece is about the first erection that I ever had and the only way to finish the piece is to mark it with the last erection that I've ever had." And then you see him blow-drying the paper. Ew!
10. In that recurring mid-commercial interstitial segment in which Simon de Pury says weird things, the auctioneer confesses that he had his first erection "because of Renoir." That makes sense, he explains to Miles (whose first erection was Disney-inspired) "because I'm much older than you." Simon de Pury is an even older vampire!
11. Actor Steve Coogan offers Nicole criticism at the "gallery opening." Steve Coogan, what are you doing on Bravo?
12. John misspelled fellatio. Oh dear.
13. Abdi Farah wins for what look like spooky candles you would buy at Hot Topic to make your mom think that you're tough, although his discussion of his piece's meaning was, for the most part, eloquent -- except for his overuse of the word "thusly."
14. Bravo just aired this message for the bajillionth time this episode: "The following program may contain material that is unsuitable for young viewers. Parental discretion is advised." Thanks, N.W.A.
15. John and Nao are kicked off. But we don't feel so bad because he will be a successful designer and probably got more out of the show than the person who will win the grand prize (his book cover was published by Penguin). And Nao is already an artist, like Trong and Judith before her, so she can go back to the real world and make art. Bravo's going to have to try harder to shock us.
Popular in the Community