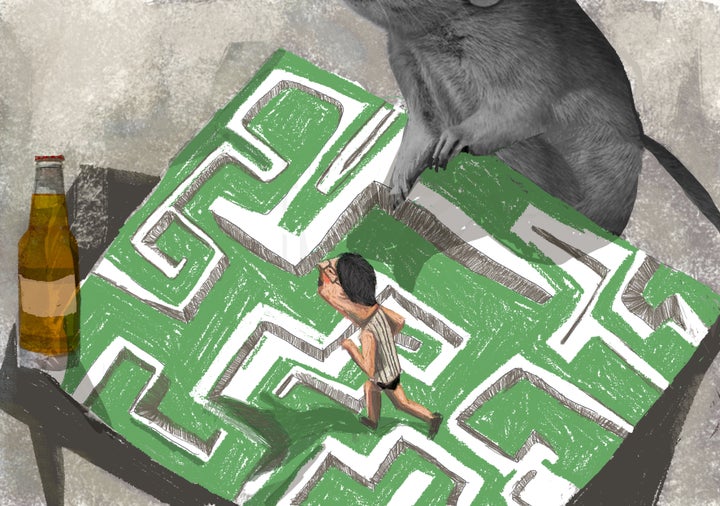 This story is part of a 10-piece series for which HuffPost staffers agreed to experiment with improving their health and decreasing their stress on the job. It's also part of our monthlong "Work Well" initiative focusing on thriving in the workplace.
Don't get me wrong, I love the energized feeling I have after a workout, and I love how my body looks when I hit the gym on the regular. But I loathe running -- I'm a grown man, not a damn gerbil. Lifting is fine until I realize I'm struggling on a puny 25-pound free weight. Abdominal workouts make me wish I never had a sip of beer in my life. And it's all so freaking time consuming.
Yet exercise, like eating well and sleeping, is so good for you. Even low levels of physical activity can extend life expectancy by several years, studies have found. And working out in the middle of the day has been shown to boost energy and focus.
So when my colleagues and I decided to take on a wellness challenge at work, I jumped at the chance to use time out of my workday to burn some calories. Last time I was in a phase of exercising religiously -- a five-month period about a year and half ago -- I would occasionally go for a short run on the treadmills in the office gym. I felt great afterward.
I figured I'd try to replicate that past success. But this time around, it didn't go as smoothly. My schedule was just too busy, and making time to exercise became a new source of stress -- it even interfered with my work.
RULES
1. Have a proper workout of at least 30 minutes for five workdays.
2. The workout must occur between noon and 4 p.m. -- that is, during work hours.
3. Change into gym clothes and actually break a sweat. No rinky-dink jumping jacks in the bathroom before a meeting.
PREDICTIONS
I expected that this would reduce my stress -- not add to it. Running, despite how arduous it can seem to me, usually helps me feel calm and centered. There's a gym in my office, and I have weights at home -- so, regardless of where I was working, it shouldn't have been too difficult to pause for a workout. I also imagined this would encourage me to eat more healthfully during the day and improve my focus during the afternoon slump.
DAILY DIARY
Day 1
The first day went swimmingly. I set aside exactly one hour -- 15 minutes to change and warm up in the office gym, 30 to exercise and another 15 to shower and get back to my desk. I felt rejuvenated after my 20-minute run. The 10 minutes I spent on abs ultimately deterred me from getting a beer after work, for fear of messing up the *tremendous* progress I made on my six pack.
Day 3

Once the novelty wore off, things took a turn for the worse. It got more difficult by the third day. It became a chore. I began to regret taking on this challenge in the middle of December, when I was scrambling to finish my year-end work and was extra-stressed over buying holiday gifts while still being able to pay my electricity bill. This was a horrible time to experiment with a new routine.
Day 5
I couldn't even find time to eat lunch, let alone work out. So I didn't do it. I'm a failure.
KEY TAKEAWAYS
After a week of exercising midday, I realized this is not for me. My body and mind felt wonderful, for the most part. But I realized that, unless you're an all-powerful chief executive, or someone with no actual responsibilities, finding time to lace up sneakers, break a sweat and shower afterward is a stressful chore in and of itself.
But it wasn't all in my head: I missed a deadline or two because I was jogging. That's not cool.
WHAT'S NEXT
I hope, like everyone else this January, to keep exercising regularly. But it won't be in the middle of the day. The only time I'll do that is if I have a really open schedule or I'm under such severe stress that I need relief. Otherwise, I'm going back to working out after I'm done, you know, working.