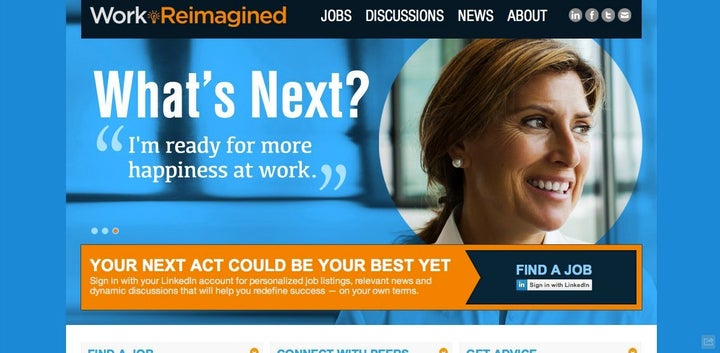 AARP today announced the launch of Work Reimagined, a social networking site powered by LinkedIn that connects post 50 professionals on the hunt with employers seeking experienced workers, and with their peers.

Work Reimagined will offer access to openings with the nearly 120 employers "who have taken the Work Reimagined pledge, publicly committing to treat all employees equally regardless of age," according to an AARP press release. They include more than two dozen employers. At its launch, the site listed more than 2,600 openings at AT&T and just two available slots at Dollar General. Other employers listing immediate openings include tech firms such as Google, retailers such as Toys R Us and Lowe's and insurance firms including United HealthCare and New York Life.
The site includes editorial content focused on post 50 workers, including news and advice from authors such as Penelope Trunk (who in her book "The Brazen Careerist" famously suggested workers ignore sexual harassment and take long lunches.)

Work Reimagined is part of an array of efforts to address employment challenges facing post 50 workers. While the jobless rate for older workers is lower than that of the population as a whole -- 6.2 percent in June -- the situation is grim for the long-term unemployed. Post 50s who were unemployed in June had been seeking work for an average of 55.6 weeks, and they make up nearly 53 percent of the long-term unemployed.
"A worker between ages 50 and 61 who has been unemployed for 17 months has only about a 9 percent chance of finding a new job in the next three months. A worker who is 62 or older and in the same situation has only about a 6 percent chance. As unemployment increases in duration, these slim chances drop steadily."
Meanwhile, workers are increasingly changing careers to find work, according to a new study by the Federal Reserve Bank of San Francisco. Researcher Bart Hobijn found that from 2005 to 2011, the majority of job openings in all industries and occupations were filled by people who previously did not work in that industry or job.

For-profit ventures smell an opportunity. For example, Empowered UCLA Extension, based in Campbell, CA, has teamed up with instructors from the University of California Los Angeles Extension Program to offer courses on the Apple iPad. It launches this fall and offers 10 certificate programs in fields that the Bureau of Labor Statistics predicts will have the greatest job growth, including healthcare, IT, project management and sustainability.
"A lot of boomers can't stop what they're doing and go back to school full-time," said Steve Poizner, the program's CEO. "We designed a program of professional education that takes between 10-15 hours per week that can be done at [their convenience]. "It's about helping boomers stay economically viable," Poizner continued. "It's really critical...the country can't afford to have boomers struggling economically."
Empowered instructors are available via video chat and IM and the program offers one-on-one career guidance and coaching from professional career counselors and recruiters. It's aimed at professionals who already have a college degree and work experience (Actress Geena Davis has been touting the program in commercials.) But the tuition for fall 2012 is a hefty $9,800 -- and that's a discount off the regular price of $12,800.

(Anthonia Akitunde contributed to this report.)
PHOTO GALLERY
6 Things You Should Never Wear To A Job Interview
REAL LIFE. REAL NEWS. REAL VOICES.
Help us tell more of the stories that matter from voices that too often remain unheard.