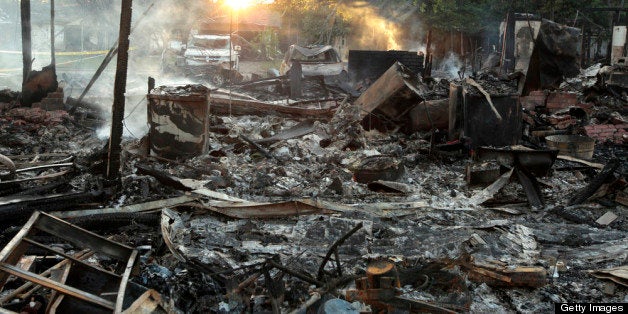 More than 100 people in the United States die every day as a result of their work, according to a new report from the AFL-CIO.
The union found that about 4,693 workers were killed on the job in 2011, and the Bureau of Labor Statistics estimates 50,000 workers per year die from work-related diseases. Combine those numbers and you get about 150 work-related deaths per day, the AFL-CIO report found.
To put that number in comparative terms: Americans are 271 times more likely to die from a workplace accident than from a terrorist attack, according to an op-ed last month from Mike Elk, a labor reporter for In These Times.
The recent industrial disasters in West, Texas, and across the globe in Bangladesh have brought the issue of workplace safety into sharp focus. The fertilizer plant explosion in Texas killed 15 and injured hundreds, while the collapse of a garment factory in Bangladesh last month claimed the lives of more than 700.
In the case of the West plant explosion, regulators missed potential hazards in the lead-up to the blast, indicating that both the government and the company could have done more to protect workers.
The AFL-CIO report noted that the agency charged with monitoring workplace safety in the U.S., the Occupational Safety and Health Administration, is chronically understaffed. At current staffing levels, OSHA could check the country's 8 million workplaces once every 113 years, according to the report.
And in the U.S., workplaces may be even more dangerous than the government indicates. About 3.8 million Americans suffer from work-related injuries and diseases each year, according to government reports, but experts estimate that number may be closer to 11 million due to underreporting, according to the AFL-CIO.
In North Carolina, for example, the state's department of labor releases an annual report that includes only the number of workplace fatalities the state has the authority to investigate. But the number of workplace deaths is much higher than the state report indicates, according to a recent study from the National Council on Occupational Safety and Health.
Calling all HuffPost superfans!
Sign up for membership to become a founding member and help shape HuffPost's next chapter
BEFORE YOU GO
PHOTO GALLERY
Americas Deadliest Jobs 2012