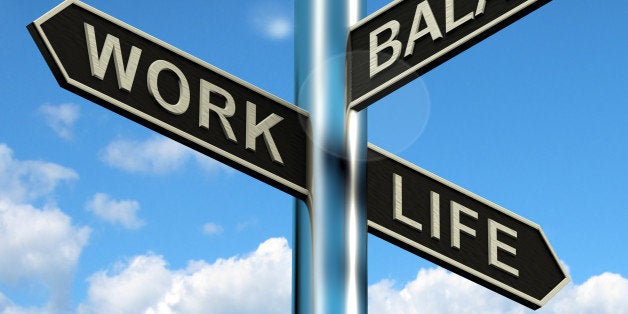 When I speak to my son and his friends who are entering the workforce, I give simple advice: Do something you love. And don't work for assholes.
Sounds easy enough, doesn't it? But it has taken me a lifetime of trial and error to figure out how to make it happen. I've had jobs I really liked, with bosses I hated, and vice versa. I've also stayed in jobs longer than I should have, for reasons ranging from misplaced loyalties to inertia to financial security. Money talks and some jobs simply pay well enough to make you listen.
Of course, the older you get the more you don't want to work for just a paycheck. Now, I'm not suggesting that money isn't important. These days, many people feel lucky to have a job at all. But feeling passionate about work, contributing to the greater good and being appreciated for what you do is a winning combination. It takes work and some risk to make it happen, but it's worth the effort.
I've tried to convey that message to my children and other young adults, because I think it's important to have the end goal in sight as you move through the trial and error of balancing work and the rest of your life.
My mom has been a good role model. She changed careers in her early fifties, from a high school English teacher to a psychotherapist, in an era when most women were not working outside the home. At 83, she still has a thriving professional life. She could retire, but she loves her work more than she loves any notion of leisure.
As a social worker, I took on many roles over the years. I worked in hospitals, home care agencies, schools and businesses. Like many boomers, I juggled work with raising kids and helping to care for my dad who has dementia. There were times when I felt totally overwhelmed and wanted to get off the treadmill. Sometimes I felt like a jack of all trades and a master of none. When I finally decided that I was going to make choices based on what I loved doing (like designing programs that help family caregivers) and what I didn't like doing (spreadsheets and budgets), the choices seemed more clear.
I am fortunate. I work in a growing, dynamic company where I can pursue my passion and have a positive impact on people's lives. I work with great people. But through my line of work I also come in contact with many folks who feel stuck. I hear their stories and see that their spirits are depleted. I work to help them solve problems related to senior relatives who need assistance but I also wish I could help them get out of their job ruts. Yet how do you get un-stuck when you have mouths to feed and a mortgage to pay? What is the cost of following your bliss at midlife?
The path toward a lifetime of rewarding work, and away from drudgery and inertia, ideally should begin early in life. My mother took a huge leap of faith in changing careers at 50-something. Many people don't have the opportunity or strength to reinvent themselves at that age. I look at my son and his generation with great hope, thinking if we explain (and they believe) that work will take up most of their waking lives from now on, they'll find the right path sooner rather than later. And the right path is really pretty simple: Do something you love. And don't work for assholes.
REAL LIFE. REAL NEWS. REAL VOICES.
Help us tell more of the stories that matter from voices that too often remain unheard.