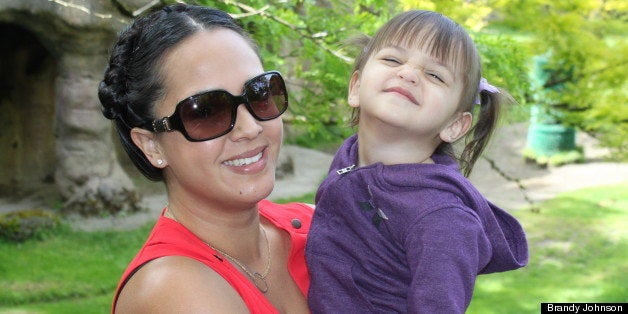 After bouncing through a few sales and ad jobs right out of college, Brandy Johnson, now 31, settled into a role she loved, helping a fast-growing advertising company land big-name accounts like Toyota and Lexus. But the late nights, long hours and strain of trying to move up the ladder wore her down, and while she was still in her 20s, she went completely bald. As part of our series of interviews with 20- and 30something women who've made bold choices in order to live with less stress, Brandy opens up about the health scare that made her rethink her path.
I got promoted within the first eight months of getting hired: I was an account manager, then an account supervisor at 26. The company was opening new offices, and it was an exciting time, but my hours were crazy. There were times when I was at the office until two in the morning. That wasn't typical, but those were the expected hours during high season -- you could just sort of forget about October, November and December. There were no limits, especially because I was single and younger. They knew I didn't have to get home for a family. And it didn't matter how late you were there, you still had to start the next day around 8:30.
I felt like maybe I had peaked too soon, so I talked to my supervisors about moving into a sales role. I wanted to make a move that wasn't lateral, and there was more opportunity in sales. I was trying to make this transition at the same time that [there was a lot of] restructuring in the company, and I wasn't able to do it. That, along with the long hours and trying to date in L.A. -- it was getting crazy.
I was in Chicago for a sales conference, and I remember being in the hotel room and seeing that my hairline looked weird. I thought maybe I was just having a bad hair day. When I got home, I had a quarter-sized hole in the back of my head. I went into panic mode. I was seeing this guy, who is now my husband, and we were spending a lot of time together, so I was like, "You need to just look at this. Am I crazy? What do you see?" Within a week, I went to the doctor who told me I have Alopecia. It's a genetic condition, but it doesn't necessarily manifest until stress triggers it.
My doctor asked if I had gone through a traumatic event recently or if anything had changed in my life. I said, "No, but it's been pretty stressful at work." I had been thinking, "If I don't get this promotion, I'm going to quit." That may not seem like a big deal, but I felt like I had helped build the company, and I thought I would be there forever. I don't know if it was the stress I'd felt struggling so hard to find the right fit at work and then the fear of leaving that made me go bald, but it was definitely a huge contributing factor.
Within a month of going to the doctor, I went to speak to my manager. I said, "Look. I don't know what needs to happen here, but I'm overwhelmed. I'm losing my hair." He didn't know how to react. He just looked kind of dumbfounded, because at that time it wasn't obvious yet. I was still able to maneuver my hair so no one could tell. Maybe they just thought it was in my head. My manager said, "I know you want to move into this new position. Are you saying you can't put those hours in to get there anymore?" Ultimately, nothing changed.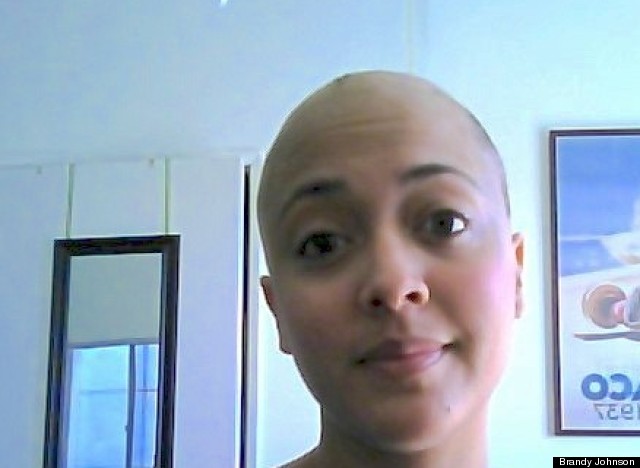 One of the few pictures Brandy has of herself bald, taken in 2010, right after she shaved her head.

I quit my job. I just resigned. It was maybe a three month timeline from me first noticing [the hair loss], to talking to managers about it, to making that decision. The whole time, my hair got worse and worse and worse. Eventually, I just grabbed the razor and shaved it all off. I had lost maybe 90 percent of my hair.
I started training for the L.A. marathon, because my doctor said that it might help improve my circulation and because I thought it might reduce stress. I was at the gym; I was meditating; I was trying to do whatever I could to get my head right, because I hadn't been taking care of myself at all. Before, I wasn't eating healthy, and I was drinking so much coffee -- it was constant. I knew when I got into work that I'd have coffee at the start of the day, the middle of the day, and to get me through the last leg. I felt exhausted all the time, but I was young, so I thought I could handle it.
Now, I'm a stay-at-home mom. I have a 2-year-old daughter. My husband and I left L.A. We decided we wanted to be in a quieter place, with a lower cost of living. Now we live in suburbia, just a few miles from some stretches of farmland. It couldn't be more different than our loft on the westside of L.A. in the heart of the city. I have moments where I miss that life, but I'm the healthiest I've ever been, the happiest I've ever been. I just feel normal again. I go to the gym with my daughter five times a week. We cook all of our meals. My husband works remotely, so we're always home with each other. We're not always stuck on the freeway or rushing to get somewhere. It feels like time is on our side.
I will have to work. I have already registered the name for a consulting business, but I will never work at an ad agency again, and I will never work for someone else. I want to be my own boss and have flexible hours, and I think the only way to do that is to create it for yourself. I have yet to meet anyone who has the balance I'm looking for, but I'm hoping I can get there. I already know what I can and cannot tolerate.
This account has been edited and condensed.
Calling all HuffPost superfans!
Sign up for membership to become a founding member and help shape HuffPost's next chapter