Can You Go From Work, to Workout, to Going Out, Effortlessly?


Follow stylist Angelina Vivace's vision of the ideal transitional outfit, proof that with some creativity and planning, one can wear the same outfit from work, to workout, to going out, effortlessly. Photos by John DeMato. Model is Lauren Coles.

My name is Lauren Coles, and I'm the founder of an office yoga company. Like many women out there, I balance work, working out, and going out. But unlike some women, I don't need to carry a suitcase to transition between these activities. Often, I'll go straight from working, to a yoga class, to an evening event. There is no way I could squeeze all these activities into one day if I had to completely change outfits. It's taken years to nail down a routine that makes the transition from one activity to the other effortless, and I'm so excited to share!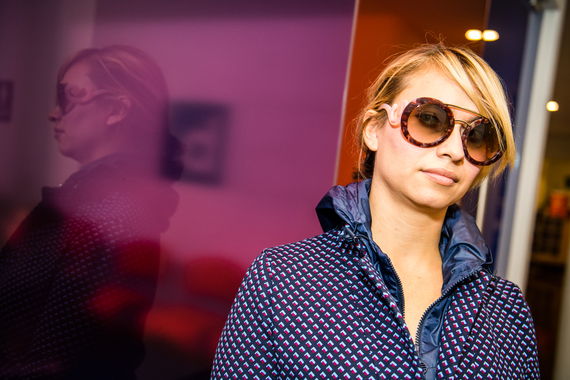 This blazer is the ideal transitional work to workout piece. It has an athletic insert that will easily help you go from office to studio, and change your look instantly.
I'm selective about my style, and must look professional--after all, I'm representing my company's brand image when I go into an office to lead a yoga class or mindfulness workshop. My business is built around the idea that it is beneficial to work life balance to workout, so I make sure to follow my own advice. And what is the point of working hard and looking fit if you can't enjoy nightlife? Like many women, sometimes it feels like I'm living a triple life: Work life, workout life, and social life.
Do you ever feel like you're carrying a suitcase to the office? You don't have to! As an entrepreneurial yoga teacher, I've discovered some tricks to help me stop having to carry so many things around. With today's transitional workout clothing brands, and a few tricks here and there, you can go from work, to work out, to going out, effortlessly.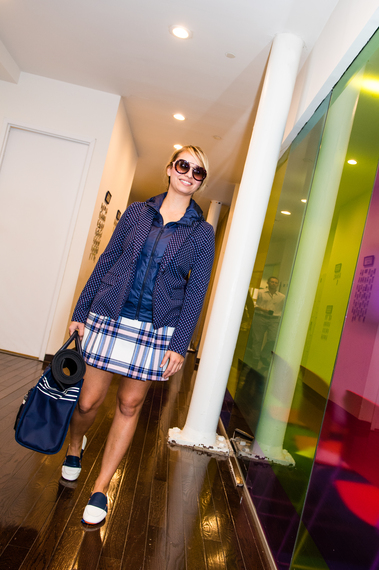 The skirt is my new favorite transitional workout piece. This skirt is made from a performance fiber that makes it possible to be functional and fashionable--there are detachable athletic shorts that make this skirt a surprisingly great piece for a slow flow yoga class.
Wear Transitional Athletic Wear

Wear clothing that can take you from work to workout. Understandably, if you know your workout is going to be a sweaty one, the outfit won't be able to carry through to going out, like ours in the photo story. In this case pack a dress or going out outfit--you'll still save space from packing one outfit instead of two! But if you are going to do a lighter workout--say Yin Yoga, a slow flow class, or another low-impact, low-sweat workout option, transitional athletic wear options (sometimes called "athleisure") can take you from one to the other, effortlessly.
Inspiring entrepreneurs Evelyn Frison and Yehua Yang describe their transitional brand, Pivotte, as low maintenance clothing for high performing women. Yang was working for an international fashion company in China, and dealing with a hectic travel and work schedule inspired her and Frison to devise a functional, professional wardrobe that was not restrictive, and could function as workout wear. Their line allows for movement, and fabrics are carefully selected.
Frison spoke about having to carry a weekender bag filled with three outfits and three pairs of shoes to accommodate her lifestyle on a normal workday. Clothes would be stuffed in the bag, and come out wrinkled. Designing Pivotte's clothing to fix a problem in her own life, Frison knew the clothing had to be wrinkle free, and and fit in with formal workwear expectations; she couldn't show up to her office wearing obviously athletic clothing. The team's focus for the line features a capsule outfit with the goal of looking professional, while still being performance-focused.
What stands out about their line is their use of Merino wool and Tencel blend. Yang explained how Merino has had a resurgence as a natural performance fabric. It is 30% lighter than cotton, dries faster, with breathability and natural odor resistance. What sets Pivotte apart from other athleisure brands is that their line is meant to look professional, and not athletic looking. They have certainly succeeded in their effort.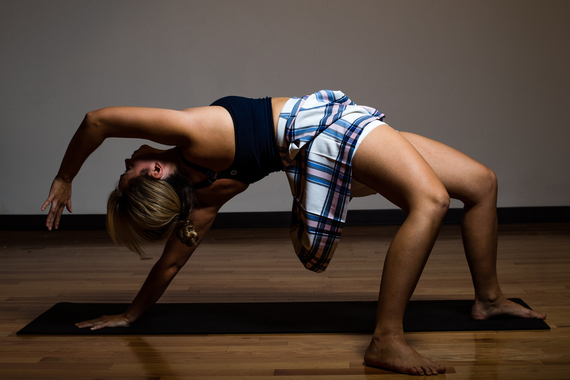 Are you brave enough to wear a skirt to yoga? This skirt is functional and fashionable. Definitely something new for the studio!
I discovered the new Tory Burch Sport line at their launch in Los Angeles this past September, and I'm enormously pleased with how the line has created luxury transitional athletic wear. Unlike many other brands that are doing the "athleisure" thing, Tory's line can seamlessly transition from workout wear to going out wear, mainly because of their creative fabric blends.
The line specializes in clothing made of performance luxury fabrics. My favorite is their Performance Cashmere, blend of cashmere and COOLMAX® EVERYDAY fibers, making sweaters breathable, extra soft and moisture wicking. Tory Sport has created options for athletic clothing that look fashionable, some not obviously sporty, and performance-focused. You can read more about their innovative textiles here.

"A little disheveled feel can make a style feel undone in a sexy way, plus the post-work out glow always helps," says Tre Wyrosdick, lead stylist at Marie Lou & D salon in New York City. When we discussed the concept of an effortless way to transition from work, to working out, to going out, Wyrosdick acknowledged that a good workout can take a toll on any hairstyle and could have more than a few women second guessing plans after a workout.
There is an easy solution. Wyrosdick notes how dry shampoos, salt sprays and curl creams can do great things for refreshing a style post workout. The trick is to put in the product before the workout happens, with the intention of the post-workout disheveled look as the style. On a day where I know I have an event in the evening, I will choose a low-sweat workout, like a slow flow yoga class, put dry shampoo at the roots of my hair before the workout, and put it up in this creative hairstyle:Put the hair in a braid, and put that braid into a bun. If you end up sweaty and need to shower, no worries--this style works from me through shower humidity, even without a shower cap! Your hair will curl when you take the braid bun out--it looks crazy at first, but trust me, when it calms down you'll have beach waves. Be sure to bring some dry shampoo in case you need that post workout.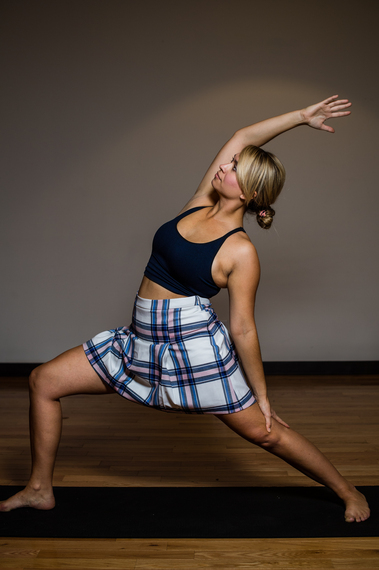 The braid bun is an ideal style if you are going out after your workout, and want a beachy, effortless look.
I am the master of the two minute shower. But sometimes, if my workout is low sweat enough, a freshening cloth is enough to get me clean enough to go out confidently after working out. I'm a fan of rose water freshening cloths by Shobha. Facial wipes are readily available at drug stores and work fine, as do some baby wipes (but be careful about smelling like you just walked in from the nursery!).
This trick comes in handy during my work day, too. I ride a bicycle office to office (thanks, Citibike!). I can't show up to a professional building looking sweaty. Just a few wipes in the right places, and I definitely feel freshened up. This is a handy tool after stressful meetings, as well!
Fashion stylist and noted expert Angelina Vivace reminds us that with any outfit, confidence is key. An easy way to transition from workout to going out is accessories, accessories, accessories.

"Play with layering. From statement necklaces, earrings or a collar that can be added (I personally love faux fur), think outside the box to jazz something up. If you layer, it is easy to take off garments for a sexier look."
Something as simple as wearing a blazer on your shoulders instead of putting your arms through the sleeves can give your outfit a sexier feel. Keep flats and a pair of emergency heels in the office if you can. If you wear an outfit you can add things to, or change shoes, and add a scarf, you can easily dress up an outfit.
Don't let your active lifestyle get in the way of your social life. Be strategic about the clothes you wear and the workout you do on a night where you want to go out. It will help your life be more effortless. Simple tricks like keeping extra shoes at your office, using dry shampoo, or creative ways of freshening up, can save you time and stress.
Wear those trouser look yoga pants to work, rock them in class post office, and change into a dress or easy to pack going out outfit after freshening up. Or wear a completely transitional outfit like the one we feature in the photos, and fearlessly go from one part of your life to the other. Let your healthy active lifestyle be a part of the best night of your life.

Items in photo story:
Tory Sport Convertible Tech Ponte Blazer: $365
Tory Sport Performance Plaid Golf Skirt: $225
Tory Sport Seamless Cami Long Bra: $75
Tory Sport Color-Block Leather Loafers: $235
Tory Sport Canvas Tote: $295
Prada Sunglasses: Vintage
Dunhill London Neck Scarf: Vintage
Furla Earrings: Vintage
Hue Socks: $16 (3 pairs)
alisha.d. necklace: $100
Catherine-Catherine Malandrino Booties: $130
Cara New York Faux Fur Collar: $48

Lauren Coles is the founder and Lead Teacher of Daisy Office Yoga. She's an office yoga influencer aiming to help active women balance their lives. Special thanks to Daily Motion, the location for the photo shoot, John DeMato for photography, Angelina Vivace for styling, and Sally Downs and Tory Sport for style inspiration.