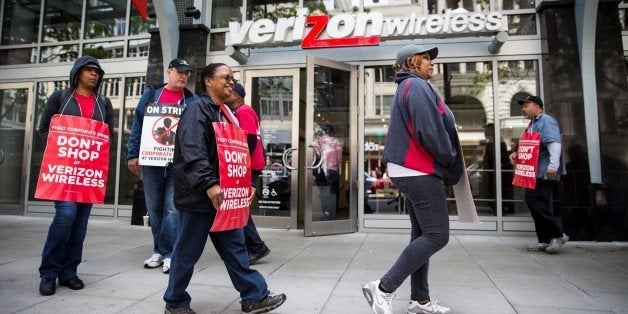 The largest strike in recent history ended on Wednesday, as nearly 40,000 Verizon field technicians, call-center workers and others went back to work after more than six weeks on the line. The strike captured the public's imagination not just because of its size and duration, but because it laid bare the seedy underbelly of the attack on good jobs in America -- unprincipled and unbridled outsourcing and globalization, fueled by corporate greed. The Verizon strike was less a battle over union benefits than a fight for the future of work in America; less a campaign for those who sport the union label and more a crusade for us all. Confounding prognosticators and pundits, the workers won -- and so did we all.
The details of the tentative agreement between the workers' unions and Verizon show just how much workers stand to gain when they stand together. Telecomm giant Verizon has pledged to roll back its off-shoring efforts and agreed to create 1,300 good-paying jobs on the East Coast. And after spending years fighting attempts of workers in its wireless retail stores to organize, Verizon will finally sign a first-ever contract with nearly 70 wireless workers. The company secured higher health care contributions from workers, but the workers had signaled they were prepared to make those concessions even before the strike began. Overall, the workers' gains in wages and benefits outweighed any concessions.
The strikers' success defies prevailing narratives about how today's workers are subject to the whim of forces beyond their control, whether it's the forces of globalization or the greed of billionaire CEOs. There are many reasons the striking workers were able to defy the odds and expectations, but two causes stand out. The first is the unity and tenacity of the workers themselves, who went six weeks without a paycheck and one month without employer-provided health care. Faced with such deprivation, Verizon had clearly hoped for a quick victory and capitulation, but the workers held their ground.
The second reason for the strike's success is Americans' growing unwillingness to countenance the unsustainable economic inequality Verizon's demands help fuel. Against a backdrop of mass movements like Occupy Wall Street and the Fight for $15 shining a spotlight on corporate exploitation of working people for profit, and with anxiety over the loss of good jobs animating presidential campaigns in both political parties, the strike put in sharp relief the old labor standard, "Which side are you on?" With Verizon and its business practices emblematic of the unbridled corporate greed preventing countless Americans from achieving basic economic security, the answer was clear: America stands with the workers.
Verizon is incredibly profitable, averaging $1.5 billion in net revenues per month. Yet, while Verizon raked in huge profits, it refused to invest in either its workforce or in maintaining and expanding service for consumers. Instead, the company offshored thousands of U.S. jobs to call centers in the Philippines and Mexico, paying those workers as little as $2.13 an hour. It's no wonder that the company's profile sank to a three-year low, and analysts estimated that the strike cost the corporation 150,000 new customers.
Consumers and the broader public soured on Verizon, but they stood with striking workers. Bernie Sanders, Hillary Clinton, and eleven members of Congress walked the picket line. Fifteen municipalities passed resolutions supporting the strikers, and some promised to stop giving Verizon public contracts. Labor organizations like the AFL-CIO and international unions, large progressive membership organizations like MoveOn and the Working Families Party, and worker rights advocates like NELP rallied around striking workers to put down a marker on the kinds of jobs we must create and protect in America.
Because they stood up and stood together, Verizon workers safeguarded their own jobs and won the company's promise to create even more good jobs. But their biggest victory may be in breaking through the wall Verizon had established between the company's largely unionized "wired" workforce and its lower paid wireless workforce. Though the new contract for Verizon wireless retail workers extends to only 70 people in New York City and Massachusetts, it gives their union, the Communications Workers of America (CWA), a foothold in the most profitable and fastest growing part of the company, creating an opportunity for thousands of low-paid retail workers to organize and secure a better quality of life.
The Verizon strike showed what workers can do when they stand up and stand together, and now those workers have a chance to show that the labor movement can expand and thrive in today's economy.
Christine Owens is executive director of the National Employment Law Project.
Popular in the Community