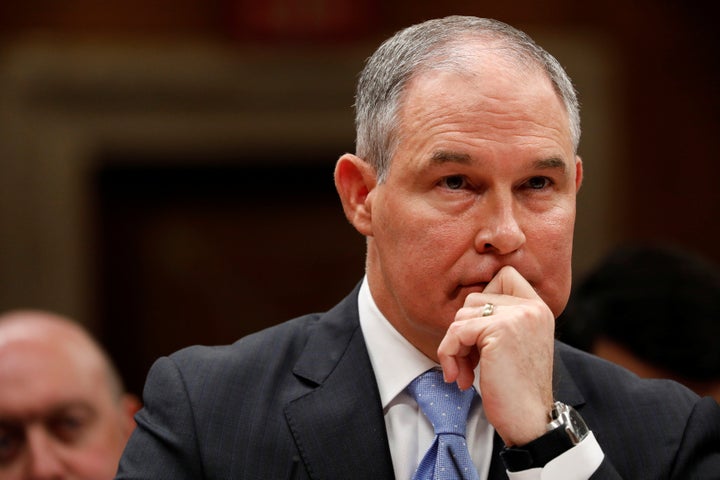 By Gerald Markowitz, David Rosner, and Ronald Bayer
The open war on the Environmental Protection Agency and the regulations it is charged with enforcing has received ongoing media attention. That has not been the case with regard to assaults on occupational health and safety protections. The Trump administration has announced its intention to weaken the long delayed and desperately needed regulation of silica as part of its grander anti-regulatory agenda. Who will benefit and who will pay the price?
It is now more than 40 years since Congress enacted, and President Nixon signed, the Occupational Safety and Health Act which declares in its preamble that the Secretary of Labor was to enact regulations that assured that, "To the extent feasible, on the basis of the best available evidence, that no employee will suffer material impairment of health or functional capacity even if such employee has regular exposure to the hazard dealt with for the period of his working life."
Those are powerful words embodying a fundamental articulation of a principle of justice, a declaration of what we owe as a nation to those who work and make the goods we consume and need.
But the 47-year history of OSHA and efforts to impose safety regulations has been anything but smooth. At every juncture, industry has opposed protective regulation as too costly for the economy, as job-killing, as governmental overreach. And when they have done so they have asserted that the risks are uncertain, the benefits of regulation far from clear. As David Michaels, the Administrator of OSHA under President Obama, has aptly said of this strategy to create confusion and sow disorder, "Their product is doubt." Business opposition to safety regulations has found welcome a welcomed home within Republican administrations. Democrats have been far more willing to embrace the promise of OSHA's preamble. But the regulatory process has always been torturous
No struggle makes this clearer than the sorry story of efforts to regulate silica, a substance that the new administration has already targeted for review. Silica is the constituent of 90 percent of the world's crust, particularly as granite, flint and quartz rock. It is used in a host of industries and workers are exposed to silica dust in construction sites, foundries, and sandblasting. Miners in coal, iron, lead and copper mines are in constant threat of breathing in silica dust as they drill through hard rock and flint with high speed drills to get to the ore.
Silica was identified as a serious hazard in the 1920s and the terrifying lung disease it causes, silicosis, was called the "king of occupational diseases" in the 1930s. Although silicosis has affected workers since antiquity, during the early 1930s it was obscure, scarcely recognized but became headline news following the discovery of the bodies of hundreds of African American men who died from it while building a tunnel for Union Carbide in Gauley Bridge, West Virginia. Media attention forced the nation to confront what has been deemed America's worst industrial disaster. Hundreds of thousands of workers were said to have been exposed to potentially dangerous levels of dust and, therefore, to the disabling and often deadly disease. In part, the crisis was caused by an increased incidence of silicosis resulting from the introduction of pneumatic tools in the early 20th century and from workers' increased exposure to fine particles of silica dust. In part, however, the crisis was social and economic, threatening the financial stability of entire industries and therefore substantial opposition from industry's supporters in government. With the New Deal and a Democratic Congress in place, congressional hearings were held and for a brief period, the nation learned of the terrible human costs of this dread disease.
The knowledge of the human toll that this disease has taken has haunted officials since OSHA was first established in 1970. It was among the first materials that it sought to control: The National Institute of Occupational Health recommended, and OSHA sought to adopt, a ban on its use in sandblasting and a dramatic lowering of the acceptable exposure limit. The election of Ronald Reagan in 1980, and the virtual dismantling of OSHA during his Administration halted all possibility of regulatory reform.
During the Clinton administration, OSHA and NIOSH once again sought to impose stricter regulations to protect the workforce and in 1996 they sponsored a major conference and a national campaign, "If It's Silica, It's Not Just Dust," to end the disease. Robert Reich, then the Secretary of Labor, said that he hoped to "complete the job" that Frances Perkins, the first Secretary of Labor under Franklin Roosevelt, had begun: to prevent future deaths. But once again, the effort was undercut with the election of the next Republican president, in 2001.
David Michaels, OSHA's administrator under President Obama, once again made silica a signature topic and worked tirelessly to finally adopt the standard for exposure first suggested in 1973. That this 45-year effort could so easily be reversed by this Republican administration is an affront to the promise of justice and the rights of workers—a promise made so long ago by the enactment of the OSHA Act. What a shame!
Gerald Markowitz is at John Jay College and CUNY Graduate Center
David Rosner and Ronald Bayer are at the Mailman School of Public Health, Columbia University
Support HuffPost
The Stakes Have Never Been Higher
Related
Popular in the Community