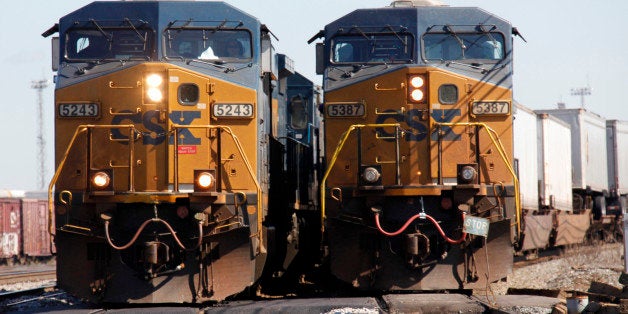 Each year, thousands of transportation workers are hurt or killed on the job. These women and men devote their lives to keeping our transportation system -- the backbone of the U.S. economy -- running, and they deserve far better.
This Tuesday, April 28 is Workers Memorial Day: a time to remember those workers who have died on the job. But it is also a crucial time for us to recommit ourselves to creating and implementing strong protections to ensure workers return home safely.
From the establishment of the Occupational Safety and Health Act to the maturation of transportation safety policies regulated by the U.S. Department of Transportation, Congress and the federal government have taken important steps toward protecting workers from hazards and accidents on the job. But there still are far too many gaps for workers to fall through -- gaps that sorely need filling.
For one thing, America's transportation workers are simply unable to get enough rest, putting themselves and other users of our transportation system at risk. While rules established in 2011 aim to combat chronic fatigue among commercial pilots, those rules exempt cargo pilots, who nevertheless suffer from the same fatigue issues as commercial pilots and share the same airspace. In 2012, TTD and our affiliates called for similar fatigue mitigation reforms for flight attendants, but those reforms have yet to be established.
It's not just aviation workers who are overtired. For freight rail workers, current laws only limit a work shift to 12 hours and mandate 10 hours of undisturbed rest after a shift. That means a rail worker can be called up at the middle of the night -- with as little as an hour and 15 minutes' notice -- to begin a shift. And because many intercity bus drivers are exempt from the overtime provisions of the Fair Labor Standards Act, many bus drivers work far more than 40 hours a week, leaving insufficient time for them to rest and putting themselves and others on the roads they travel in danger.
We must also put to rest the absurd notion that we can safely operate 20,000-ton freight trains filled with hazardous materials with fewer than two crewmembers. It is time for our government to mandate that all freight trains be crewed by at least two workers; across America the public is squarely against allowing 1-person freight train crews to traverse our communities. It is also time to put into place measures that will ensure that first responders are trained and funded to be able to respond in the event of accidents. And it is time to end the delay of implementing positive train control technology that keeps trains from colliding.
In addition to these safety issues, bus driver assaults are occurring at an alarming rate. Every three days, somewhere in America a bus driver is the victim of an assault ranging from spitting and verbal abuse to homicide; plexiglass partitions, driver side doors, and other measures can protect those drivers. It is inexcusable for our government, transit employers, and Congress to permit this problem to continue unchecked.
Flight attendants also face constant risks associated with unruly passengers who physically and verbally assault cabin crew. Measures like permanently banning small knives on aircraft will protect not only flight attendants from physical harm, but passengers as well. And as the recent Ebola outbreak has reminded us, it is vital that flight attendants and other transportation workers receive the training and protections necessary to safeguard them against communicable diseases.
Transportation construction workers face dangers on the job every day, with 100 workers dying in highway construction each year while many more are injured and exposed to harmful health hazards that can be addressed immediately.
Our maritime workers, both in ports and at sea, face unique dangers, including federal mandates for radiological detection of cargo containers, which will require the careful attention of lawmakers to develop health and safety protocols that protect workers from illness and injury related to radiation exposure.
This Workers Memorial Day, we remember all those who were injured or killed on the job. More importantly, we maintain our solemn pledge to push for the smartest and most effective policies that give us the best chance that when someone goes to work she or he will return home, safe and secure.
Popular in the Community