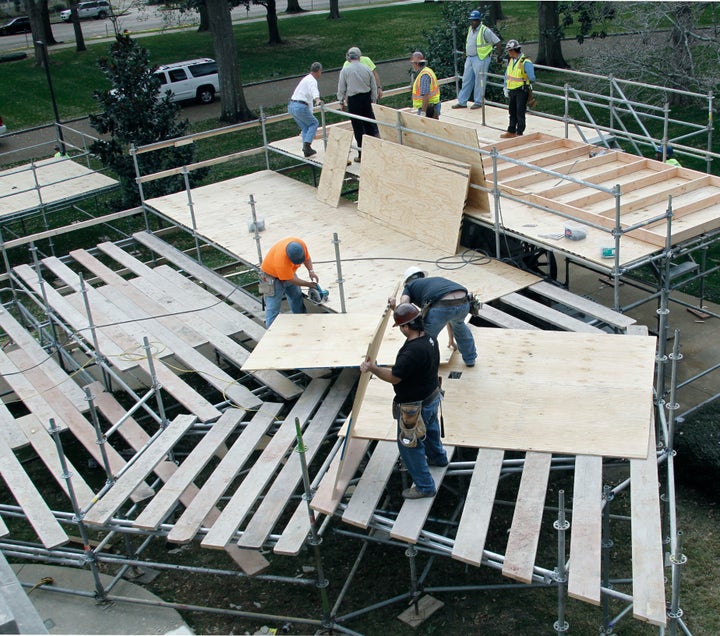 In 2010, Stephen Brown was living in York, Pa., and needed work. Most days Labor Ready, a temporary staffing company, had it. The company slogan highlighted one benefit of taking its often physically demanding assignments: "Work Today, Paid Today."
But getting paid every day cost Brown a lot, according to a lawsuit he later filed in federal district court in Pennsylvania. If Brown wanted his day's wages paid in cash, he had to use a company ATM that charged a $1 fee. Worse, the ATM rounded down. This meant if Brown was owed $44.85 for a day's work, he received $43. Often, he took home less than minimum wage.
Brown and a group of coworkers sued Labor Ready in 2010, contending that the fees and pay system often left them with less than the federal minimum wage and that other company practices such as charging workers for rides to their work site violated various state and federal labor laws. But late last year, a federal judge put the case on hold. The judge did so not because he thought Brown's claims were unfounded but because when they were hired, Brown and his coworkers had signed documents agreeing to settle disputes with the company through binding arbitration, not by going to court.
The accusations about Labor Ready's paycheck-cashing system may be unique, but the fact that Brown and his coworkers had signed away their right to go to court is not unusual. As many as 35 million employees have signed these types of agreements and as a result may face difficulty challenging all sorts of work conditions in court. The issue is drawing new attention because of a recent series of seemingly contradictory legal decisions.
In June, the U.S. Supreme Court ruled that companies can hold customers to arbitration agreements in which the customers gave up their right to sue as a class to resolve problems. Employers and worker advocates across the country interpreted that ruling to include workers who have signed similar arbitration agreements. But this month, the National Labor Relations Board, which interprets and oversees federal labor law enforcement, issued a ruling involving another set of workers with arbitration agreements. The board said the workers do have the right to sue as a class, among other rights.
"It's completely ridiculous to suggest that workers can sign away their right to basic things such as the federally guaranteed minimum wage the moment they take a job. How can anyone know in advance what issues might come up in their workplace?" said Jason Brown, the lawyer representing Stephen Brown in his suit. (The two men are not related.) "Fortunately, one arm of the federal government has confirmed that every worker has a right to access the courts to address grievances."
Labor Ready, one of several temp services owned by Tacoma, Wash.-based TrueBlue Inc., does not pay workers less than the federal minimum wage, said Stacy Burke, a TrueBlue spokeswoman. It does offer employees a daily check or the option to pull cash from its machines for a fee of $1 to $1.99, she said. Bank of America and Wells Fargo will also cash the company's paychecks free of charge, she said.
Labor Ready, which has denied any wrongdoing, did not respond by deadline to HuffPost questions about how long its workers have had a free check-cashing option at the two banks, what share of its workers opt to use the company's cash machines on a typical day or how much the publicly traded company has earned off fees collected from workers. Burke also did not confirm or deny that its cash machines round down worker wages.
The company made $22.4 million in income from "operations" and $371.4 million in revenue from "labor services" in the third quarter of 2011, according to its most recent earnings report. Burke did not respond to questions about where fees collected from employees are recorded on the company's balance sheet.
Stephen Brown, the lead plaintiff in the 2010 Pennsylvania suit, could not be reached for comment.
As many as 35 million American workers have signed binding arbitration agreements, said Alexander Colvin, an associate professor at Cornell University's School of Industrial and Labor Relations who specializes in workplace dispute resolution. In many cases, workers may not know that they signed such an agreement or may not have known what the agreement meant when they signed it. For about a decade, employers have often included such agreements in the fine print of employment applications or piles of new-hire paperwork, Colvin said. But the Supreme Court's June ruling in AT&T Mobility v. Concepcion, in which such agreements withstood a major court challenge, reaffirmed for many employers their usefulness, said Colvin.
Then earlier this month, the National Labor Relations Board issued a ruling in a case where employees at homebuilder D.R. Horton argued that they had been wrongly classified as supervisors so that the company could avoid paying them overtime. The workers had signed agreements to individually arbitrate their grievances. The NLRB ruled that employees with such agreements can still sue in groups because federal law gives workers the right to assertively advocate for their interests. Workers cannot sign away their right to go to court over overtime pay or the federal minimum wage or other conditions required by law.
While the NLRB was deliberating the case, it was closely watched by workers' rights groups and employers. More than a dozen legal briefs were filed with the agency to argue for or against limiting the legal options of employees. Business groups argued employers could face an onslaught of costly litigation if employees with arbitration agreements can once again sue their employers in what are called class actions or collective lawsuits. They also argued that the Supreme Court's June decision should apply to employees.
Courts will approve class action suits when a large group of individuals share a common set of legal concerns and are similarly situated, such as employees of one company during a particular period who suspect they were underpaid as a result of the same corporate maneuvers. Companies seek to avoid class actions because they make it easier for large groups to sue, are costly to defend and can lead to significant damage awards; they also do not require that all beneficiaries of the lawsuit be named in advance.
D.R. Horton has the right to appeal the NLRB decision and is widely expected to do so. Such a case is likely to reach the Supreme Court eventually, said several lawyers who specialize in employment law.
In an email to The Huffington Post, TrueBlue indicated that it will track the Horton case's outcome closely. In documents filed with the Securities and Exchange Commission in September, TrueBlue was more explicit.
"Increased government regulation of the workplace or of the employer-employee relationship, or judicial or administrative proceedings related to such regulation, could materially harm our business. ... As the employer of record of our temporary workers we incur a risk of liability for various workplace events, including claims for personal injury, wage and hour requirements, discrimination or harassment. ... [S]ome or all of these claims may give rise to litigation including class action litigation. ... We cannot be certain that our insurance will be sufficient in amount or scope to cover all claims that may be asserted against us."
Binding arbitration agreements can effectively shut down legitimate group suits and leave unresolved important workplace issues, including questions about pay, said Catherine Ruckelshaus, legal co-director at the National Employment Law Project. Arbitrators do not issue opinions about the legality of a practice. That means an employer may pay a single worker lost wages in one arbitration but continue the practice that limited the worker's pay, she said. Some arbitration agreements also require workers to pick up or share the cost of arbitration with their employer, she said.
And the ability to participate in a class action suit where just one person must come forward and list his or her name on court documents can be critical for workers, said Victoria Ni, an Oakland, Calif.-based senior attorney with Public Justice, a public interest law firm that handles employment, consumer and product safety matters, environmental, civil rights and other types of cases. For low-wage workers, job and income stability is critical, Ni said.
"Really, the Labor Ready situation is a great example of where a class action might be useful to resolve an alleged workplace problem," said Colvin, the arbitration expert. "If everybody is losing 50 cents or a dollar each paycheck, [individually] that doesn't add up to a lot of money. Just taking legal action may cost more than the person has lost. But if everybody is losing 50 cents each paycheck, [as a group] that does add up to a lot of money."