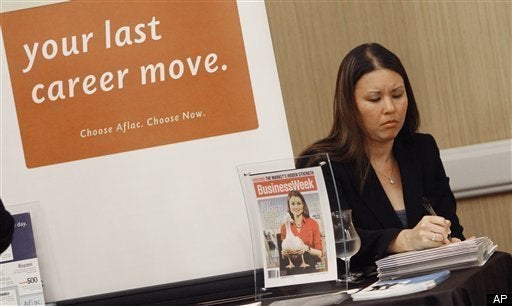 A labor-allied group is hoping to tilt the November elections toward Democrats not by playing to voters' dissatisfaction with the economy but by motivating the actual victims of the recession.
Working America, a community-organizing affiliate of the AFL-CIO, launched a campaign on Wednesday to organize and motivate hundreds of thousands of unemployed workers to head to the polls in the November elections.
The organization is starting with 100,000 of its own members who are currently out of work. But the list of contacts could wind up being "several hundred thousand" of the nearly 15 million unemployed, said Karen Nussbaum, director of Working America. In Ohio alone, Nussbaum said, Working America has a list of 38,000 unemployed workers who are registered to vote -- a major bloc that could tip the scale of the governor's race as well as elections to the House or the Senate.
"In an election year that is incredibly volatile where we have no idea, really, what turnout's going to look like, where we have no idea what the real appeal of right-wing candidates is going to be, and where we're not sure what kind of information people are going to get about the key issue, which is jobs, this becomes a more influential group," said Nussbaum.
The effort, which is the first of its kind, is an ambitious effort to re-balance the political landscape away from pro-corporate, pro-business interests. But will the unemployed vote for the candidates Working America supports? Democrats, after all, have presided over the past year-and-a-half of an epic jobs crisis and it's not unreasonable to expect the jobless won't be drawn to their candidacies.
"Our experience as we go door to door is that people are looking for an explanation about why this is happening to them," said Nussbaum when asked about a potential Democratic backlash. "The knee-jerk response to get mad at people that are in power is in the absence of having a better explanation. You can talk about who's standing in the way of investing in jobs. The fact that corporations have way too much influence in government, that makes sense to people, and that when you compare voting records, when you look at for example a Republican bloc that has voted against every single jobs bill, including this unemployment extension, that's information people take in and act on."
Senate Republicans, in the name of deficit reduction, blocked votes this year on several bills to reauthorize jobless benefits for the long-term unemployed, causing extended benefits to lapse three times. The third lapse lasted for 50 days and stopped checks to 2.5 million people. "If they can stop the recovery from occurring, If they can create as much pain as possible, the cynical view is people will be angry and either drop out and not vote at all or vote against those in the majority," Sen. Debbie Stabenow (D-Mich.) said in June.
While polling has shown that voters care much more about helping the unemployed and nurturing the economy than reducing the deficit, it's not clear if or how the filibusters of jobs bills themselves will play in the upcoming election. Working America hopes to make them an issue.
"We were so shocked at the stranglehold on extending unemployment benefits, and frankly, on the lack of kind of a general outcry, that we thought this became a big priority that we had to really get information to people and encourage unemployed voters to make their voices heard in this election," said Nussbaum. "When we talk to people in the field they rarely bring up the deficit. It's really not what swing voters care about.... So we're going to be talking about voting records, we're going to talk about the kinds of changes that have been made that actually helped create jobs, that haven't gotten us where we need to be, but have been incredibly important. Things like the stimulus package, like [funding to prevent state government layoffs], like unemployment extensions, like health care reform, which have all been crucial for reducing the damage that has been done."
Working America's strategy is to find as many avenues as possible to communicate with the unemployed between now and November. It's not a simple task. The jobless tend to be more transient than those who have work. Nussbaum, however, insisted that the group's database is updated "constantly" (nearly 20 percent of its members are unemployed workers). Moreover, between now and November officials are planning a host of outreach activities -- from a tele-town hall that will reach 20,000 unemployed voters to dispatching field organizers in 12 cities to talk to unemployed workers at unemployment offices -- to ensure that the baseline number of 100,000 registered unemployed voters is maintained if not expanded upon.
Nussbaum, who declined to say how much money would be behind Working America's campaign, said a lot of outreach would occur via the website unemploymentlifeline.com, which she called "the single most comprehensive source for information for unemployed and underemployed workers that exists in the country." (The unemployed themselves have done some online organizing of their own, mainly online via websites like unemployed-friends.com, change.org, and OpenCongress.org.)
With tools like these and outreach from Working America, there's little question the unemployed will be politically engaged, but it's an open question whether their frustration can be channeled into supporting incumbent Democrats.
"I think people are angry but I think it's been hard to direct, and in a political season that's been...unusual."
Popular in the Community