The Working Families Party, a labor union-backed progressive party, notched its third state legislature victory ever on Tuesday.
WFP candidate Joshua Hall, a vice president of the Hartford Federation of Teachers, defeated Democrat Rickey Pinckney and independent Kenneth Green in a special election for the 7th District in the Connecticut House of Representatives.
"The 7th district made it clear tonight that they're not satisfied with the direction that our economy and state are moving towards," Hall said in a statement about his election win. "They're concerned about the quality of education in our schools, having good jobs and vibrant neighborhoods, and making sure that we have a just budget that strengthens their ability to earn a good living and care for their families. That starts with eliminating backdoor tax increases on working families and setting budget policy that generates revenue without harmful cuts."
Hall will caucus with Democrats, who have a majority in the state House.
The Working Families Party considers his win a major step forward in its efforts to become a major political force. Hall is only the third state legislator to get elected on the Working Families Party ticket alone.
Connecticut state Sen. Ed Gomes won as a Working Families Party candidate in a February 2015 special election after losing the Democratic nomination at a state convention. New York state assemblywoman Diana Richardson also won as a WFP candidate in a May 2015 special election.
Unlike the Green Party or other independent left-leaning parties, the WFP frequently functions as a progressive faction of the Democratic Party in the handful of states where it has a large presence. Progressive Democratic candidates that elicit the WFP's endorsement are often listed on their election slate.
It is easier for the WFP to get candidates elected in races against Democrats in special elections where the two major parties' influence often matters less.
It can sometimes serve as a way for them to pack the Democratic Party with more progressive figures. Both Gomes and Richardson were subsequently re-elected as Democrats.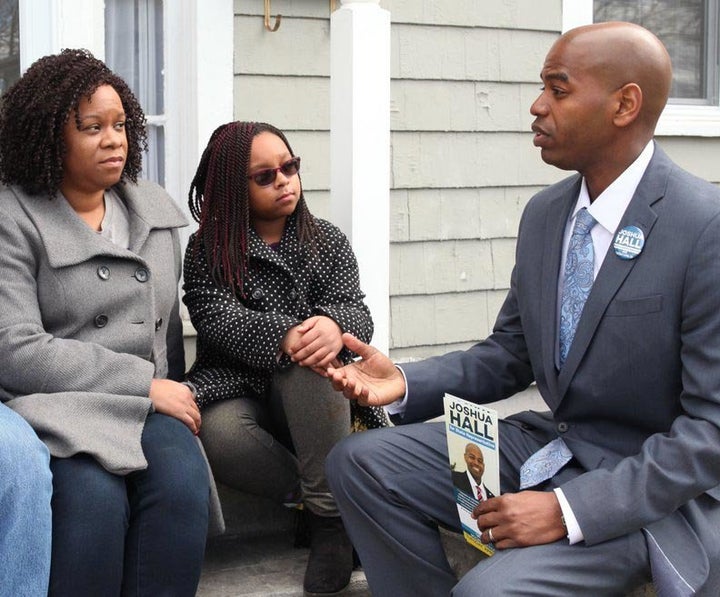 In Connecticut's 7th, Hall campaigned against a proposal by Connecticut Gov. Dannel Malloy (D) to shift a portion of teacher pension contributions to local municipalities. The plan would cost Hartford alone $17 million, according to the Hartford Courant ― a sum that Hall said the city's school system could not afford.
Joe Dinkin, national communications director of the Working Families Party, said the election of President Donald Trump likely played a role in Hall's election given the enthusiasm it has awakened in the party's progressive base.
"Right now voters are more hungry than ever for somebody with an aggressive approach to dealing with their problems and not somebody served up by the local establishment," Dinkin said.
Hall's election is "huge," said Gary Rose, chair of the department of government at Sacred Heart University in Fairfield, Connecticut.
The Working Families Party win reflects a combination of progressive frustration with Malloy's turn toward more fiscally conservative policies and the revival of the Democratic Party's left wing nationally in the wake of the contentious primary between former Secretary of State Hillary Clinton and Sen. Bernie Sanders (I-Vt.), according to Rose. Malloy is seeking $1.6 billion in concessions from the state's public-sector labor unions to patch a two-year budget deficit.
"The Democratic Party in Connecticut has been a machine for many, many years but right now it is a party that is suffering from an identity issue in terms of what its values are and what it represents," he concluded. "It's perhaps something that is on the horizon here in Connecticut."
Sign up for the HuffPost Must Reads newsletter. Each Sunday, we will bring you the best original reporting, long form writing and breaking news from The Huffington Post and around the web, plus behind-the-scenes looks at how it's all made. Click here to sign up!
Calling all HuffPost superfans!
Sign up for membership to become a founding member and help shape HuffPost's next chapter
BEFORE YOU GO
PHOTO GALLERY
U.S. State Capitol Buildings