The group's backing provides a boost to Warren as she seeks to solidify her climb in the polls and replace Sen. Bernie Sanders, a Vermont independent, as the leading alternative on the left to former Vice President Joe Biden.
"Senator Warren strikes fear into the hearts of the robber barons who rigged the system, and offers hope to millions of working people who have been shut out of our democracy and economy," Maurice Mitchell, Working Families Party national director, said in a statement. "Our job now is to help Senator Warren build the mass movement that will make her transformational plans a reality."
As part of the group's endorsement process, Mitchell grilled five presidential candidates ― Warren, Sanders, Sen. Cory Booker of New Jersey, former Housing Secretary Julián Castro and New York Mayor Bill de Blasio ― on live broadcasts that gave members the opportunity to submit questions or ask them live.
Warren distinguished herself in her interview by, among other things, promising to repeal the 1994 crime bill authored by Biden.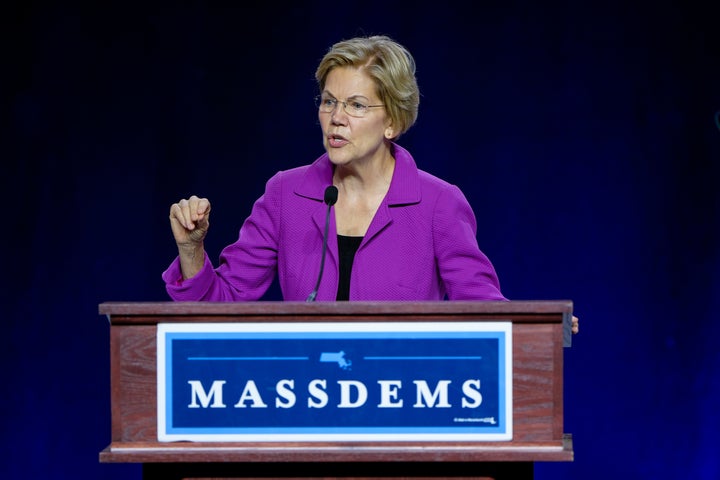 The group's interview with Booker proved more contentious, with an extended discussion of his ties to controversial Garden State political bosses. Sen. Kamala Harris of California canceled her interview with the organization, citing a scheduling conflict, a decision that prompted the group to take her out of the running. The group had ruled out all but those six candidates based on their answers to a questionnaire.
The endorsement, reflecting the views of 61% of Working Families Party members and leaders in a ranked-choice voting system, is a particularly sharp disappointment for Sanders, who picked up the group's backing in the 2016 election cycle, but received just 36% of the vote from participating members this time around. The Sanders campaign's political director, Analilia Mejia, is the former executive director of the New Jersey Working Families Party.
Mitchell acknowledged Sanders' role as a progressive trailblazer in his statement on the endorsement.
"Senator Warren and Senator Sanders have both shaped the ideological terrain on which this campaign is being waged," Mitchell said. "They have proven an effective team on debate stages and in the polls, and we hope that partnership continues. We're proud to call both of them allies in the fight for a more just America."
The endorsement nonetheless drew skepticism from Sanders supporters, some of whom questioned the legitimacy of the endorsement process and talked of canceling their dues to the organization.
Some Sanders supporters interpreted a Mitchell quote in The New York Times in which he warned against progressives who hoped to defeat moderate Democrats with "thought pieces or pithy tweets" as a dig at them.
Mitchell denied that was his intention in an interview with HuffPost.
"I was talking about the work all of us have to do to defeat the far right and the corporate forces who want to capture the Democratic nomination ― all those forces. We need to organize against them," Mitchell said. "I wouldn't take this occasion to choose to settle a score against a candidate who I think is amazing and doing great work."
Mitchell acknowledged, however, that the endorsement causes pain to many Working Families Party members who are staunchly in Sanders' corner and raises the challenge of moving forward as a unified bloc.
"We knew that this would be a hard vote and that there would be folks who would be very disappointed. And that's what happens when mature political organizations wrestle around really important decisions," Mitchell said. "We're going to continue to organize and keep our eyes on the prize."
Mitchell and the Working Families Party also stand behind the fairness of the endorsement process. In the previous presidential election cycle, members of the group's national committee ― the council of unions and grassroots groups that function as its key stakeholders ― held the vast majority of votes in the endorsement process.
This year, activists who are not on the national committee ― both dues-paying members and supporters who do not pay dues ― were allotted half of the votes. The roughly 50 activist leaders representing grassroots organizations on WFP's national committee had votes worth the other half of the total.
And while activists who do not pay dues were permitted to cast ballots in the 2016 election cycle, Working Families Party claims it took specific steps to screen them this year, including through an email blast that required progressives to affirm their support for the group's agenda and proceed through an online portal for voting. In total, about 10,000 people cast ballots, according to the group.
The Working Families Party has neither demographic data about the participants in its endorsement process, nor insight into the rationale of activists who opted for Warren over Sanders. It likewise declined to provide a breakdown of votes for either candidate based on whether participants were activist leaders with privileged voting status, dues-paying members or mere sympathetic supporters.
"We need a candidate that can break down these concepts in ways that encourage a multiracial alignment of folks to defeat Trump and defeat neo-fascism and I think she's uniquely positioned to do that."
Mitchell said that, on a personal note, he appreciates Warren's ability to communicate progressive ideas to a diverse array of people.
"We need a candidate that can break down these concepts in ways that encourage a multiracial alignment of folks to defeat Trump and defeat neo-fascism and I think she's uniquely positioned to do that," he said.
Warren's endorsement last Monday of Kendra Brooks, a WFP candidate running for Philadelphia city council, swayed some members of WFP's leadership with privileged voting status, according to a progressive strategist familiar with these leaders' thinking.
The Working Families Party was founded in 1998 by a coalition of New York labor unions and community organizations hoping to establish a progressive foothold within the Democratic Party-run politics of the Empire State. In New York, where the group retains its largest presence, progressive Democrats have the chance to run on its ballot line as well as that of the Democratic Party as a show of strength from the party's progressive wing.
As Working Families Party has matured, it has gotten bolder in its political stances and more distant from its roots in New York's labor unions. A decision by the group to endorse Cynthia Nixon's challenge to New York Gov. Andrew Cuomo in the 2018 Democratic primary at once prompted an exodus of nearly all of the labor unions backing the organization and freed it to chart a more independent path.
Although New York remains its hub, the Working Families Party now has state-level affiliates in 13 other states and the District of Columbia, as well as local branches in four others. States with affiliates include the general-election battlegrounds of Pennsylvania and Wisconsin.
The Working Families Party, which often sets up PACs to boost candidates it endorses in state and local elections, has yet to spell out exactly how it will use its resources to buttress Warren's 2020 bid. Mitchell, who is African American and previously served as a leader of the Black Lives Matter movement, said that the group is well equipped to organize working-class voters and voters of color ― some of the very people polls suggest Warren has had difficulty attracting.
Referring to these voting blocs, Mitchell said, "There are a number of communities that often do not get heard and get taken for granted, unfortunately by a lot of Democrats. It's going to be our interest to lift them up."
The endorsement from a powerhouse of New York politics comes ahead of a rally Warren is holding in Manhattan's Washington Square Park on Monday evening. The Warren campaign chose the site for its proximity to the Triangle Shirtwaist Factory, a sweatshop where a fire in 1911 killed 145 garment workers. Warren plans to discuss the resonance that the tragedy, which became a rallying cry for labor organizing in the city and across the country, has for her campaign and the movement she is trying to build.
This article has been updated to include comments from Maurice Mitchell and details about the Working Families Party's voting process.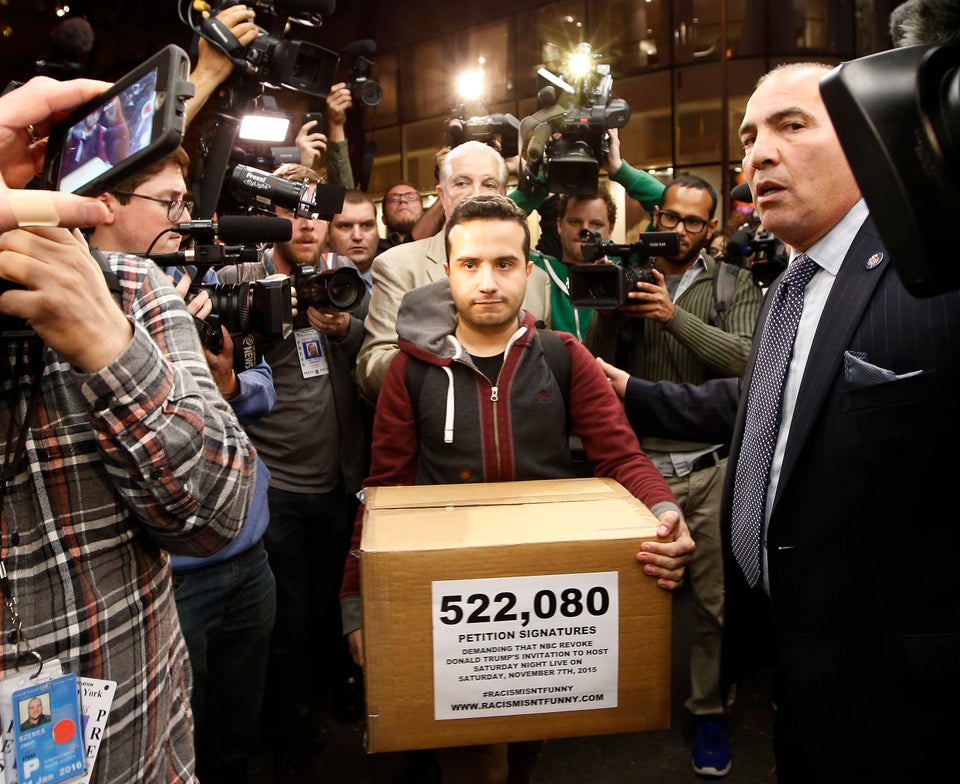 Donald Trump Protest
Popular in the Community