A few months ago, an ad popped up on my twitter feed (@OPRconsulting) letting me know about an upcoming conference called Work Human. I was not familiar with the conference, but clearly the SEO gods were watching my tweets and follows, my obsession with relationships, technology, and bringing a dose of real life to the workplace. And they thought I would enjoy it. And they were right. I just returned from the 2nd Annual Work Human conference in Orlando with 1,000 other similarly obsessed folks. It was definitely right up my alley.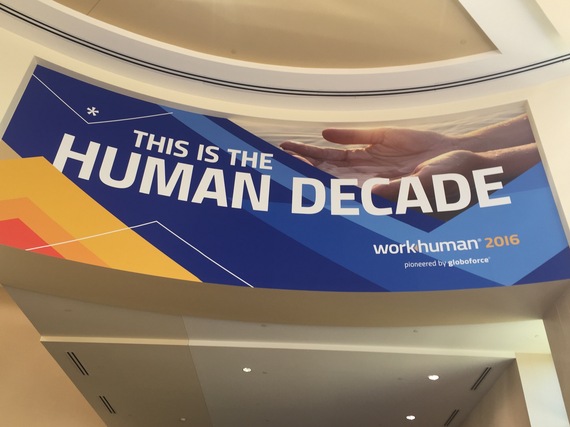 Over the course of three days, we heard from educators, researchers, business leaders, and human resource officers who presented on a wide range of approaches to the goal of having a more "human" workplace.
The thing is, it sounds great--by all means, human workplaces for everyone! The alternative is a nightmare, right? But what is this human business really all about?

Specifically, what do we actually mean when we talk about "human" workplaces? And how do people make a workplace more human, and what are the outcomes?
Here are some of my conference takeaways:
#1 Working Human Means Different Things to Different People. But it's Always About Feeling Connected to Other Humans.

To Michelle Gielan, the Founder of the Institute of Applied Positive Research, being human means "showing up in a way that makes others successful." Amy Cuddy, Harvard Business School Professor, TED talk Wonder-Woman Power Pose superstar, and author of the best selling book Presence, talked about the importance of being seen and understood. Christine Porath, an Associate Professor of Business at Georgetown University and author of some of my favorite articles about workplace, and book coming out later this year, talked about how working human means civility. To Shawn Achor, NY Times best selling author and expert on the connection between happiness and success, working human is being able to move toward one's potential. And to Eric Mosley, the CEO of Globoforce, working human means saying "thank you."
Which is a whole mess of ways to say the same thing: Connecting to other humans feels good.
#2 Working Human Doesn't Always Come Naturally. You Have to Make it Happen.

The companies presenting at the conference are already drinking the Kool Aide (or in the case of Jet Blue - the Blue Juice) and believe strongly in the importance of creating a human workplace. And while there were many ways to make it happen, the thing they all share is that they have made it an organizational priority.

JET BLUE
According to Executive Vice President, Chief People Officer, Mike Elliott, doing this human work is "hard work," but it is worth the effort. To create a human workplace, Mike looks for opportunities to move from "transactions" to "interactions." For example, at Jet Blue, crew members focus on helping customers with strollers and walkers instead of more routine tasks like putting stickers on bags. This provides an opportunity for crew members to have deeper connections with customers. It is not surprising that Jet Blue's mission is to "inspire humanity--both in the air and on the ground."

WALGREENS
Steve Pemberton, Vice President of Diversity and Inclusion talked about building a culture that focuses on "possibility-not circumstance." As he said in his talk, "When organizations are open to possibility...good things happen." Steve told a story of a Walgreens employee (a Vice President overseeing distribution centers) who had an autistic son and led an effort to design a new generation of distribution centers that would allow Walgreens to employ people with disabilities. The goal was to be able to employ people with disabilities for at least 20 percent of the jobs and now over 48% of the employees at the distribution center have some type of disability. Walgreens is serving this community, supporting increased diversity and this initiative is great for business. This awesomely human distribution center is one of the most efficient in the Walgreens system.

LINKEDIN
Chief Human Resources Officer, Pat Wadors contributes to a human workplace by saying "thank you" every day to someone she works with, and encouraging others to do the same. Pat also knows that a human workplace allows employees to have purpose, which is very important to the new generations entering the workforce. To that end, she trains managers on how to partner with employees, and--together--identify purpose-driven, meaty roles, set aggressive goals and hold employees accountable. This will enable LinkedIn (whose workforce is made up of over 67% Millennials) to attract and retain top talent.

#3 We Should Bother Working Human Because it's Who We Are

So...why should we bother thinking about something so apparently obvious, yet difficult to do? During the conference, we heard story after story of how working human is good for individuals, our companies, and the world.

When companies prioritize human work, employees feel safe, supported, motivated, and engaged. United Health Group's Executive Vice President of Human Capital, Ellen Wilson, and her team trained over 15,000 employees on the company's human values, and encourages employees to "call people out" on behavior that is not aligned with those values. According to Priceline's Tom Aurelio, "People and culture are now in my title. It matters."
Michelle Gielan talked about a study she conducted at MetLife. Researchers from the University of Pennsylvania found that optimistic sales professionals outsell their pessimistic counterparts by 37%. MetLife's executives were so moved by the findings that they made some organization-wide changes. They rewrote basic business practices to include things like a morning huddle where teams get together to celebrate successes, and speak up so that colleagues can rally around their peers and help them succeed. This creates a human culture. It's fair to say that this is not an entirely altruistic exercise--the MetLife executives at the top will benefit from a happy sales team, no doubt. But so will the salesforce.
Because here's the thing--whether you are an employee, a C-level executive, or an entrepreneur, working human impacts all of us. We are only at the beginning of this human revolution, but one thing is already crystal clear: Human work honors relationships.
I can't wait to see how people and businesses continue to figure this one out.
If you or any of your companies are doing human work, please let me know. Email me at erica.keswin@opr-consult.com
Calling all HuffPost superfans!
Sign up for membership to become a founding member and help shape HuffPost's next chapter