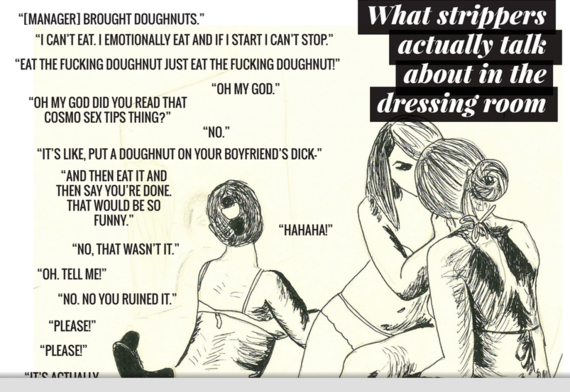 It's a Wednesday afternoon, a few hours before her domestic violence hotline shift begins, and Matilda Bickers has put out the final call for submissions to the fall version of Working It, a Portland-based quarterly by, about, and for sex workers. Working it, Bickers explains, is edited to be "really accessible and real to actual sex workers" and focuses on "the parts that we never get to talk about because we aren't allowed to have a nuanced conversation about sex work."
Each magazine brings together about 50 pages of writing and art by sex workers from around the country. In addition to permanent sections including "Client Hall of Shame" "Best/Worst Tip$" "Tales from your Shift" and art, each volume of Working It has a theme. The fall theme is "The Opposite of Sexy." Bickers explains the theme in the volume's Letter from the Editor:
These are the things no client or media outlet or bored and titillated dreamer wants to think about, but this is as much a part of our lives as the lipstick, the heels, the performance of desirability and sexiness. Our lives are complex and often made harder by the world around us, but filled with so much humor [grossout and paradoxical] and the tight community support that keeps us safe and keeps us going. We're so much more than sexy.
Bickers' interest in sex work piqued two decades ago when, as a very precocious third grader, she read Daniel Defoe's Moll Flanders. "Life is hard for her, but she basically gets to do everything she wants, kind of," Bickers says. Growing up in a working class household, her father's "your one chance" message about college as a route to a comfortable life felt oppressive, and sex work, for Bickers "sounded like a route to freedom in the 20th century that not a lot of people get."
Around the same time, Teresa Dulce and Mona Superhero - two erotic dancers touring cross-country from club to club -- got stranded in Portland and started Danzine, a 'zine to leave in club dressing rooms for dancers to read between shifts. The 'zine expanded to include health and legal information, Danzine's work expanded to include grassroots advocacy, street outreach, and neighborhood clean-ups, and the initiative grew into a full-on 501c3 with a supporting thrift store. At 17, Bickers got involved and stayed involved with Danzine until it went dormant in 2003.
After Danzine went dormant, Bickers and Portland's sex worker activism also went relatively dormant. Sex Workers Outreach Coalition took over Danzine's bad date list. In 2005, Bickers and her friends tried to start a dancer union -- "but that failed miserably, and I was really burnt out for a while," Bickers says. In the following years, Bickers worked at strip clubs and at a women's clinic and volunteered with Portland's syringe exchange. She studied at and graduated from Portland State University. "I kind of never stopped doing sex worker activism," Bickers says. "I just always try to keep one hand into activism so if I ever got the opportunity, I could jump back in, you know?"
Herr God, Herr Lucifer
Beware
Beware.
Out of the ash
I rise with my red hair
And I eat men like air.
Bickers (whose activist name is Red) and her role in the sudden resurgence of holistic sex worker activism in Portland hearkens Sylvia Plath's Lady Lazarus -- even more so because her central role in the city's sex worker activism began with a labor rights suit against Casa Diablo (literal translation -- devil house), a popular vegan strip club in Portland.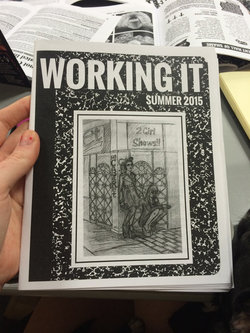 Adult businesses in Portland are protected by free speech, and Portland lacks the zoning and cost-prohibitive licensing fees for strip clubs that limit clubs in other cities. As a result, Portland has more strip clubs per capita than any other U.S. city, and many clubs are small, staffed with 3-9 dancers at a time and are informally run.
One of the side effects of Portland's prolific scene of informally run, intimate clubs, Bickers says, is that is that everyone -- including club owners -- is "really casual" about legality. "All of these clubs are basically breaking the law...and nobody knows it. I don't even think a lot of the club owners know anything about the law, they just decided to open a strip club. They don't file taxes, they don't treat us as independent contractors....And so we're treated basically as employees and exploited in a way that employees aren't, and we don't get any of the benefits of being an independent contractor. It's just this grey area of getting screwed in both directions."
Casa Diablo, which Bickers began working at in 2012, is one of Portland's largest clubs and, for top earners like Bickers, one of the most lucrative. "Almost immediately, I'm like they're breaking all these laws," Bickers says. The club took 30% of all dancer income. Then 10% went to the DJ, and dancers had to tip out bouncers--even if they didn't work a shift, Bickers says: "If you called in sick, you still had to pay the bouncers when you got back to work, even though he would find someone to replace you and she would pay the bouncers too." In a Vice article, other common complaints from Casa dancers included "unreasonably long hours, scheduling insanity, and a pattern of dehumanizing behavior."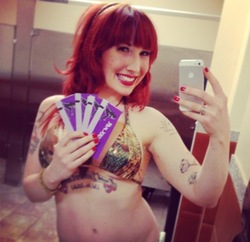 On top of illegal fines, tip-outs and work conditions, there was sexual harassment. "The owner tends to regard us as kind of his private harem, and so the bouncers have that attitude too," Bickers says. Bouncers often groped dancers, untied their outfits, and failed to kick out customers who touched dancers. Once, a bouncer refused to kick out a customer who had spanked Bickers and "for the rest of the night, whenever [the bouncer] passed me, he would touch my butt, just to remind me that he could. And so that really got to me, after years of it."
When one of the managers blamed a dancer who had died on her lifestyle, Bickers was done: "I felt like I was, kind of in a really Catholic way, like I was morally corrupted by how awful they are." She began looking for a lawyer in May 2014, and within months, Bickers and Amy Pitts, Bickers' co-plaintiff, were being interviewed for and featured in major newspapers and major magazines across the country. By the end of the year, Bickers had helped restart a lapsed Portland Sex Workers Outreach Project chapter, plan a sex worker art show, create Working It, and begin grant-writing for a street outreach program similar to the Danzine outreach she'd volunteered with over a decade earlier.
Bickers and Pitts' case helped bring the Oregon branch of the National Association of Social Workers' attention to labor conditions for dancers. The Oregon NASW contracted PAC-West, a lobbying firm that successfully passed state legislation which created funding for an anonymous dancer hotline and required clubs to place worker rights posters in dressing rooms.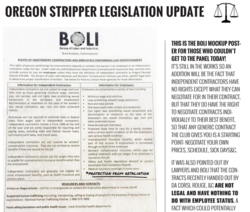 Despite the victory, the process behind it wasn't without issues: "Apparently [the lobbyists] didn't want to talk to strippers. One of the social workers forced the lobbyists to meet with the dancers. It was kind of like a shit-show." Bickers says. "The lobbyists were so interested in our stories about getting groped or getting abused and how we have no rights...But they didn't actually do any research into what our status is...until much later." One of the side effects of this attitude was confusion and at times panic in the Portland dancer scene, something which Bickers, the NASW, and the Oregon BOLI have since worked together to address.
In many ways, PAC-West's regard for dancers is representative of attitudes that perpetuate the marginalization of dancers and sex workers nationally. Of course, dancers are vulnerable to labor exploitation for all the reasons workers in low-barrier to entry professions are. But gender, sexism, ageism, and stigma are also at play. "With dancers, you also get the fact that a lot of them are really young women, so they're doubly vulnerable, and ignored." Bickers says. "You know, nobody takes women seriously, and nobody takes young women seriously, and definitely no one takes young strippers seriously."
Working It and other publications written by and for sex workers are a natural response to the constant talking over, for, and about sex workers. After Danzine went dormant, New York City sex workers started the print magazine $pread in 2006. Tits & Sass, "a group blog run by sex workers who saw a void when it came to witty commentary on the public image of our industry" came in 2011 shortly after $pread's final edition. Locally, the Young Women's Empowerment Project, run by and for young women involved in the sex trade, published safety, self-care and bad encounter 'zines until they closed in 2014. Individual blogs by Emi Koyama, Robyn Maynard, Mistress Matisse, FeministIre, Maggie McNeil, and dozens of others continue to flourish.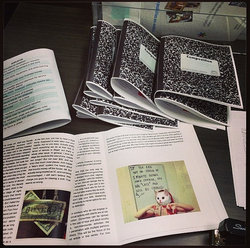 While the web-based sex worker blog, twitter, and tumblr communities flourish, there's something powerful about a national multi-author print magazine. Kaiser, one of the authors of $pread, said in an interview for the Atlantic: "[w]e thought there was something...psychologically important about holding it... It should come in the mail, and people should be able to hold onto it and realize that their community produced it...We also wanted it to be something that people could pass around and share with their coworkers." A physical, print magazine was also important to Bickers - it was something that, like its predecessor Danzine, could be left in strip club dressing rooms and handed out at street outreach.
In September 2014, Bickers connected with and restarted a dormant Portland SWOP chapter, and shortly after, she had started up Working It, a sex worker art show, and a street-based outreach program. "I thought that a 'zine might be a good way for connecting with people, and then publishing the 'zine was costing so much money that I started trying to find a grant for it, and the only grant that I could find was an AIDS project, and they wanted it to tie in somehow with HIV outreach." Bickers says. "And I was like, that's great! I would also like to restart the Danzine street outreach program! So it was just really fortuitous - all of these needs came together in this one area, and then everything just fell together in this great way."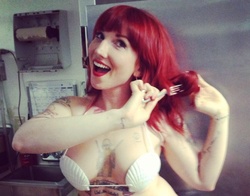 The street outreach program's core is partnering with a church's weekly soup kitchen for homeless women. In the ten years between conducting outreach with Danzine and starting her own program, the city has "completely changed." Like in urban areas around the country, gentrification in Portland has led to increased policing of homeless populations and street economies. Policing leads to displacement, and an unintended consequence of displacing and dispersing vulnerable groups is that it becomes more difficult for those coordinating outreach programs to reach and serve them.
"The police just keeps pushing people out of the city, doing homeless camp sweeps and arresting homeless people," Bickers says. "So part of our outreach with street workers is trying to find areas to do outreach in where we're not attracting negative attention, and trying to do outreach with people who are trying to keep themselves as invisible as possible."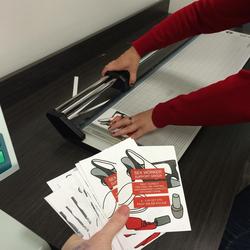 Volunteers hand out hygiene supplies, cliff bars, toiletries, and...of course...zines. "I tried to write in everything into the grant I could possibly get away with giving out [beyond condoms]" Bickers says. "I wanted to have something to offer them that might be cost-prohibitive, like really nifty condoms and lube and other stuff, female condoms, granola bars, tampons, toiletries." There are also home test HIV kits, which are at the core of the grant. "Everything else is icing. But it's good icing--I like being able to give people fancy lube and energy bars." And as repeated critiques of biomedical HIV and mental health interventions have pointed out, the "icing" - art, 'zines, social activities, snacks and extras - are what "makes the cake edible" by building connections, trust, and communities. The "icing" is what gets buy-in from the groups you are trying to help.
A month after our interview, Bickers tags me in a Facebook post: "I emailed you the new 'zine! Mary Escobar just finished [the layout and design], and I'm so in love with it!!!"
The magazine, a mix of feature articles and short bits, with simple, modern typography, graphic elements and quote-highlights juxtaposed with sketches, is beautiful and readable. Reading it feels like being inside a cozy living room and listening in on a witty, funny conversation between sex workers - a nuanced, un-stilted conversation that becomes impossible when sex workers have to defend their own existence and human rights, and have to have the same conversations over and over.
"This is all I have wanted to do since I was 17" Bickers writes. "LIVING THE DREAM! Mary!!!! You're helping me live the dream!!"
"Yay!!!" Escobar writes back. "That's MY dream!!"
Working It - $5.
Available on Etsy.
Photographs courtesy of Matilda Bickers
Calling all HuffPost superfans!
Sign up for membership to become a founding member and help shape HuffPost's next chapter