After noticing a problematic narrative in her 6-year-old daughter's homework, one working mom decided to fix it.
On May 23, Lynne Polvino posted side-by-side photos of her daughter Hazel's fill-in-the-blank homework assignment, titled "Back to Work," next to her edited version of the worksheet on Facebook.
"Back to Work" prompts students to choose words from lists of three to fill in a story about a little girl named Lisa.
"Lisa was not happy. Her mother was back at work," the story begins. The narrative explains that the little girl had a terrible morning at home and day at school because her mom went back to work after staying at home with her.
"Lisa had to get to school on time. Her father had to get to work on time. And now, her mother was in a rush, too," the narrative reads.
Due to the change in routine, Lisa's dad had to make breakfast, which was "not too good." At the end of the story, however, Lisa "feels fine" because her mom's job allows her to leave early and greet her at home after school.
Polvino lives in Queens, New York and works at publishing house in Manhattan. As a working mom, she was struck by the story in the homework assignment.
"It just pushed so many buttons for me, and with each sentence it managed to get worse!" Polvino told Today. "My shock and dismay quickly turned to outrage. I mean, what decade are we in, anyway? In this day and age, we're going to tell kids that mothers working outside the home makes their children and families unhappy? That fathers don't normally do things like cook and wash the dishes?"
Upset by the messages in the story, Polvino decided to rewrite it to more accurately reflect the kind of life she wants for her children. In the updated version, Lisa's mother returns to work after "nearly a year of paid maternity leave," and the little girl feels happy.
"The morning was wonderful," Polvino wrote. "Lisa had to get to school on time. Her mother had to get to work on time. Her father was home on his paid paternity leave, caring for Lisa's younger brother and contributing equally to the running of the household. No one was in a rush because Dad had things firmly under control."
After Lisa's dad cooked a "very good" breakfast, she helped wash the dishes and went to school, where she "enjoyed the play-based learning and small student-to-teacher ratio in her state-of-the-art public school classroom." After spending the afternoon at a "free federally-funded after school enrichment program" that offers Lego robotics and painting, Lisa returned home feeling good about all of her opportunities in life and quality time with her family.
Polvino's Facebook post has been shared nearly 1,300 times and received more than 2,600 likes. At the request of friends, she made the post public, and it received more attention when Today contributor Alison Slater Tate wrote about it for the site.
In a follow-up comment on her Facebook post, Polvino clarified that her rewrite was meant as social commentary and not as a criticism of Hazel's teacher or school.
"As we all know, NYC public schools face many challenges, including lack of adequate funding for up-to-date classroom materials, and I admire and appreciate all the good work the teachers and administrators do," she wrote.
Though the mom did not send the the updated assignment to school with Hazel, she did email her teacher to share her concerns about the material.
On May 28, Polvino shared an update after hearing back from her daughter's teacher. She said the teacher thanked her for bringing the issue to her attention, expressed her agreement and promised to review future worksheets more carefully before sending them home.
"She also apologized for the oversight and confirmed that it must have come from an out-of-date workbook," wrote Polvino, adding that she believes public schools need more adequate funding for newer materials and smaller class sizes so that teachers can focus on educating children rather than "weeding out offensive decades-old worksheets."
She concluded her update with a shoutout to the working mothers who came before her.
Wrote Polvino, "A huge thank you and much respect to all the working moms of past generations who had to deal with this type of crap on a regular basis!"
Related
Before You Go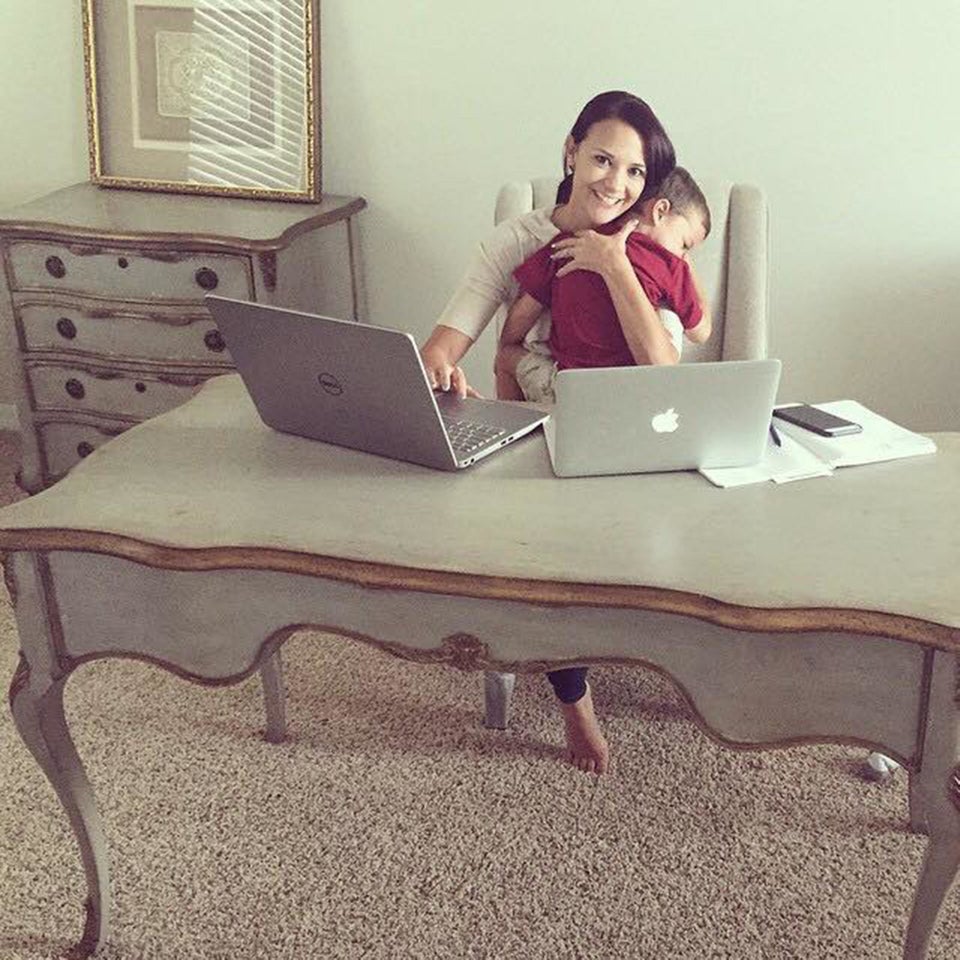 What It Looks Like To Be A Working Parent