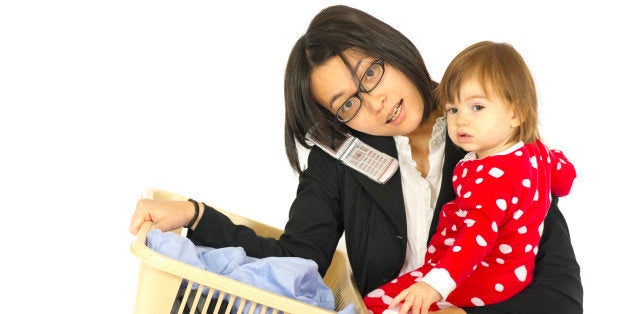 Working Mom Life is an interview series featuring real working mothers who are figuring out how to get the job done. Because there are more ways to be a working mom than there are ways to fold a cloth diaper, we can all learn from each other. I hope you'll join the conversation #WorkingMomLife.
Eileen Jennings is a commercial banker, clothing designer, homesteader wannabe and breast cancer survivor. She is also mom to a 6-year-old daughter, Scout. And as you can see from her homemade meme below, she's an enthusiast for showing off your personal awesome. I love Eileen's reminders about expectations -- the ones we set our for ourselves and the ones others set for us. I hope you have three minutes to read the whole thing, but if not, here are three key takeaways you can use right now:
You get to define how you measure success. Make sure the accomplishment of keeping a helpless human alive gets the proper respect it deserves.
Unless your partner is a psychic (and even then because most of those guys are fakes), you have to talk about roles and responsibilities out loud.
Expectations change over time and with changes in circumstances. Prioritize and adjust accordingly.
Interview with Eileen Jennings
LD: How old was Scout when you went back to work, and what was the biggest challenge of returning to work at that time?
EJ: 12 weeks. I was fortunate to have her daycare two blocks from my office and would visit and nurse her. The biggest challenge is managing expectations. You can't do everything you were doing. You have to change how you measure successes, large and small.
I also incorporated Scout in a lot of work and volunteer obligations. She attended countless baseball games when I was hosting the suite, has been to Chamber after-hour events and also has been to her fair share of Junior League board meetings, Children's House work days, etc. Not every event is kid-appropriate, but I found that if I incorporated her into the event and turned her into a participant rather than a prop that I needed to apologize for, things went more smoothly. I never had a customer complain and actually, they enjoyed being around a baby, toddler, etc. Because of this, Scout is very comfortable with adults. She asks about their businesses, why they do what they do, and how they solve problems. She feels like she is part of the situation, not just hanging around until things are over.
LD: When you talk about managing expectations, are you speaking of your own, or those of the people you work with?
EJ: I had to manage my own expectations. When Scout was 18 months old, I had my first ever anxiety attack and went through some counseling. I had not done a good job of managing my expectations and was comparing myself to other mothers, etc. We worked through it and laid some new ground rules for myself. It was extremely helpful and I am a strong advocate for therapy/counseling. I came to accept that if our family was together and enjoying each other, that was a success. If we all made it to an event together on time, that was a bigger success. A good partner is essential. Whether you lean on your husband, MIL, neighbor, sister, etc., you have to have help. The sooner you realize that the better. And a frank discussion early on about expectations and perceived duties is a must.
LD: What keeps your family running?
EJ: Lots of sleep, and shared calendar appointments. My husband and I send outlook appointments to us both. If he schedules the next dentist appointment, we both have it on our calendar and can decide who needs to take her. Also, good, clean food with lots of vegetables and protein. We eat a lot of frozen veggies and fruits. Scout loves eggs with veggies and whole wheat pasta, and I make things on the weekends and then heat them up throughout the week.

LD: During a major health challenge, you still managed to work, feed your child, and stay married. How did you pull that off?
EJ: I'm good in a crisis, maybe better than when things are calm. We prioritized and just let everything else come out in the wash. I had a good team at the office and amazing friends and family that helped so much. We also bought a microwave. When you are going through something big, people's expectations of you change. You have to become self-focused and get healthy so you can get back to your normal life.
LD: Have you ever received any really good advice about winning the #WorkingMomLife game?

EJ: Be flexible. We tend to formulate how situations and events are supposed to unfold before they do. This can make for disappointments. It's good to envision the life you want-blah, blah, blah-but know that things can change and you'll have to roll with it.
LD: What is your advice for new moms who plan to work, or for seasoned moms headed back to work?
EJ: Do what feels right to you and go tell your critics to take a long walk off a short pier. It's so easy to compare yourself to other working moms that seem to have their act together. More than likely they're at home hiding in the closet, eating ice cream and drinking appletinis from a can. (Editorial note: Not that there's anything wrong with that.)
Work won't be the same. It can't be. It's now your responsibility to keep another human alive. Things will change. Especially if you have a job that is more than just 8-5. Women tend to apologize for the change, men don't.
And with that, I'd like to thank Eileen and encourage the rest of us to keep those expectations in check. Imagine that life of your dreams-blah, blah, blah-and then take what actually comes and make it work.
Lela Davidson is the author of the forthcoming essay collection, Faking Balance: Adventures in Work and Life, to be published in September 2015.