The "2013 Working Mother 100 Best Companies" list is out today, and, as always, it is a reflection of both the importance and the limitations of the of the ongoing effort to make the workplace more flexible and accommodating.
The importance is clear. Since the list was first created 28 years ago, it has been a badge of honor for a growing number of companies who want to be seen as among the good guys when it comes to women (more recently, parents) and work. As Karyn Twaronite, partner of Ernst & Young LLP and the EY Americas Inclusiveness Officer (EY has been on the list for 17 years and this year is once again among the Top 10) told me in an interview: "We want to be the most progressive firm for working moms. We take that very seriously. We want to stay as competitive as possible to attract and retain the best talent."
And looking at the list, progress is certainly being made. The ante has been upped each year as to what it takes to qualify. This year, for instance, the maternity leave requirement was changed from "some paid" time for new mothers to "at least one fully paid week." Other policies that companies need in order to qualify: flextime, telecommuting and on-site lactation rooms.
This yearly celebration of how far some companies have come, however, is also, by definition, a picture of how far most still have to go. While 100 percent of the Working Mother Best offer flextime and telecommuting, for instance, slightly over half of U.S. companies in general offer such policies. The split is that dramatic throughout the list: Paid maternity leave? 100 percent vs. 16 percent; Adoption assistance? 94 percent vs. 11 percent; Job sharing? 85 percent vs. 10 percent; Paid sick leave? 96 percent vs. 34 percent; Backup childcare? 85 percent vs. 4 percent; Paid paternity leave? 83 percent vs. 15 percent.
Story continues below infographic.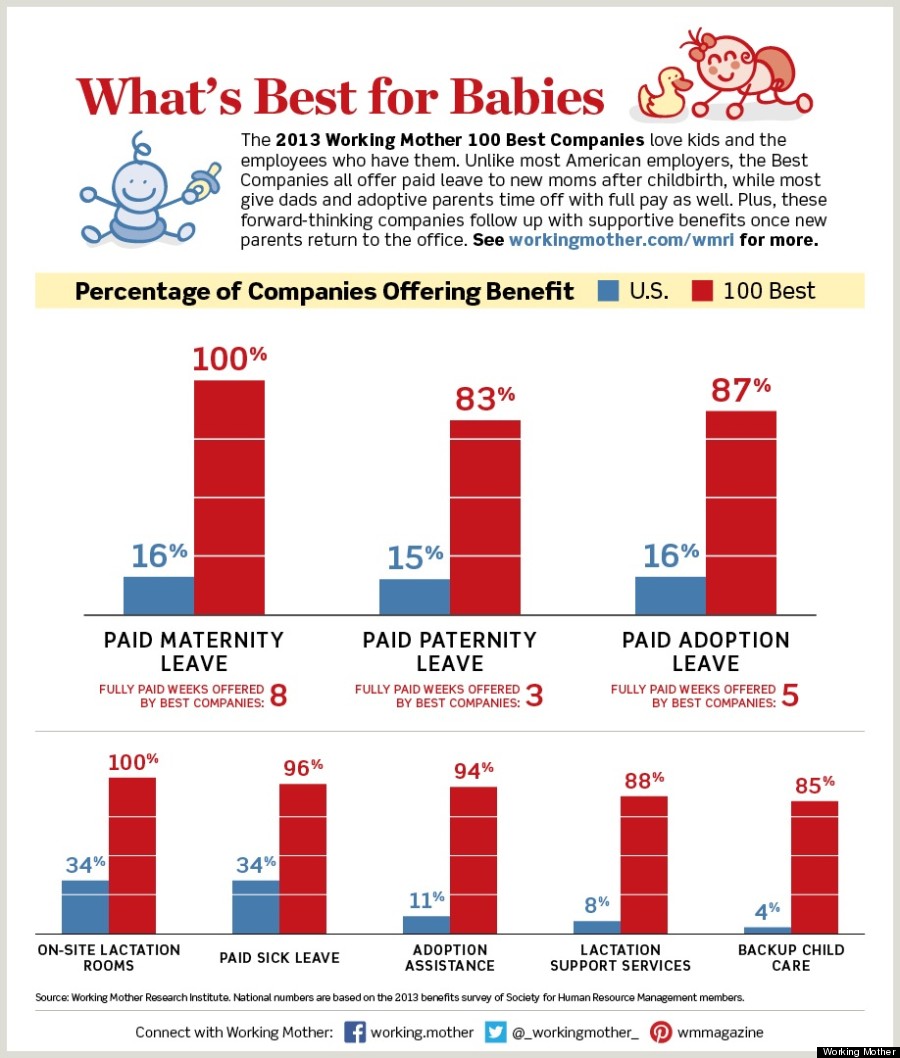 And those are just the companies with policies on the books. Harder to measure are the places where those policies are well implemented. It is one thing to have a right on paper and another thing entirely to feel comfortable actually exercising it. I have covered life/work policy for nearly 15 years and every fall, when this list comes out, I hear from at least a few readers who tell me that their employer is ranked high but that the policies exist in name only.
The truly best companies recognize that the disconnect between what the rulebook says and what employees actually experience usually lies in the generality of corporate culture and the specificity of each individual manager. At EY, for instance, where all new fathers are entitled to six weeks paid paternity leave but most take only two, the latest initiative, being announced today, aims to address the disconnect between policy and practice.
The program, called Career and Family Transitions, will offer coaching to both male and female employees who are adding a child to the family, whether through birth or adoption. It will be an addition to the existing executive coaching program, under which employees who are identified as "high performance and high potential" already receive mentoring and leadership guidance. The parenting piece will not only give new parents help navigating such things as "how much time should I take off; how do I structure backup; what's a good way for me to communicate with my team, or not, while I'm on leave; how to structure my return; what are my childcare options and other benefits," Twaronite explained, but it will also coach the managers of these new parents, so that less is lost in translation.
"The reason I am proud of this program is that it's really geared toward fixing the environment as opposed to just fixing the women," Twaronite says. "It it is designed to reinforce the belief that people can be themselves at work."
Working Mother is also recognizing the need to spread the word, inventing a new holiday: National Flex Day, on October 15. "It's time for employees and their companies to step out from the shadows and embrace workplace flexibility as a core business strategy that will enable them to compete and succeed in an increasingly competitive global economy," Working Mother Media president Carol Evans said in a press release.
All this is certainly a step in the right direction. But the fact that any of it is needed -- the policies, the day, the Working Mother list itself -- is a reminder that this belief is still seen too often as an add-on, rather than a bedrock assumption. One day there will be no list. Then we will have really gotten somewhere.
Click through the slideshow to meet executives from the top 10 companies, and their families.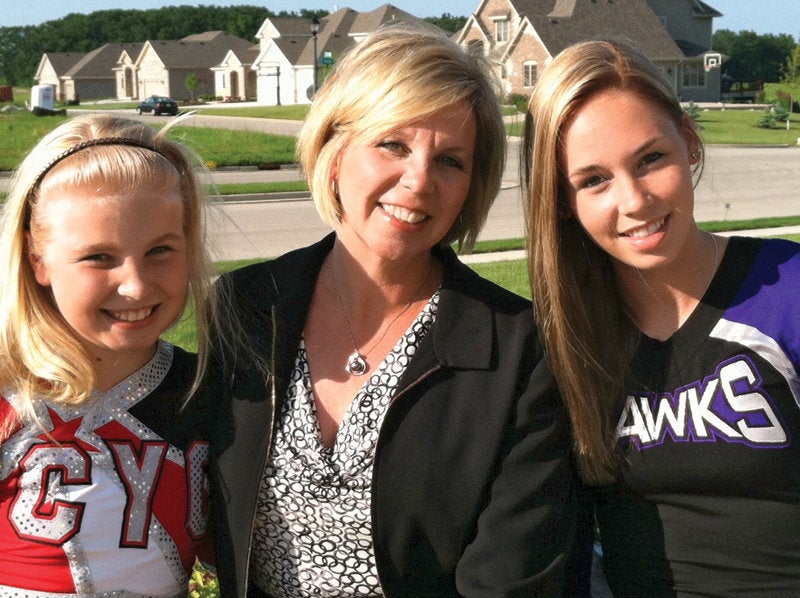 Working Mother's Top 10 Companies, 2013