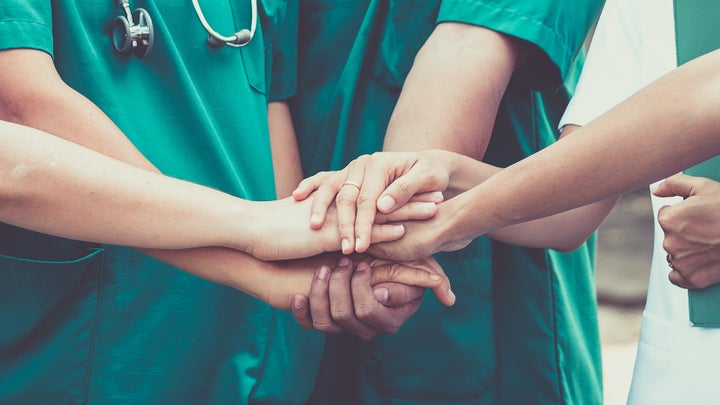 The health care workers who helped lead the remarkable grassroots coalition against the repeal of the Affordable Care Act proved this past July, when Congress failed to pass legislation that would have stripped health care away from more than 20 million Americans, that when working people join together and make their voices heard, they win.
Now, the nation's caregivers are taking on corporations and anti-worker politicians who are seeking to silence workers' voices and limit their freedom to gain a voice on the job.
This Labor Day, while many Americans come together with families and friends over the grill or head to the local park for community gatherings, union workers in more than 300 cities will be joining with allies to call for policies that put working families before corporations. The health care workers who fought to defend health care for millions of Americans will take to the streets and rally with fast food workers to call not only for $15 an hour but for the freedom to join together in 21 century worker organizations.
Health care workers like Tracy Plant-Bonner, a licensed practical nurse at Hartford Nursing Center in Detroit, who was one of thousands of Americans who rallied, lobbied, and phone banked this spring and summer to successfully defeat health care repeal. Last March, Ms. Plant-Bonner won the right to join together with her coworkers in a union, and on Labor Day she and other health care workers will demand that elected officials, and those running for office, stand up for workers like her.
Before joining her union, Ms. Plant-Bonner was "so backed up with tasks because of understaffing" she wasn't able to administer medication in a timely manner. Now that she and her coworkers have joined together in a union they have the ability to work through these issues with management to ensure that both staff and patients are healthy and safe and to speak up for higher wages to help them provide a bright future for their families.
Across America, workers like Ms. Plant-Bonner expect their local, state and federal elected officials to enact policies to raise the standard of living for working families. Yet too many anti-worker politicians are doing exactly the opposite ― weakening existing unions and blocking efforts to support millions more working Americans in coming together to advocate for themselves and those that they serve.
In the last century, factory workers in cities like Detroit built strong unions, turning low wage, unsafe manufacturing jobs into good union jobs and creating a robust American middle class (albeit one that too often left out many women and people of color). Over the last 50 years, our economy has changed dramatically. Service sector enterprises – including hospitals, home care agencies, retail stores, fast food restaurants, colleges, and the Detroit nursing home where Ms. Plant-Bonner cares for the seniors of her community – are the anchors of the 21 century economy. Far too often the workers in these industries ― hospital housekeepers, dietary aides, nursing assistants and other health care workers, as well as janitors, fast food and restaurant workers, and faculty members – toil for low wages and meager benefits, forced to string together two and three jobs to try to make ends meet. Like the industrial workers who came before them, today's service workers ― many of them women, immigrants and people of color – are standing up to improve their lives and those of their families.
This Labor Day, working families have a lot to celebrate and a lot to fight for. As executive vice president of the Service Employees International Union, I've had the opportunity to travel across the country and see working families in action doing what it takes to win. Health care workers like Ms. Plant-Bonner are forming unions to improve their lives and the care they provide to their patients. Faculty members have come together and won the right to join together in a union at Yale, Duke and other universities. In cities like Seattle and New York, workers have won wage increases and other gains that have given millions of Americans a pathway to a better life.
These courageous workers know that everyone benefits when millions of workers gain a voice to lift themselves out of poverty and build a new, truly inclusive American middle class. But they also know that the fight is just beginning.
This Labor Day, caregivers like Ms. Plant-Bonner – fresh off their victory in protecting the health care of millions of families – are once again standing up for themselves and for their neighbors. As they look ahead to next year's critical elections, America's workers are determined to use their voices and their votes to change politics and win the freedom for all workers to join together in 21 century unions.
Popular in the Community