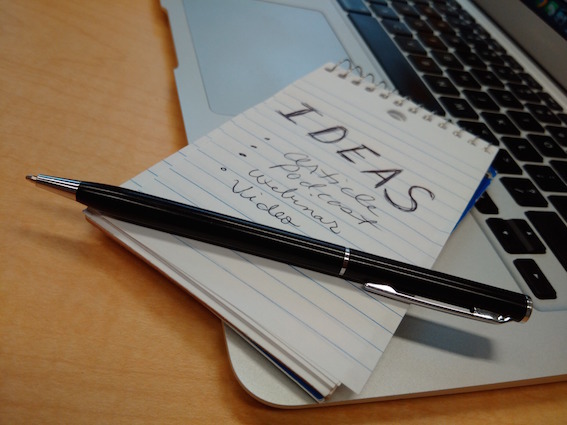 What do you do when you feel you've run out of steam?
More and more professionals are learning the importance of being able to not only manage their time better, but also their creativity.
Here are three ways that you can harness your creativity to position yourself for success and achieve more with less:
With only so many hours in a day, it makes sense to maximize the time you've got. That said, anything you see, do or experience, whether at work or in your personal life, can serve as a potential catalyst for content. An appetite for reading is helpful in this regard. Stock the bookshelves at home, or head online and subscribe to a variety of publications, blogs and podcasts.
Even doing something simple like keeping your finger on the pulse of your friends' social media shares can serve as a means of feeding your pipeline. You never know when an idea will take shape based upon something you saw, read or said.
Pick up magazines and flip through them at the grocery store to pick up tidbits and make connections.
Sometimes inspiration and connections come from unexpected sources. Case in point, a feature in an architectural magazine that I bought for my husband contained a sentence or two that complemented an idea I had earlier. Happily, the material directly related to the thesis for another article forming in my brain.
Steve Jobs once said, "Creativity is just connecting things." So be like Steve and connect things in your everyday life: Always carry a small, spiral bound notebook and a pen to capture inspiration, observations and connections as they occur to you.
Gathering your ideas in a central location is important for staying organized and for archival purposes. The goal is to have a reservoir of aggregated content from which to create once and use many times over.
Now that have a great idea and it is somewhat fleshed out, you need to decide where it will live. Do you see it taking shape as a blog post targeted to customers or is it more of a resource for training staff internally?
Could you refer to the subject matter in a newsletter? Might the content serve as fodder for your corporate podcast or spur on a series of web videos?
Think of all the ways you can repurpose a piece of content to make the most of your time and talent.
Always ask yourself, "Who is my audience?" and "Where should this idea go?"
Knowing who your audience is will help determine how you proceed with creating the content, shaping its presentation, dictating where it is shared and informing how you promote it.
Repurposing a work without diluting its content is a sure way to increase your productivity and the productivity of your entire team.
Here are a few suggestions for driving your productivity to the next level:
Write your ideas and connections down so that they don't evaporate. There are few things more frustrating for creative professionals than losing a stroke of genius. Inspiration comes and goes, so grab it as it happens.
Treasure your ideas as much as you treasure time. Time has value, as do ideas. Seek inspiration, surface new ideas, aggregate and shape them, actively manage them.
Work smarter, not harder when you structure your creative process for scale by being resourceful and making moments of creativity count.
When do you find yourself most productive? Let me know in a comment.
REAL LIFE. REAL NEWS. REAL VOICES.
Help us tell more of the stories that matter from voices that too often remain unheard.