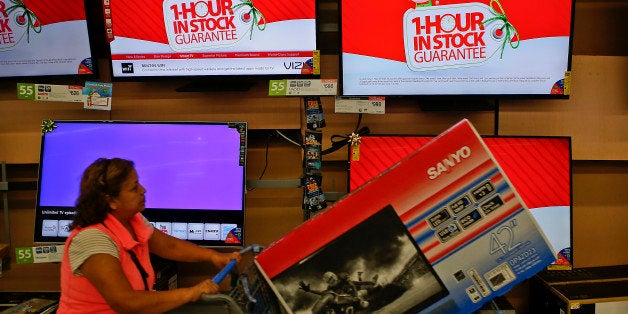 How much is a Thanksgiving with your loved ones worth to you?
If you were asked to give it up, would its value be $10.09 per hour? How about $15.05, with some free turkey thrown in?
Over the past few weeks, hundreds of thousands of retail workers have performed a depressing calculus in the run-up to a great American holiday. More and more retailers are choosing to open their doors on Thanksgiving Day, meaning they need more and more employees to sacrifice a day of thanks with their families and punch in. Some workers are happy to take the extra shift. Plenty aren't.
They have to ask themselves whether working on Thanksgiving is worth a small holiday bonus on top of a modest base wage. Whether it's worth not pissing off the boss and maybe losing hours in the future. Or whether it's worth helping a colleague save their own holiday with family.
The retailers taking part in Black Friday "creep" may be excited about the shopping bacchanalia. But the workers? The ones who emailed HuffPost with their thoughts didn't sound too pumped about the whole affair. They're not fired up by the prospect of a one-day pay differential, or a free meal in the break room. Mostly, they just seem sad.

A manager from Office Depot, who like other workers asked that her name not be used for fear of getting in trouble with her boss, will be cutting her holiday short on Thursday. Many Office Depots will be opening on Thanksgiving this year.
We will be open from 8 pm til 11 pm. It's only three hours but it's three hours too many… Thanksgiving is a day that should be spent at home, enjoying time off, or spending time with your loved ones. It makes me sad that retail locations value sales more than their associates these days... Why can't shopping wait til Friday? It's just one day. But in the world of retail no one thinks about families or considers the little people who have to be at work. All they care about is sales.
Perhaps most depressing for career employees is the knowledge that opening times only move in one direction. For some workers, it has started to set in that they may never enjoy a normal Thanksgiving again. And as much as the retail giants would like to point fingers at their competitors, or say they're just following the demands of shoppers, plenty of workers view this development as nothing more than a moral failing of corporate leadership.
A manager who's worked at Best Buy for more than 10 years -- and who will miss the holiday with her children this week -- says she is quitting and this Black Friday will be her last:
The company has changed in many ways. I understand that we have had to in multiple ways with the ever changing retail climate, and to keep customers and Wall Street happy. The disappointing downfall is that Best Buy always used to say that they cared for the employee and for our families. That they would refuse to open to give teams time with their families, which is a rare thing to have in retail. Granted I understand the quote they say to us over and over: "you choose retail, retail did not choose you." The decision to open on Thanksgiving just seems like greed has won over and the idea of care and family are long gone.
And it can be awful working a Black Friday sale. Shoppers who've waited hours and even days on line in the cold can be a prickly bunch. It isn't unheard of for workers to get hurt or even killed in all the excitement. The Occupational Safety and Health Administration -- an agency better associated with factory explosions -- has even issued guidelines for retailers on how to reduce the odds of workers getting hurt in a melee.
One of the roughly 1 million Walmart workers who will be on duty Thursday explained to HuffPost why she's careful to wear an extra shirt beneath her Walmart uniform:
I have worked the Thanksgiving madness before and let me tell you it is scary. People will start showing up and camping out in the aisles four hours or more before the sales start. They get aggressive and in your face… Most of us wear another shirt under our Walmart shirt so we can take off our Walmart shirt when our shift is over. Otherwise, we will never get out of the store in one piece.
Another Walmart employee said she'll be working a total of 14 hours, spread over two shifts, between Wednesday evening and Friday morning. (Many Walmarts are open throughout the day on Thanksgiving, though the Black Friday sale doesn't start until evening.)
My family doesn't get Thanksgiving at all this year, because I am the only one to cook. We have no family or friends that we can go to who will do the cooking for us. My husband works at a gas station and only has to work 4 hours that day. The three of us very rarely get time where we all have off together, so having to work on Thanksgiving makes me angry. Spending time with the people I love means something to me.
A lot of retailers would say the shifts are going to the workers who want them. That may be true in some cases, especially for workers who want more hours on the schedule. But for many, working the holiday isn't a choice at all. The stores will be open, and someone has to staff them.
Dick's Sporting Goods will be open at 8 p.m. on Thanksgiving. A Dick's worker in Wisconsin said she found out a week ago that she needs to be at the store at 7:30 p.m., right around apple-pie time:
A customer said it perfectly to me the other day that "each year it's going to get earlier and earlier, and sooner or later all retail workers will be asked to work thanksgiving." This is terrible. I find myself asking what I can do to stop this. I need a job, so quitting is unrealistic.
There have been people who've had to work on Thanksgiving for as long as it's been a holiday. A lot of them perform essential services: cops, firefighters, nurses. Although less critical, plenty of gas stations, grocery stores and news outlets like this one will expect a few selfless employees to make sacrifices, too.
A few retailers do choose to forgo the extra hours and preserve their employees' holiday. For some of the workers who aren't as lucky, the toughest part isn't trudging into work on Thanksgiving -- it's mustering the very gratitude the holiday is meant to instill. One Walmart worker wrote:
I will try to be thankful that in this economy I am lucky enough to have any job, but when my kids are eating macaroni and cheese every night and I can't even spend Thanksgiving with them, it doesn't always help. When my kids tell me they don't need a big turkey on Thanksgiving and they don't want anything for Christmas, they just want me to be with me, it's hard to be thankful.
Popular in the Community