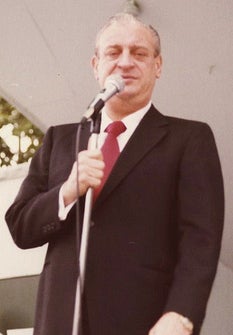 Leaders often tell me that they feel like the legendary comedian, Rodney Dangerfield. As they swim in a sea of eroding trust and digital complexity, "they don't get no respect." Unlike a fun-filled room filled with captive comedy fans, many are struggling to evoke laughter these days.
Building trust is certainly less headline-grabbing than a post on the latest political kerfuffle, or the power of AI. And trust-building isn't exactly a source of humor. I've witnessed recent events that caused me to explore this topic further, and find some root causes of trust erosion in modern times.
My curiosity surfaced when I reviewed results from our 4th annual CMO Innovation Trends study. Respondents stated that "a lack of internal alignment" rose to the top of their list of major innovation roadblocks. Poor internal alignment chips away at confidence in the C-suite agenda—and compels many leaders to jump ship and update their resume.
To add insult to injury, big brands such as AT&T, Verizon, Havas, Coca-Cola, and Wal-Mart recently suspended ad funding on YouTube. Programmatic advertising—which is the process of buying and selling advertising online—now faces government and boardroom scrutiny in some places, including the UK. These strong actions are forcing many agency leaders and CMOs to lift the opaque curtain from the programmatic advertising process, and demonstrate how they will deliver on the promise of consistent advertising results.
Finally, the barrage of new digital products can cause decision paralysis, putting further strain on the internal relationships. James Ontra, CEO of Shufflrr, told me "a loss of confidence (in marketing's ability to deliver) is not happening in spite of the plethora of marketing technologies; it is because of the plethora of marketing technology solutions. When there are too many solutions to choose, doubt and indecision can take hold when action is necessary."
The antidote to building greater trust is not that simple, because some of these external events are outside of our immediate control. But we CAN influence how we plan, communicate, and innovate. Here are three faux pas to avoid:
Poor contingency planning.
I have always assumed that the main cause of low trust was when leaders behave unethically. After I met "Barry," I realized I was wrong--intelligence can often overshadow common sense.
Barry, an accomplished life sciences Ph.D, was asked to re-launch the company's website. The new site was intended to drive more online orders, and reduce the cost of sales. In response, Barry jointly developed a project plan with clear milestones and accountabilities with his web team.
On the day of the new site launch, several things went terribly wrong. Barry discovered that the web team forgot to conduct critical tests before going live. The company lost tens of thousands of dollars in sales when the site launched. Barry's daily status meetings with the CEO, CFO, and customer service leader became boiler room bickering sessions.
Barry had lost the trust and respect of the CEO, which had taken him several years to earn. The CEO hired Barry's replacement quickly after that fateful week.
Absent a contingency plan, Barry suffered a significant, yet avoidable career setback.
Missing out on media collaborations.
During this era of VR, AR, and AI, leaders are tempted—and often compensated--to automate some processes (such as ad buying, content aggregation, and customer service). Too much process efficiency and cost-cutting can result in a loss of quality and customer connection.
The credibility of content strategists and media companies often suffers from excessive automation and belt tightening. According to Cision's 2017 State of the Media report, "ninety-one percent of journalists believe that the media is somewhat or much less trusted than they were three years ago." Here's the silver lining: Edelman's annual Trust Barometer findings show that executive level brand voices are currently more trusted by the public than the media. This is a significant and recent role reversal.
Leaders have a short time window to reach out to media companies and offer honest, high-value content. Together, they can help media properties regain audience confidence. If they act quickly, they can communicate their stories in places where their competitors are ignoring.
Discouraging diversity and debate.
Thanks to an increased number of product integration and partnership announcements within the marketing technology arena, turf wars between digital and creative teams are diminishing. For example, with the recent Adobe Experience Cloud product announcement, digital marketers, creatives, and agencies can share the same interfaces and dashboards to design and track campaigns. (full disclosure: Adobe invited me to their annual Summit). Other marketing tech companies will follow suit, such as Marketo, Oracle, and Salesforce.
Mitra Best, an Innovation Partner for PwC, suggests that marketing leaders enlist outside agencies to investigate and test marketing innovations. Best believes that "innovation happens at the nexus of diverse ideas. If you put a bunch of people who think alike in the same room, the likelihood of new ideas emerging is reduced."
If you're producing a one-person show, or poorly prepared for your digital debut, you're setting yourself up for stage fright. That's a surefire path to getting no respect.
Copyright 2017, Lisa Nirell. All rights reserved.
Support HuffPost
The Stakes Have Never Been Higher
Related
Popular in the Community