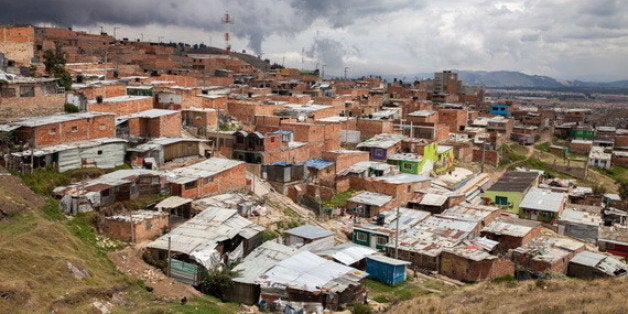 In Nicaragua, 28-year-old Ana lived with her two children in a shack made partly of cardboard. Her children "never told their friends where they lived," Ana says, "because they were ashamed that the walls were full of holes."
Seeking to improve the lives of her family, Ana turned to Habitat for Humanity. She sought a series of microloans to improve her home incrementally. While her husband, Francisco, works abroad and sends money to Ana, she has set up a small beauty salon to earn additional money to pay off the loans.
Addressing access to safe and decent housing is critical to helping people and families like Ana climb out of poverty. Currently, over 300 million urban households worldwide lack proper housing or are financially stretched by housing costs.
Ending poverty in all its forms everywhere is the first of 17 Global Goals for Sustainable Development adopted last year by world leaders. At Habitat, we not only embrace the goal of eradicating poverty, we especially support Goal 11: make cities and human settlements inclusive, safe, resilient and sustainable.
Next month in Quito, Ecuador, world leaders will finalize a second global strategy that builds on the 17 Global Goals and provides a path to achieve many of them in urban areas. Habitat III - the third United Nations Conference on Housing and Sustainable Urban Development - will bring together leaders from 193 countries to meet and renew their commitment to sustainable urban development and discuss new challenges and solutions.
Through conversations, sharing and negotiations, the UN Member States agreed on a New Urban Agenda that will define a global urban strategy for the next 20 years.
With the New Urban Agenda in place, the conversation now shifts toward its implementation and holding governments accountable to commitments made. For our part, Habitat will work to reduce poverty and foster more sustainable cities. In the coming years, we commit to:
1) A new urban approach. By 2030, nearly two thirds of the world will be living in urban areas and the number of people living in slums continues to grow. To address this, Habitat has adopted a new urban approach to promote sustainable cities. The approach is based on the premise that there are eight principles that are universal and essential for good urban and housing development, which can be implemented through various contextually adapted practices.
2) Global advocacy campaign. Housing accounts for more than 70 percent of land use in most cities, yet 1 billion people in cities around the world lack secure land rights. Habitat's Solid Ground global advocacy campaign will raise awareness and improve policies and systems around access to land for shelter for 10 million people, with a focus in four key areas: secure tenure, slum upgrading, disaster resilience and gender equality.
3) Inclusive housing markets. Government funding and private philanthropy alone cannot meet the shelter needs of the world's population - local markets are critical. Through our market development products and services, Habitat will accelerate and facilitate better functioning inclusive housing markets to enable over 8 million people to access improved shelter solutions by 2020.
4) Increase access to housing for 40 million people. By 2020, we will implement a wide array of community development strategies, advocacy initiatives and market development approaches, increasing housing access and affordability to housing for nearly 40 million people.
Driven by the vision that everyone needs a decent place to live, Habitat for Humanity welcomes the adoption of both the Sustainable Development Goals and the New Urban Agenda. In a world that is rapidly urbanizing, these ambitious plans provide a roadmap for the next two decades. With your help, let's ensure we live up to the challenge.
This post is part of a series produced by The Huffington Post to mark the occasion of the one-year anniversary of the adoption of the Sustainable Development Goals (SDGs, or, officially, "Transforming Our World: the 2030 Agenda for Sustainable Development"). The SDGs represent an historic agreement -- a wide-ranging roadmap to sustainability covering 17 goals and 169 targets -- but stakeholders must also be held accountable for their commitments. To see all the posts in the series, visit here.
Calling all HuffPost superfans!
Sign up for membership to become a founding member and help shape HuffPost's next chapter