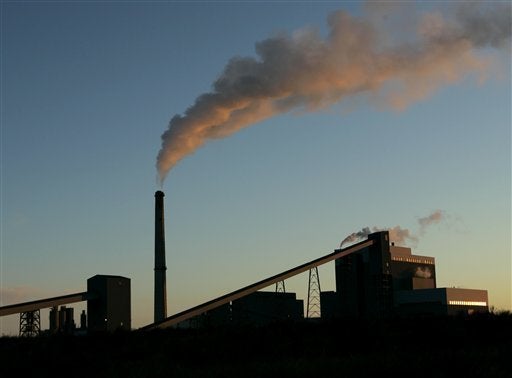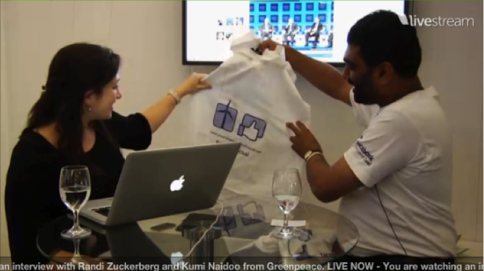 Kumi Naidoo presents Randi Zuckerberg, Director of Marketing at Facebook, with a t-shirt from Greenpeace's 'Facebook Unfriend Coal' campaign during a live interview at the World Economic Forum in Davos, Switzerland
I am at the World Economic Forum in Davos, Switzerland, where political, academic, and business leaders from around the world are convening to reflect upon our global development, identify positive progress, and meditate on new global risks and realities. At the top of the agenda is climate change.
Facebook is one of the many businesses here to address key global challenges -- an appropriate player given the company's unprecedented growth and global membership of over 500 million people. Valued at over $50 billion and representing a new era of technology and social interaction, Facebook is just the kind of highly visible, innovative company that can best demonstrate the bold and transformative leadership required to face the global realities being discussed this week in Davos.
I was interviewed at the forum today by Randi Zuckerberg, Facebook's director of marketing. I brought a gift to Randi, who is expecting a child -- a maternity shirt with the message "Facebook: Unfriend Coal" -- offered as a reminder that we need unprecedented cooperation and leadership from corporations, like Facebook, which have the political power, capital, and innovative drive help to stop climate change.
Her response? "We will love having you as a partner for that."
On behalf of over half a million Facebook users-- who have asked the company to commit to stop using coal to power its vast data centers, and who support a clean energy future -- I delivered a pledge for Randi to take back to Facebook's headquarters. If Facebook really wants to partner with Greenpeace to wean itself off of coal power, Mark should have no problem signing this:
Dear Mark, this is how you can make Facebook a clean energy champion:
1. Increase use of clean energy now;
2. Develop an infrastructure investment siting policy prioritising Renewable Energy;
3. Educate your users about Facebook's energy & carbon footprint and need for strong US energy policy;
4. Advocate for clean energy at a local, national and international levels.
This would make Facebook a true climate leader.

At Greenpeace we regularly use Facebook to raise awareness and spread our environmental message. Just like everyone who has benefited from the connectivity of Facebook's social platform, we hope to see the company thrive.
However, we can't accept that this global tech leader, with its game-changing innovation and unparalleled scale, isn't using every tool and technology available now to stop using coal and show how business can actually change the world.
P.S. And to all of you who asked in the live chat stream where you can get a T-shirt like I gave to Randi - join the Unfriend Coal page to find out! We're working on a way to offer them exclusively to those who tell Facebook to Unfriend Coal.
REAL LIFE. REAL NEWS. REAL VOICES.
Help us tell more of the stories that matter from voices that too often remain unheard.