The world of professional wrestling has changed dramatically since Chris Adonis debuted in 2003. Always a high-octane industry, the Impact Wrestling star suggests sports entertainment's continued evolution toward "offense, offense, offense" hampers the in-ring storytelling so prominent in the past.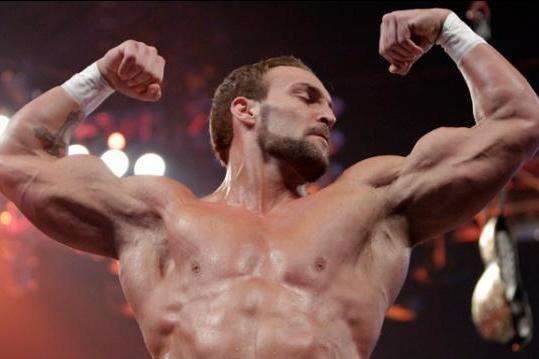 Now an ally to Impact Wrestling Global Heavyweight champion Eli Drake Thursdays on PopTV, Adonis first made his presence felt in World Wrestling Entertainment. Known at the time as Chris Masters, "The Masterpiece" was soon facing the likes of Kurt Angle and John Cena for the WWE World championship.
During his 15-year career, Adonis pointed out, fans have grown significantly more accustomed to the style of promotions like Ring of Honor, Lucha Underground and even Impact's own X-Division. While these "more acrobatic or 'spotty'" displays are exciting to watch, he admitted, over-emphasis on in-ring innovation and high-impact maneuvers detracts from ring psychology and classic storytelling in the squared circle.
"You lose something in that," said the California native.
A decade-and-a-half ago, during his initial WWE run, Adonis indicated the Stamford-based media juggernaut was already aware of growing fan expectations for offense-based matches. In response to early favor for daredevils like Jeff and Matt Hardy, they rolled out his "Masterlock Challenge."
"They were trying to take a step back from doing all the crazy stuff and get [fans] conditioned back to just some basic stuff that's fundamental and works, like the full nelson," he noted. "It's a simple move, but it works if it's presented right the way."
A string of WWE favorites tried in vain to break the then 22-year-old superstar's signature hold (known as "The Adonis Lock" in Impact). Everyone from Val Venis to future Hall-of-Famer Sgt. Slaughter failed; even "The Nature Boy" Ric Flair fell to "The Masterlock." In the process, Adonis said, fans started to "buy into" a very traditional wrestling hold.
"You can't just turn around and think [fans are] going to be – at least not overnight – conditioned to liking that," admitted Adonis. However, when promoted properly – as WWE did -- the star said it is both as effective as the aerial moves of today and equally satisfying to audiences.
LISTEN: Chris Adonis Talks Impact Wrestling, WWE Career, Working With Shawn Michaels
Of course, Adonis owes his understanding of ring psychology and storytelling to icons of the professional wrestling industry. Early on, WWE Chairman of the Board Vince McMahon pulled in "Mr. Wonderful" Paul Orndorff to work behind-the-scenes on his in-ring persona.
"From the minute Vince saw me, that was the comparison made," confessed Adonis during his extended interview, "So that was definitely what they were wanting me to emulate or at least study."
Orndorff, best known for his piledriver finisher, was an early-'80s challenger for then-World Wrestling Federation champion Hulk Hogan. Their legendary feud ignited the WrestleMania era. "He was really good at just turning up that intensity and really bringing it to guys," said Adonis of "Mr. Wonderful," which is what the WWE Hall of Famer tried to teach him.
One of the most influential teachers of Adonis' career is Shawn Michaels. Having "idolized" Michaels long before beginning his own pro wrestling career, "The Modern Day Adonis" called their 2005 WWE program "a dream come true."
The veteran did more than boost his confidence by allowing the much "greener" competitor to call their matches. Adonis also credits "The Heartbreak Kid" for teaching him a significant amount about the nuances of telling a story in the ring,
"Everything he did, he just did really well," said Adonis.
"Not only do you have great moves you execute, you execute the right emotions at the right time," he explained. "You execute all those little things, and the storytelling aspect, which goes along with the emotions at what's happening, how you're 'selling' — how you're able to bring a crowd into it and convey pain."
While Adonis noted Michaels is "considered probably the best worker in the business," his matches did not hinge on incredibly creative or "innovative" in-ring maneuvering. Rather, the four-time World champion and 2011 WWE Hall of Fame performer (who relied largely on his superkick) was "a great storyteller and a great seller."
"You put all that together, and you realize it doesn't really matter how innovative a move…it just matters the performance overall," Adonis explained.
Later, after departing WWE for the first time, Adonis came under the tutelage of legendary Harley Race. Known to a generation as "The King" during his Hall of Fame WWE career, Race invited the rising talent to compete in his Missouri-based World League Wrestling.
"It was good for me to have some guidance in my life at that point," he shared. "I was still really young for everything that had been happening for me...it was overwhelming, and I had to find my way back."
Race, whose career spanned decades as a journeyman in the industry and saw him wrestle in every major promotion in the world, further instilled an understanding of "old-school" storytelling. Even more so, Adonis said of the eight-time National Wrestling Alliance World Heavyweight champion: "He prepared me for a career on the independent wrestling world."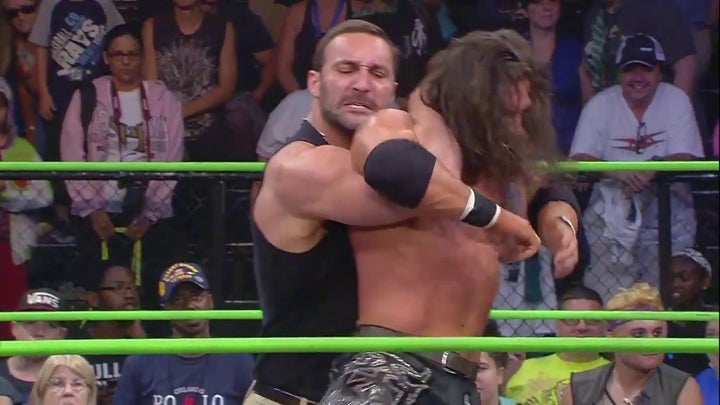 For the most part, though, indie wrestling has consumed only a fraction of Adonis' in-ring time. Between two tenures with WWE, he worked with Ring Ka King, an Indian offshoot of then-Total Nonstop Action Wrestling, Tommy Dreamer's House of Hardcore promotion and challenged for the NWA World title.
After a brief 2015 foray into Impact Wrestling as part of the Global Force Wrestling faction in 2015, Adonis returned to the company full-time earlier this year. He quickly aligned himself with Drake in the latter's pursuit — and subsequent defenses — of the Global Heavyweight title.
"He's been kind of a homegrown talent in Impact and has worked really hard to get where he's at," Adonis praised the Global champion. "People are really starting to react to him, so it's really the right time for them to do something with him."
Adonis notes "tremendous potential" in what Drake and he can accomplish, both together and separately – "In terms of a split," he said -- as Impact continues to evolve. "It needs to be something that's in the long-term plans, the long-term direction," he said emphatically, acknowledging the company has lacked such big picture vision of late.
"As long as I've been in Impact, nothing has been set in stone," he said, "Everything has been questionable. We've had a lot of moving pieces, a lot of people in and out. It's about getting the company to a stable place at this point."
Once the ship rights itself, though, Adonis sees big things ahead for Drake and himself. He noted a key in their story together could become the "progression of him going in one direction and me going in another."
Adonis pointed to the champ's increased fan support over recent months. Drake's catchphrases are gaining popularity, which often leads to formerly reviled combatants becoming fan favorites. With his stress for storytelling both in the ring and out, Adonis said: "We can do something really interesting and cool with this."
Adonis went so far as to suggest he might provide the catalyst "to help send Eli into his babyface run." He offered the possibility that his relationship with Drake could even mirror a classic WWE storyline, wherein Shawn Michaels was attacked by former bodyguard Sid Justice. As a result, the formerly hated Michaels instantly became a crowd favorite again.
"There are ways to do that which are really cool, and there are ways to do it which aren't, so we just need to make sure it is," he said.
"Then all of this can be for a reason at the end of the day," Adonis concluded, "And it can help both characters get to where they need to be."
Arm Drag Takedown with Pollo Del Mar is a weekly pro wrestling podcast featuring opinions, TV recaps and interviews with today's top stars. Past guests include Austin Aries, Jack Swagger, Gail Kim, Robbie E & more. Charlotte Flair is slated to appear on Ep. 10.
LISTEN: Chris Adonis Talks Harley Race, "Mr. Wonderful" Paul Orndorff, Shawn Michaels & More.
Popular in the Community