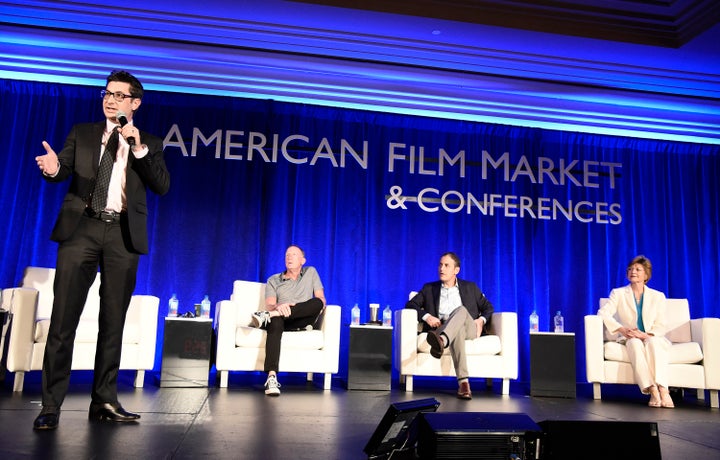 An international sales agent is someone who sits in a room at Cannes with a broken air conditioner on a rainy, sweltering day. Their task is convincing someone who's hungover and speaks English as a second language to promise to buy something that doesn't exist - literally to buy air. All in 15 minutes.
"It's show business," said Kathy Morgan, president of KMI films who's been in that position countless times during her career as one of the leading sales agents. "You have to remain an optimistic cynic in this business," she told the audience at a conference during the 2016 American Film Market (AFM).
Morgan goes into every sales pitch meeting knowing that even if she makes a sale it could still come undone. Something that happened to her with "The Danish Girl" that she worked on for eight years.
"It sold three times and unsold twice," she said.
Her optimism kept her going and her belief in the project. She said a sales agent has to believe the idea is so good that people will leave their house and pay $10 to see it and that it will win "every Academy Award."
On the business side she deals with the "bean counters and bean farmers" who are only interested in whether they'll make a profit.
The way to their hearts is to "make them think they're going to make a billion dollars," she said. "They get excited."
Sales agents like Morgan play a vital role in getting a film made. The commitments, or pre-sales, she gets from foreign buyers, or estimates of what they would pay for a particular film, tells the producers and their potential investors and banks whether or not there is a business case for a film and what budget it can sustain.
"We don't ever option a project without talking to a sales agent, " said Douglas Mankoff, producer and CEO at Echo Lake Entertainment, Who's produced over 30 films including "Truth" and "Nebraska," that was nominated for six Academy Awards.
"You want their input when you're building a package," said Mankoff. "We may have our own instincts about who is attached (actors and directors who've agreed to work on a film) but the sales agent can say whoa – they have a problem with this or that."
Others rely more on their instincts.
"I take more of a kamikaze approach," said David Lancaster, who's produced over 40 films. He currently heads his own company, Rumble Films that produced "Eye in the Sky" last year with Helen Mirren. "I think there is nothing like the creative spirit inside of you," he said. "That emotional enthusiasm you have for a property has to outweigh anything a sales agent can tell you."
Morgan pointed out Lancaster can do that, "because he's done it for 40 years and knows how to make it work."
Lancaster's experience has given him an understanding of how films are made and he uses this knowledge to put together a workable budget that he thinks a film can sustain. Once he has that in hand he thinks about finding a sales agent, who might be right for a particular project and one the sales agent will want to represent.
This prompted the moderator, Clay Epstein, a sales agent and president of Film Mode Entertainment, to ask the panel what it takes for them to get involved with a film?
"I want to handle projects that light my fire. Because when you take on a film it's a 15 year relationship," said Morgan. "Some of the relationships have lasted longer than my marriages," she said.
She wants to work with producers who are in it for the "long haul."
This long haul has gotten harder over the years.
"The good old days when if a film was 90 minute long, in color and flickered, we could sell it," are gone said Morgan.
Buyers are much more sophisticated and there's more competition.
Morgan spelled our how she evaluates the potential for any project. To increase the odds of making a sale, you need a hand full of aces. "It's like poker and you want all aces," she said.
First ace, is a killer script in genres people want. Second ace, is a director actors what to work with and that buyers are familiar with. Third ace, are actors who are attractive internationally. Fourth ace, a budget that's right for the elements you've attached. And the fifth ace, a US distribution plan with a long enough theatrical run that the international buyers won't think they're being asked to buy a TV show.
Of course, if you have Tom Hanks or Robert Redford attached to your film you may have all the aces you need and you don't have to worry as much about the budget.
If not, you're going to have to do more work to put together all of the elements. And you'll have to find a sales agent that's experienced and one that the banks believe. They know whose estimates they can trust.
"There are rogues and pirates and you have to know the game," said Mankoff.
"If you are just getting started in the business – go back it's a trap," said Morgan with a laugh. "It's a drug and I don't have to do drugs."
There are a lot of in's and outs and you'll only learn by doing but at the end of the day, "the truth is, you need to find a great script, a great story that needs to be told," said Lancaster.