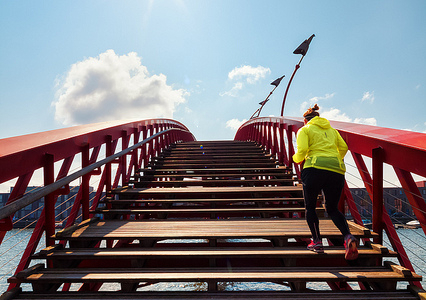 Spring is in full swing, the weather is warming, and April's top 10 songs will bring the heat to your workout as well. This month's picks provide a steady rhythm with most of the mix clocking in between 122 and 130 beats per minute (BPM). Within that range, you'll find chart returns from both Carly Rae Jepsen and Ricky Martin and the latest from Ariana Grande and Andy Grammar.
On the warm-up and cool down fronts, you'll find an upbeat tune from Jason Derulo and a remix from Skrillex and Diplo's Jack Ü side project featuring Missy Elliott. Lastly, while pop and dance hits generally rule the gym, the most popular workout song of the month actually came from Kid Rock. At 132 BPM, the title track from his new album First Kiss is also the fastest song in this month's playlist.
While some months' selections vary wildly, April's favorites make a virtue of their consistency. Along those lines, the mix features plenty of quick tunes, an emphasis on good vibes, and a few surprises to keep things interesting -- everything you need to get up and moving.

Here's the full list, according to a poll on Run Hundred -- the web's most popular workout music blog.
Jack U & Kiesza - "Take U There (Missy Elliott Remix)" - 80 BPM
Jason Derulo - "Want to Want Me" - 115 BPM
Carly Rae Jepsen - "I Really Like You" - 122 BPM
Ricky Martin - "Adios" - 128 BPM
Zedd & Selena Gomez - "I Want You to Know" - 130 BPM
Madonna - "Living for Love (Dirty Pop Remix)" - 129 BPM
Ariana Grande - "One Last Time" - 126 BPM
Deorro & Chris Brown - "Five More Hours" - 128 BPM
Andy Grammer - "Honey, I'm Good." - 123 BPM
Kid Rock - "First Kiss" - 132 BPM