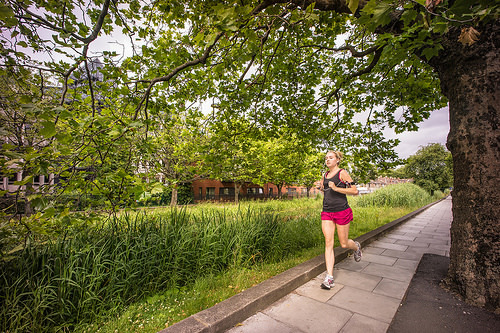 While every month brings with it a crop of new tunes, May's releases bring an unusually high number of fast songs and remixes. Both are ideal for your workout as quick tunes naturally lend themselves to momentum and remixes give proven hits a second wind.
On the uptempo end of things, you'll find songs above 140 beats per minute (BPM) from pop phenom Meghan Trainor, rockers Florence + The Machine, and breakout star Katy Tiz. In the remix department, you'll find a club cut from Kelly Clarkson, a collaboration between Maroon 5 and Nicki Minaj, and a version of "Uptown Funk" that dials up the intensity of an already boisterous track.
Just as a remix can breathe new life into a familiar favorite, a few new songs can liven up an entire playlist. So, take a listen to some this month's highlights, see what moves you, and put the winners to work.

Here's the full list, according to a poll on Run Hundred -- the web's most popular workout music blog.
Natalie La Rose & Jeremih - "Somebody" - 105 BPM
Meghan Trainor - "Dear Future Husband" - 158 BPM
Mumford & Sons - "The Wolf" - 153 BPM
Maroon 5 & Nicki Minaj - "Sugar (Remix)" - 121 BPM
LunchMoney Lewis - "Bills" - 126 BPM
Florence + The Machine - "Ship to Wreck" - 142 BPM
Tove Lo - "Talking Body" - 120 BPM
Kelly Clarkson - "Heartbeat Song (Nebuer Remix)" - 135 BPM
Katy Tiz - "Whistle (While You Work It)" - 162 BPM
Mark Ronson & Bruno Mars - "Uptown Funk (Dave Aude Remix)" - 124 BPM