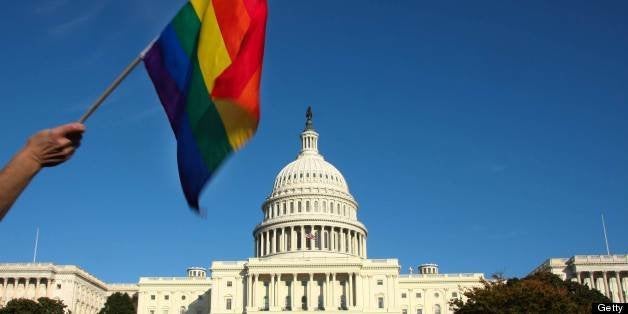 A majority of Americans would support banning workplace discrimination against gays and lesbians, according to a new HuffPost/YouGov poll.
The survey found that 52 percent of Americans said they favored a law prohibiting discrimination by employers against gays and lesbians, while 35 percent said they opposed the idea.
Democrats (by 63 percent to 28 percent) and independents (50 percent to 35 percent) were generally in favor of banning job discrimination against gays and lesbians, but Republicans were more likely to be opposed (47 percent to 39 percent).
Poll respondents between ages 18 and 29 were more likely than older respondents to back a law against job discrimination. Fifty-nine percent of young adults said they favored such a law (including 47 percent who said they favored it strongly), while only 28 percent said they were opposed. Other polls have shown that young adults tend to be more supportive of other rights for LGBT Americans, such as same-sex marriage.
But the HuffPost/YouGov survey also found that most Americans believe stronger job protections for gays and lesbians already exist. Sixty-five percent of respondents said it is illegal under federal law to fire someone for being gay or lesbian, while another 20 percent said they were not sure and only 15 percent said it is legal.
In fact, current federal law does not protect workers from being fired based on sexual orientation, although some states and jurisdictions have instituted their own job protections.
Sen. Jay Rockefeller (D-W.Va.) recently became the 52nd Senate co-sponsor of the proposed Employment Non-Discrimination Act (ENDA), which would ban workplace discrimination on the basis of either sexual orientation or gender identity.
Republicans in the new poll, who were least likely to support a law prohibiting anti-gay discrimination, were the most likely to think that firing someone for being gay is already illegal under federal law. Seventy-five percent of them said it was, compared to 63 percent of Democrats and 60 percent of independents.
Along with job discrimination, Americans were more likely than not to support a law prohibiting housing discrimination against gays and lesbians, by 48 percent to 42 percent. A recent Department of Housing and Urban Development study found that gay and lesbian couples face significant discrimination in obtaining rental housing. Housing discrimination against members of the LGBT community is also not illegal nationwide.
The HuffPost/YouGov poll was conducted June 18-19 among 1,000 adults using a sample selected from YouGov's opt-in online panel to match the demographics and other characteristics of the adult U.S. population. Factors considered include age, race, gender, education, employment, income, marital status, number of children, voter registration, time and location of Internet access, interest in politics, religion and church attendance.
The Huffington Post has teamed up with YouGov to conduct daily opinion polls. You can learn more about this project and take part in YouGov's nationally representative opinion polling.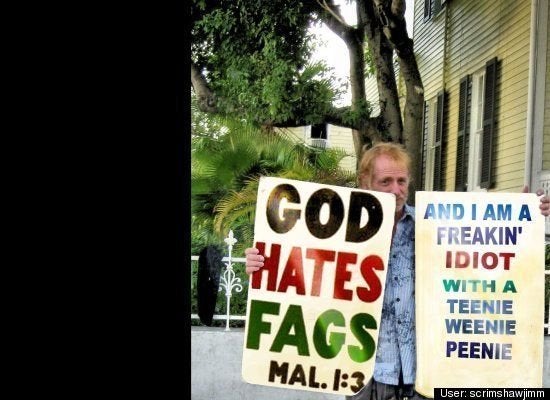 Anti-Gay Protesters Getting Owned
Popular in the Community