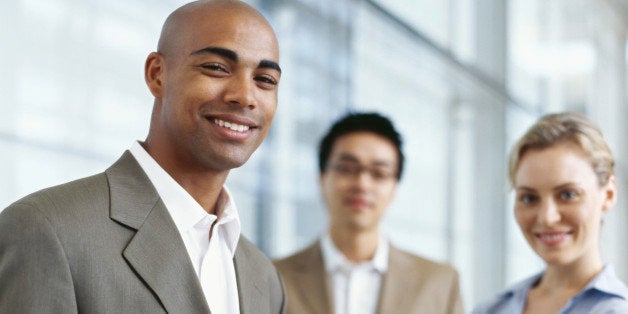 Fifty years ago, on August 28, 1963, Dr. Martin Luther King, Jr., delivered one of the most eloquent speeches in the English language. As he stood on the steps of the Lincoln Memorial, he proclaimed, "I have a dream." His dream, he explained was "deeply rooted in the American dream... that one day this nation will rise up and live out the true meaning of its creed: 'We hold these truths to be self-evident: that all men are created equal.'"
Yet decades after the civil rights movement, despite the convincing reelection of the first black President of the United States, there's still a wide chasm between races. In the same speech, King described a future "where little black boys and black girls will be able to join hands with little white boys and white girls and walk together as sisters and brothers." Yet according to a new Reuters/Ipsos poll, 40 percent of white Americans don't have non-white friends and 25 percent of non-white Americans have no friends outside of their racial demographic.
This sub rosa segregation spills over into the workplace. African-Americans are stunningly under-represented in the highest corridors of power. The most recent data from 2011 shows that they hold less than 6 percent of board seats at Fortune 500 companies. Only six blacks currently hold Fortune 500 chief executive positions. (p. 5)
It's not from a lack of ambition. Research from the Center for Talent Innovation shows that 79 percent of college-educated African-Americans consider themselves ambitious, compared to 66 percent of Caucasians, and nearly 35 percent of African-Americans are "willing to do whatever it takes to get to the top" compared with 31 percent of Caucasians. (p. 15)
Yet engrained bias and entrenched ideas of white male superiority continue to thwart their path upward. Over time, a subtle but unequal pattern of advancement "leads one group to feel either excluded or only partially included, while the other sees life as 'normal,'" writes Ella Bell, professor of business administration at Dartmouth's Tuck School. (p. 9)
This sense of being outside of the "in" crowd leads people to color to often feel that they have to hide their true selves at work to avoid being stereotyped as having a chip on their shoulder. "My style is direct, and that can play into the stereotype of the angry black woman," says one senior executive. "In the back of your mind, you wonder, you worry, are you being demanding, confrontational?" Over a third of African-Americans confess that they deliberately change the way they tell their personal story in order to conform to their company's model of executive presence -- 20 percent more than their Caucasian counterparts. (p. 28) "You're like a chameleon, constantly changing the way you are," notes a network TV manager.
According to the Reuters/Ipsos poll, the workplace is the only place where white leaders ever have regular interactions with people of color, yet beneath the surface pleasantries lies a pervasive lack of ease. A white executive in a major law firm commented, "I've asked every woman partner what it's like to be a woman here but I've never asked our black partners what it's like to be black here."
This self-perpetuating circle breeds disengagement and distrust, a discomfort that goes both ways and further distances high-potential African-Americans from the opportunities to advance their careers. The result: "They are missing the relationships and the assignments to get them the visibility they need," says Bell.
To break those barriers requires powerful advocacy. African-American talent urgently needs what one diversity expert calls "door-opening relationships" -- powerful links to senior executives willing to put their reputations on the line to promote their protégés all the way to the top. In a word, top minority talent and their employers alike must move past stale ideas of inclusion toward the power of sponsorship.
Our statistics spotlight the relentless power of exclusion -- and how sponsorship can help alleviate it. Without a sponsor, nearly half (49 percent) of African-Americans feel like an outsider in their corporate culture; with a sponsor, the number drops to less than one-third (32 percent). Forty-two percent of unsponsored African-Americans believe a person of color would never get a top job in their organization; add an advocate and only 28 percent are as pessimistic. (p. 29)
Among people of color, sponsorship is particularly crucial in invigorating ambition and driving engagement: 53 percent of African-Americans with a sponsor are satisfied with their rate of advancement, compared with 35 percent of those without such advocacy. (p. 17) Most telling is how sponsorship affects engagement and retention: with a sponsor, 13 percent of African-American talent say they're likely to quit within a year, on par with their Caucasian counterparts; without a sponsor, the number more than doubles to 27 percent, 80 percent more than Caucasians. (p. 40)
Mentoring programs, while admirable, are not the answer. While a mentor serves as a safe sounding board and can offer advice, they may not have a particularly wide circle of influence or a position that affords a company-wide perspective. In contrast, sponsors have the clout and resources to help lift people of color across the threshold of power.
What can employers do to foster these powerful partnerships? Forward-thinking companies are creating an exciting array of initiatives that simultaneously aim to offer tailored, individual training to this high-potential talent pool while working to shift the organizational culture to better recognize their hidden strengths. Such programs center on three essential focus areas for people of color: helping talent gain visibility; teaching the nuts and bolts and tactics of sponsorship; and providing protégés with the tools and capabilities they need for success.
American Express' African-American Talent Investment (AATI), for example, focuses on increasing the engagement, representation and retention of senior African-American talent across the company. Launched in 2011, the initiative looks to better understand the experiences of African-American employees as they develop and advance their careers, as well as creating an inclusive culture that enables employee success.
Ernst & Young is another example of a forward-looking company in that their Unplugged program aims to engage recently hired ethnic minorities right from the get-go and provide a solid foundation for their long-tem success at the firm. As the name suggests, the core of the program is the exchange of candid questions, advice, and experiences between the approximately 300 new Black and Latino entry-level staff and Black and Latino top performers, partners, principles and mentors. "They talk about all those unwritten rules that normally don't get talked about, whether it's the way you dress, the way you speak, how to build relationships, what you can and can't ask, and how to ask those questions," explains one participant.

Fifty years ago, Martin Luther King, Jr., said, "I say to you today, my friends, that in spite of the difficulties and frustrations of the moment, I still have a dream." Programs like these can help realize his dream.
Popular in the Community