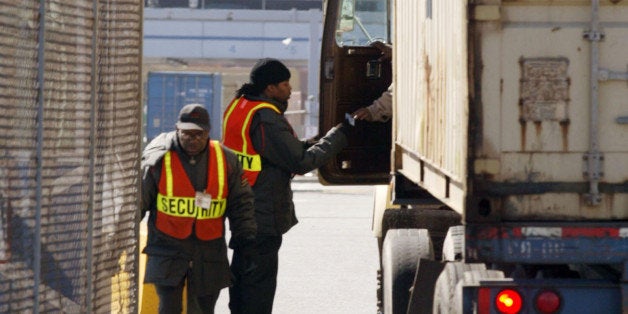 Today is Workers' Memorial Day, a time to remember and honor our fallen brothers and sisters in the labor movement all across the globe. But while technological advancements should be making the workplace safer, deaths and injuries on the job are still a major concern.

The U.S. Department of Labor (DOL) reported that 4,679 workers were fatally injured on the job in 2014, up two percent from the previous year. The numbers were particularly grim for the workforce's oldest participants, who saw fatalities rise by nine percent. The 1,621 recorded deaths for those 55 and over is the highest since the agency began tracking such numbers in 1992.
Meanwhile, a report issued last month by the DOL's Occupational Safety and Health Administration (OSHA) made it clear that severe injuries while at work are also a significant problem. Employers reported more than 10,000 severe work-related injuries in 2015, resulting in 2,644 amputations and 7,636 hospitalizations. Among the top industries reporting severe injuries were in the food processing, warehousing and storage and general freight trucking sectors, all of which have a significant Teamster presence.
There is reason to believe, however, that the numbers for those hurt on the job don't tell the whole story. Since companies have only been required to report such injuries within 24 hours as of last year, the document said the reported number of severe injuries likely does not detail the full extent of the problem.
"OSHA believes that many severe injuries -- perhaps 50 percent or more -- are not being reported. We base this conclusion on several factors, including injury claim numbers provided to us by state workers' compensation programs," the agency wrote. "Because the majority of first year reports were filed by large employers, we believe that many small and mid-sized employers are unaware of the new requirements."
Before 2015, the agency required prompt reports, within eight hours, only if a worker died. The point of OSHA's new rule is to push employers to clean up their acts on their own. But its report on the rule's first-year impact reveals an epidemic of severe on-the-job injuries.
Forty-six years ago, Congress passed the Occupational Safety and Health Act, promising every worker the right to a safe job. Decades of struggle by workers and their unions have resulted in significant improvements in working conditions. Unions have won laws and protections that have made workplaces safer for all workers. Union contracts have also given workers a voice on the job.
But as these numbers show, the toll of workplace injury, illness and death remains enormous. Some Teamsters within the union's 22 trade divisions and conferences are particularly at risk, suffering very high rates of job injuries and fatalities.

Roadway incidents continue to be the leading cause of on-the-job fatalities and truck drivers suffer more on-the-job fatalities than any other individual occupation. And ergonomic hazards cripple and injure hundreds of thousands of workers every year and musculoskeletal disorders occur in one out of three injury and illness cases requiring days away from work in 2014, without corresponding standards to prevent them.

Certain populations are also more at risk than others. Latino and immigrant workers, who often work in the most dangerous jobs and are exploited by employers, often have no union protections and are afraid to speak out. Many public sector workers also have no OSHA protection. Hundreds of workers are fired or harassed by their employers each year simply for voicing job-safety concerns or reporting injuries.
Although there are dozens of whistleblower protection and anti-retaliation laws on the books, some are simply too weak and others are just not aggressively enforced due to insufficient funding of the regulatory agencies charged with enforcement. As such, whistleblower and anti-retaliation provisions are not adequately protecting workers who try to exercise their legal rights to speak out on workplace safety issues.

On this Workers' Memorial Day, we need to join hands to seek stronger safety and health protections and better standards and enforcement. To quote Mother Jones, a small woman but a giant in the American labor movement, "Mourn for the dead and fight like hell for the living."
Related
Popular in the Community