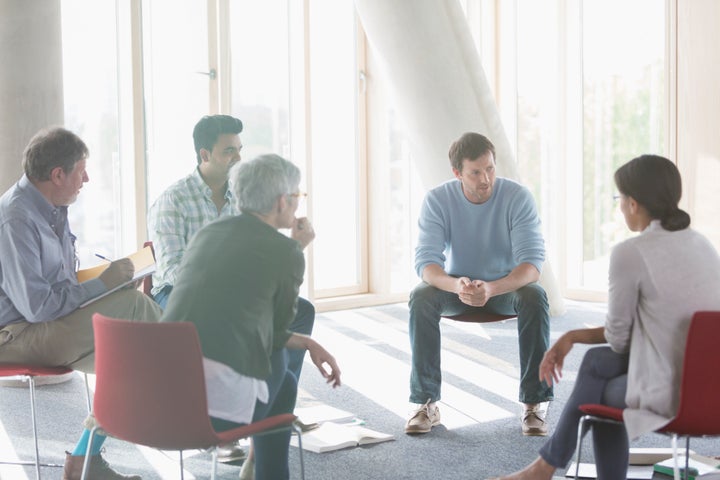 The United Kingdom is taking a proactive approach to promoting mental health in the workplace. Prime Minister David Cameron met with British business leaders earlier this week to discuss how to better foster a work culture that encourages people to take care of their mental well-being.
"We've not done enough to end the stigma of mental health," Cameron told the BBC. "We focused a lot on physical health, and we haven't, as a country, as a nation, focused enough on mental health."
Now the question is: Can the U.S. do the same?
The U.S. health care system leaves plenty to be desired, and the perceived stigma surrounding mental health issues can be an added hurdle for anyone seeking out adequate care. In any given year, about 1 in 4 Americans suffers from a mental illness, and the majority don't get help. Nearly 30 percent of Americans will experience an anxiety disorder in their lifetime, estimates the National Institute of Mental Health.
Things are even less encouraging when you consider that government support isn't always available for people find themselves in need of mental health care -- states have their own policies on the coverage.
Compounding the issue is that work can play a significant role in putting workers' mental health at risk. Americans are spending more hours at the office without a corresponding increase in compensation, and 83 percent are stressed about their jobs. And the outlook isn't good: Stress levels rose by 18 percent for women and 24 percent for men between 1983 and 2009, and people are starting to feel stress earlier in life. That's a pretty serious problem for the American workplace.
But business leaders can do a lot just by opening a conversation about mental health in the workplace. Asking whether a work environment fosters insecurity and anxiety might be a good start.
"It takes a great deal of courageous leadership to stop the 'everyday work routine' long enough to ask these questions," Janice Marturano, executive director of the nonprofit Institute for Mindful Leadership, said in an email.
Corporate leaders are beginning to pick up on the need to make mental health a priority, though. Some companies offer treatment coverage for mental health and counseling, and wellness programs are also becoming more popular.
Starting these conversations at the top is important, said Pamela Greenberg, president and CEO of the Association for Behavioral Health and Wellness, which represents companies that offer mental health and addiction services. If an executive is open to employees about his or her own experience with mental health issues, for example, that's likely to get them more comfortable talking about and seeking care.
"That really has to start with the C-suite," she said. "Your concern is always the big boss: 'Are they going to think that I'm weak or did something wrong?'"
"Often leaders themselves are inappropriately dealing with their own emotions in a destructive way," Marturano said.
Going back to the basics of employee wellness is also helpful when it comes to mental health. Leaders should emphasize the importance of taking a vacation and recognize when people are stressed, said Greenberg, whose company also runs a "Stamp Out Stigma" initiative that encourages people to talk more about mental illness and substance abuse.
Addressing mental health head-on is good for business, too. Nearly one-third of respondents in a survey by Employee Benefit News magazine said that mental illness was the main cause of decreased productivity and being absent from work. Reducing work stress has been shown to help employees sleep better and be more productive during the day. It's about time companies get better at taking care of their workers.
Related