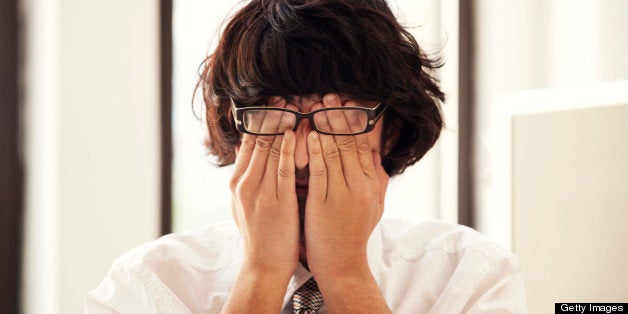 April is Stress Awareness Month (yes, there is such a thing!), and although stress finds its way into our lives in a range of capacities, we undoubtedly find it most often in the workplace. From piles of projects to deadlines, to pleasing clients and avoiding cash shortfalls, the workplace typically is the culprit in the buildup of anxiety.
Before your hair is in your hands (if you even have any left), consider the following pointers to help detect and alleviate stress while at work:
Know what stresses you out, manage it correctly. Recognize the signals that lead you to experience your highest caliber of stress, whether it's headaches, lack of energy, being irritable, or not being able to concentrate.
Get out of your chair. When you feel yourself heating up, get up and walk around before you have a major meltdown. Whether it's having a conversation with a coworker across the office or grabbing a cup of water, get up and momentarily distract yourself.
Walk around and exercise. If you don't have time to work out, regardless if you're in a suit or jeans, step outside and take a 30-minute walk during your break. This will invigorate you for the rest of your day.
Learn to meet challenges with humor. Humor in the workplace can immediately drop or diminish stress, so be sure to enjoy a joke from time to time -- and with a boost in mood, productivity may actually increase.
Strategize your to-do list. Grid your tasks so that you can easily find the home runs, and hit them first. These include the tasks that are both easy and will have a large impact. Organize by difficulty (easy, medium, hard) and then by potential impact (large, medium, small). Just by doing 20 percent of the work, you can potentially meet 80 percent of your goals.
Wake up earlier. Starting your day even 30 minutes earlier can make all the difference. In that time you can read the paper without distractions, listen to or watch your favorite news program, stretch and meditate, have breakfast, etc. This can make all the difference between frantically rushing to your desk and having time to ease into your day. Imagine the possibilities with an extra hour!
Pat yourself on the back, even if no one else does. You'll easily drain yourself of energy and motivation if you constantly are seeing the negative. Work hard and be proud.
Quote of the day (or week). Get a dry-erase board and write something that motivates you (you, not your coworker) and re-read it throughout your day. Whether it's comical/strange or educational/serious, words go a very long way.
Join an association. Find a network within your industry to share your thoughts. A peer group where you can discuss what's going on at work and in your life will alleviate some of that built up stress.
Cry. It's OK to be emotional. It means you have passion and care about what you're doing. Crying clears your body and mind so that you can get back to the action at hand.