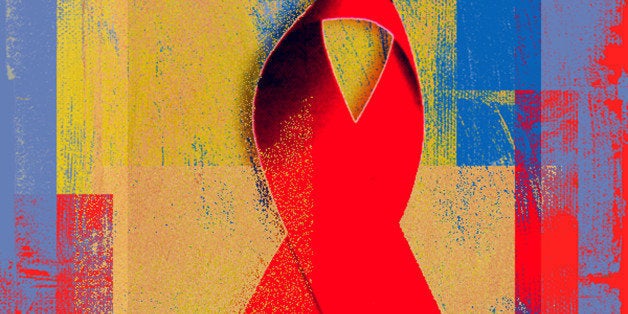 World AIDS Day 2014 is a time of sorrow and hope: sorrow for those killed by AIDS and hope for an AIDS-free generation. Last night over 600 of us gathered in San Francisco at the National AIDS Memorial Grove to pray for the dead and fight for the living.
As we lit candles and placed them over names carved in stone at the Grove's Circle of Friends, the enormity of loss -- 19,000 San Franciscans of 648,000 Americans killed by AIDS felt staggering. I hesitate to say "lost to AIDS" because the term is too benign -- as if, like car keys or cell phones, people are "lost" randomly and accidentally to a disease. No, AIDS patients are killed by disease abetted by stigma, their immune systems compromised and vulnerable to opportunistic infections -- and opportunistic politicians who saw no need to fund HIV research, treatment, or cures because AIDS was the "gay" cancer. Privilege is a helluva drug -- and a deadly drug when it came to fighting disease among minority populations. We did not "lose" people to AIDS -- we denied them the opportunity to be cured because the majority of leaders around the world either feared the unknown or condemned gay people or both.
My mother, Nancy Pelosi, told the AIDS Grove volunteers about her first speech as a member of Congress in June 1987, telling the House of Representatives "I came here to fight HIV/AIDS" and being scolded by colleagues who asked why she would want the first thing people knew about her was her association with a deadly, stigmatized disease. But that is of course why she was sent to Washington to fight AIDS -- because San Francisco "took the biggest bite of the wormy apple that was HIV/AIDS" in the 1980s. The conflated fear of disease and homophobia was a deadly and toxic blend that delayed AIDS care for years. Indeed, so many people -- gay and straight -- died because of that early politicization of "gay cancer" as a punishment or a curse that not even the sweetest memory of dear ones killed by AIDS lacks the bitterness of the heavy toll humanity paid for our own inhumanity.
The world is changing now, as 30 years of work to break stigmas and advance equality manifests in our lives both personal and political.
These changes are sparks of hope flickering among the candle flames: the very existence of the National AIDS Memorial Grove to celebrate people with AIDS whose funerals either excluded their gay partners or even the mention of their homosexuality; the survivors who have been living with HIV for decades who received their diagnosis as a death sentence and have managed their condition with medication; the loving couples holding hands bearing matching wedding bands; the mother in law who found her son's husband's deceased partner's name in the Circle of Friends and placed a candle. The story of AIDS and the story of LGBT equality are intertwined: As Nancy Pelosi said, "advancements in marriage equality would not have been possible without the early and courageous international mobilization against HIV/AIDS."
These sparks of hope form a larger light to the world: that individual conviction and international mobilization can save lives. We must, as President Barack Obama said in commemorating World AIDS Day 2014, commit billions of dollars globally to end the disease and to end "the stigma and discrimination that too often goes with it." We must take control of our own autonomy, agency and sexuality -- and fight people or policies that impose shame or stigma. We must provide medically accurate, culturally and linguistically competent healthcare information to public, particularly to our young people. We must get the facts about communicable diseases and fund care instead of vilifying patients. We must encourage people to know their status with free, fast and convenient HIV testing such as the United gates Centers for Disease Control and Prevention (CDC) provides. We must advance health care access and non-discrimination. And we must each work in our hearts, our families, our communities, and our society to advance equality if we are to achieve an AIDS-free generation.
REAL LIFE. REAL NEWS. REAL VOICES.
Help us tell more of the stories that matter from voices that too often remain unheard.