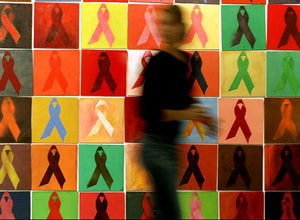 By Susan Blumenthal, MD, and Melissa Shive
For two months, ostracized and alone, nineteen year-old Marvelyn Brown slept on the gray vinyl seats of her 1996 Nissan Sentra in the parking lot of a Nashville, Tennessee, Walmart. When she visited her family, she used paper plates and plastic forks to eat so she wouldn't share dishes; all surfaces that she touched were wiped down with bleach. Her newly pregnant friend told her that she did not want Marvelyn around her child. In a matter of a few weeks, Marvelyn had lost the support of her friends and family--all because she had been diagnosed as HIV positive.
But Marvelyn's story is neither new nor unique. Her friends and relatives were suddenly confronting the realities of a potentially life-threatening infectious disease, and they responded to their lack of understanding about HIV/AIDS as many people do--with fear and mistrust.
Today is the 20th anniversary of World AIDS Day, and its message, "Stop AIDS. Keep the Promise," calls on global leaders to deliver on the promise of universal access to prevention, treatment, and care. Yet, despite two decades of progress in the fight against this disease, there is still widespread stigma surrounding HIV/AIDS in the United States and across the world--fueled by myths, a lack of knowledge about how the disease is transmitted, and value judgments about how it is acquired. Though many people are familiar with the concepts of ageism and racism, there is another pervasive, pernicious form of discrimination that deeply affects many people's lives and must also be given a name--"aidsism."
Stigma, or aidsism, is a major barrier to HIV prevention, diagnosis, care, and treatment. A national survey conducted last year by amfAR, The Foundation for AIDS Research, on HIV stigma in women found that one in five respondents would be uncomfortable even having a close friend who was HIV positive, and 59 percent would be uncomfortable with an HIV-positive woman as a child care provider. Since 1990, there has been no change in the percentage of Americans who mistakenly believe that HIV can be transmitted by kissing (37%), sharing a drinking glass (22%), or touching a toilet seat (16%).
Twenty-seven years after the emergence of HIV, first reported in San Francisco, AIDS has become an inextricable part of the modern world, with every country now reporting HIV infection rates. With 33 million people worldwide and 1.1 million people in the United States living with HIV/AIDS, this disease cannot be ignored.
The United States has provided significant funding to developing nations through the President's Emergency Plan for AIDS Relief (PEPFAR), but America's own neighborhoods need help too. Consider this: the number of African Americans living with HIV in the United States exceeds the number of HIV-infected people in seven of the 15 focus countries covered by the PEPFAR initiative. With an estimated 56,000 new infections annually in America, our country urgently needs a domestic PEPFAR with a comprehensive national strategy to eradicate the disease. Importantly, such a plan must include a clear definition of HIV/AIDS-related stigma, a standardized set of criteria to measure it, educational campaigns to eradicate it, and research to increase knowledge about its impact on HIV testing, treatment, and prevention, particularly in vulnerable populations, including minorities, women, and men who have sex with men.
As America turns a new page in its history with the landmark election of Senator Barack Obama as the 44th President of the United States, our nation celebrates the values of equality and justice upon which it was founded. His victory ushers in a new era in HIV/AIDS policy with the promise of a national AIDS strategy to stop AIDS and help end the discrimination that people with this disease experience every day. This is essential. On this 20th anniversary of World AIDS Day, despite the medical advances that have been made, Marvelyn's story serves as a powerful reminder of the struggles and indignities people living with HIV/AIDS still face. The anti-retroviral drugs that she takes to treat her disease have lengthened her life but cause side effects including nausea, diarrhea, vomiting, and mood swings. But Marvelyn says that those side effects are "still not the worst part of having HIV. It is the stigma."

*Rear Admiral Susan Blumenthal, M.D. (ret.) is the Senior Policy and Medical Advisor at amfAR, The Foundation for AIDS Research and a Clinical Professor at Georgetown and Tufts University Schools of Medicine. She served for more than 20 years in health leadership positions in the Federal government, including as Assistant Surgeon General of the United States, the first Deputy Assistant Secretary of Women's Health, as a White House Advisor on Health, and as Chief of the Behavioral Medicine and Basic Prevention Research Branch at the National Institutes of Health. Throughout her career, she has worked to eradicate HIV/AIDS. Dr. Blumenthal has received numerous awards including honorary doctorates and has been decorated with the highest medals of the US Public Health Service for her pioneering leadership and significant contributions to advancing health in the United States and worldwide.
Melissa Shive, a Fulbright Scholar and honors graduate of the University of Pennsylvania, is a medical student at the University of California, San Francisco and served as a Research and Policy Assistant at amfAR, The Foundation for AIDS Research in Washington D.C.
Marvelyn Brown is a 24 year-old native Tennessean who is now an avid AIDS activist and author of a new autobiography entitled The Naked Truth: Young, Beautiful, and (HIV) Positive.
For more information about HIV/AIDS, visit amfar.org

Popular in the Community