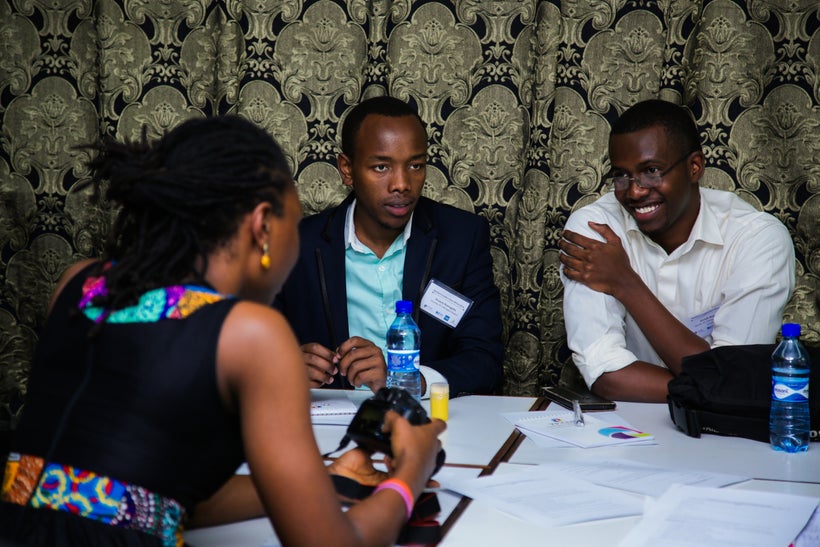 World AIDS Day is a day to remember and look back on the lives lost in the fight against one of the worst infectious disease killers humanity has witnessed. HIV/AIDS is a tragic disease that currently afflicts more than 40 million people worldwide, with some 18 million receiving treatment. Even though most of the AIDS agenda is lagging behind to this day, we've seen tremendous progress.
Before the turn of the century AIDS was considered a death sentence, especially for the world's poor. Medicines at first didn't exist due to a lack of financial interest, and when they finally did exist post 1996, they were dangerous and expensive. By 1999, the leading antiretroviral combination therapy (ART) cost just over $10,000 per person per year and was considered by most of the leading experts at the time to be an unobtainable solution to the global AIDS epidemic, especially in poor countries.
Western countries used any excuse they could to hide the fact that we just weren't willing to spend the money necessary on the world's poor. Former head of the United States' Agency for International Development (USAID), Andrew Natsios ignorantly said we couldn't treat Africans with AIDS because they "don't know what Western time is. You have to take these (AIDS) drugs a certain number of hours each day, or they don't work." A seminal study from Partners In Health in 2001 proved such notions false by showing how possible it was to deliver complex multidrug treatment regimens in poor countries, contributing to evidence that mobilized a growing movement for access to AIDS drugs worldwide.
With the work of advocates from all over the world, the price of ART dropped dramatically to $1 a day by 2001. At the same time, investments in development assistance for HIV/AIDS programs increased with the creation of the Global Fund to fight AIDS, TB, and Malaria as well as the Presidents Emergency Plan for AIDS Relief. These two programs jump-started what would become the modern age of global health financing, and have helped us get to the milestone achievement of 18 million people on ART. But we still have a long way to go, of course.
World AIDS Day merits reflecting on this story, and on what we can learn to better to treat the treatable and prevent unnecessary deaths from HIV/AIDS in the future. But it should also motivate us to think about how we can do the same for people affected by other treatable diseases worldwide, such as cancer, diabetes, and other so-called non-communicable diseases (NCDs), which are rapidly growing concerns in the same countries that were and continue to be hit the hardest by AIDS. Treatments for NCDs range from cheap generic statins all the way up to the world's most expensive gene therapies. The breadth of difference means that there is a fight to be had at every level and in every country, regardless of its income level, in order to improve access to NCD medications.
For example in the world of cancer, we have the technology to diagnose early, treat, and often times beat a cancer diagnosis, putting the disease into remission. In 2013, the Global Burden of Disease report showed that there were 14.9 million new cancer cases, and 8.2 million deaths worldwide. Cancer medications, their associated medications for secondary infections, and other costs easily put cancer patients into the $100,000+ spending range every year. In the U.S., many of these patients are shielded by insurance, but still pay thousands out of pocket in order to receive treatment. In poor countries, the prices alone usually just mean that patients die unless a health system finds a way to pay. One medicine—such as Herceptin (effectively used to treat 1 in 5 breast cancer patients), priced at USD 37,000 in South Africa and India—can wipe out a big portion of national health resources and impoverish families.
We often act as though such medicine prices are fixed, but they are not. These prices exist, because that is what people and governments will pay. People have created systems where pharmaceutical monopolies threaten affordable prices and shareholder value is maximized over human rights, and people can also change these systems. What the battle for HIV/AIDS medicines has taught us is that there is always space to shape the global medicines market to meet people's needs.
What the HIV/AIDS movement has also taught us is that advocacy is the key to change. Through advocacy, we can shape the medicines market, get more regulation for essential medicines prices along the supply chain, and hold governments and pharmaceutical companies accountable on their duties to uphold the right to health.
The Young Professionals Chronic Disease Network (YP-CDN), a nonprofit global health organization, is working to train and mobilize a cadre of healthcare professionals and patients to advocate for access to NCD treatment. As young professionals, we have an opportunity to influence political actors, the medical field, and even corporations to change their policies and practices, putting patients first. With a track record of wins, YP-CDN is working closely with HIV/AIDS advocates to realize the right to health more broadly.
What can you do right now to help? YP-CDN is running our #MultiplyChange fundraising campaign that will enable us to train local change makers to advocate for solutions that improve access to NCD treatment.
If everyone who reads this blog post would join in, it would take us less than a day to reach our goal. Will you join in today – and help us to #MultiplyChange on access to affordable medicines?
Calling all HuffPost superfans!
Sign up for membership to become a founding member and help shape HuffPost's next chapter
This post was published on the now-closed HuffPost Contributor platform. Contributors control their own work and posted freely to our site. If you need to flag this entry as abusive,
send us an email
.