Today, Tuesday, June 14, marks World Blood Donor Day 2016 -- an annual event to raise awareness about the need for blood donation on a global scale.
Ironically -- and tragically -- my blood and the blood of many of my queer brothers, sisters and siblings will not be accepted, despite the overwhelming need for donations.
There is still a ban on blood donations in this country from men who have had sex with men (MSM) in the past year (and women who have had sex with MSM) -- which is essentially to say that gay and bisexual men are still banned from giving blood in America. 
The reasoning behind the FDAs blood ban is, of course, rooted in anxiety surrounding AIDS. The agency recently told The Huffington Post, "The FDA's mission is to help ensure the safety of the blood supply. Although the current generation of HIV testing that is used to screen the blood supply is highly accurate, it is not perfect." 
While prohibiting an entire group of Americans from donating blood was discriminatory and just plain wrong to begin with, to suspect every gay man of having AIDS in 2016 -- and treating them as such -- is ridiculous.
I'm here to tell the FDA that this current policy not good enough -- and I refuse to sit by during another tragedy affecting the queer community and feel powerless to be proactive in efforts to help those affected. One of the most special things we can do as human beings is show compassion and empathy for one another – and there are few more authentic ways to do this than giving part of our bodies so we can give others a chance to survive.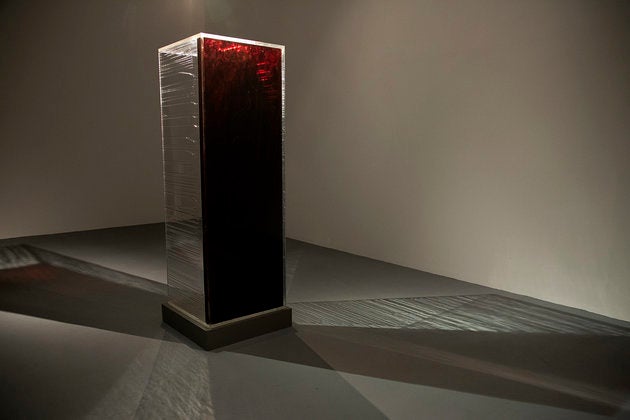 Eagle's "Blood Mirror" is a massive seven-foot-tall monolith, ongoing in its construction, that allows viewers to see themselves reflected in the preserved blood of the MSM who have contributed to its formation. 
"It doesn't matter if you are gay, straight, male, female, young, old, or where in the, world you were born," Eagles told The Huffington Post. "This is both an equality and science issue, that affects us all on so many levels. We have the ability to save lives and do what's right."
If you are in New York City, come to the High Line between 8:00 p.m. and 10:30 p.m. tonight in solidarity with not only the men taking part in this protest, but those who have lost their lives because queer people were not able to donate blood in times of crisis.
Together, we can change this discriminatory policy -- and ensure that we can always be there for our queer family, in every capacity, no matter what.
"Blood Illumination" will take place along the 14th street passage of the NYC High Line on Tuesday, June 14 from 8:00 p.m. - 10:30 p.m. Head here for more information about the event and here for more about #BloodEquality.
Calling all HuffPost superfans!
Sign up for membership to become a founding member and help shape HuffPost's next chapter