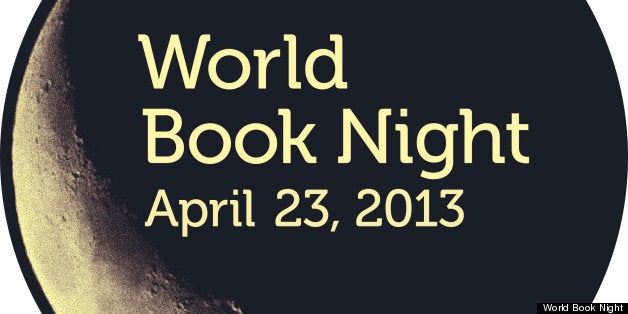 "A book is a gift you can open again and again." - Mark Twain
I'll tell you the truth -- I had no idea what I was doing when I applied to be this so-called "book giver". I did not execute any research on World Book Night or held even the slightest expectation that I would, in fact, become one of 25,000 out of hundreds of thousands of potential book givers. My daily mindless scrolling through my Twitter feed led me to a snippet of a so-called "World Book Night application deadline." I did what little math I managed to achieve and added up my unsurpassed adoration for books, my avocation for world literacy, my love for volunteering, and my ongoing attempts at building my resume, resulting in a perfect formula for qualification. So, I took the chance and applied.
I had three choices among 32 titles (all of which I have not read, to my dismay) to hand out (20 copies in all) to the bustling populace on campus. My first choice was Girl With a Pearl Earring by Tracy Chevalier (which fortunately was on my "to-read" list on Goodreads), Bossypants by Tina Fey (which I had purchased after Christmas, yet to start) and The Handmaid's Tale by Margaret Atwood (uh... the cover was pretty and the synopsis seemed cool.)
On February 20th, I got my congratulatory email, saying that I was among the lucky 25,000, and my chosen book was.......
Was I supposed to parade around with an "I ♥ BOOKS" shirt, yelling "Extra! Extra! Read every bit of it!"? Unfortunately, I didn't have the guts to exclaim this in such a fashion, nor did I possess the finances to make myself a graphic tee. I had to think of a way in which to abide by World Book Night's mission of "spreading the love of reading, person to person."
Before the thought of my mission or my totally free, totally exclusive twenty copies of Girl With a Pearl Earring remotely crossed my mind, I had to read the book. Since my finances are pathetically miniscule, to the library I went, reserving a copy.
Overall, I very much enjoyed Chevalier's writing, vivid and fluid in verse. The story was beautifully told, of course dominating the theatrical adaptation (sorry, Webber).
A month later, my convenient pick-up location of the campus bookstore was verified, and I patiently waited for my special box. A week or so before the fateful night, my GIVER BOX (as it was labeled) arrived, as well as a congratulatory letter and "I AM A World Book Night BOOK GIVER" sticker.
Before I knew it, it was the morning of April 23rd. With my sticker sticked, books bagged, and all systems caffeinated, I was ready to seize this damp morning with flawless awkwardness.
I eyed my first victim of the day -- a barista girl at the campus Starbucks (what goes better with coffee than books, eh?). I approached the register, ordering my usual, economically-friendly tall dark roast. As she was writing the initials on the cup, I blurted out my rehearsed introductory question, "Do you read often?" Barista Girl just looked at me, blinking as if she couldn't register my out-of-the-blue inquiry. At last, she told me she didn't read very often. "Ok, here you go!", I said, handing her a book, happily walking along with coffee in hand after thank-you's and you're-welcome's and have-a-good-day's.
One down, nineteen more to go.
Positive reactions of course came with their fair share of bitter ones, as a sugary gang of grapes do with their dreaded sour blokes. My former academic adviser thought it was hysterical that I was handing out free books to unsuspecting passers-by, while others simply shook their heads and waved their hands saying "No thank you", and "Nah, that's ok." Others simply brightened my day, including a girl who I met briefly in an elevator who seemed eligible for a random outburst of kindness from a curious stranger. "Oh, sure! Thank you so much! *Gasp* I bet this is better than the movie."
Well, that's always the case now, isn't it?
Despite the day being dedicated to volunteerism, I had classes to attend. To my happy surprise, a fellow classmate sitting right across from me was donning a World Book Night sticker like I was. I was tempted to blurt out "Hey! So, you're doing the Thing too?!" before class. But, that would have been a bit bunglesome. After class, I approached him about his book-giving situation and told me he handed out about three. To save ourselves a trip, we swapped books, hoping that we weren't breaking any rules. With a smile on my face, I walked along campus with a brand-new, special edition copy of Good Omens by Terry Practhett and Neil Gaiman (also on my to-read list), reveling in all its virgin-paged glory.
After what seemed like only a few hours, my eco-friendly tote bag's contents dwindled down to a mere few. I intended on saving two for my friend and her roommate who admitted they were very light readers.
In the end, my experience was humbling, realizing that I was a part of something that impacted communities across the country, promoting literacy and the joys of reading (media recognition wasn't bad either). And, yes, I am intending on reapplying next year, with different plans and more rehearsed executions.
Until next World Book Night!
Related
Popular in the Community