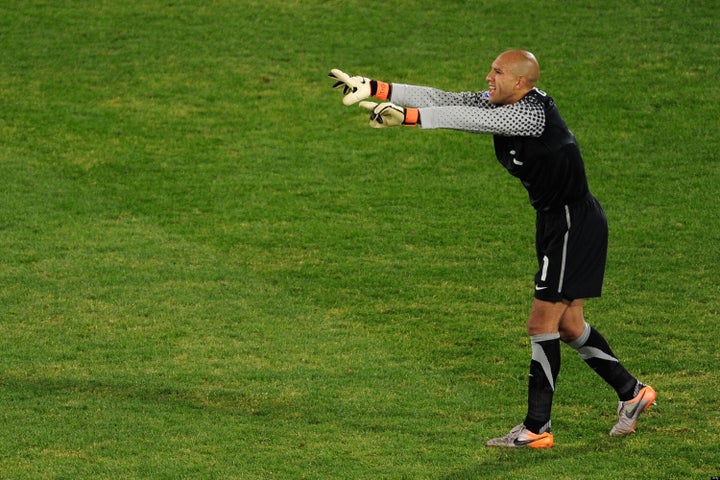 POSTGAME: The US had a thrilling World Cup but sadly in the end their luck was due to run out and it did tonight. They once again gave away a goal right out of gates and had to expend a lot of energy to fight their way back. The US did pull even after Donovan converted a penalty kick in the 62nd minute, but they couldn't finish off Ghana despite outplaying them in the second half after a dreadful opening 45 minutes. Conceding a quick goal after another defensive lapse in the early moments of extra time sealed their fate. And now Ghana has once again knocked them out of the World Cup. A lot to be proud of for the US, but no doubt they expected something more from this tournament.
PREVIEW: After emerging from Group C by the skin of their teeth thanks to Landon Donovan's last minute heroics, the USA now find themselves with as easy a road to the semifinals as they are likely to have in any World Cup. Uruguay awaits in the quarterfinals after beating South Korea, and while they have been playing outstanding so far this tournament, they are not as formidable as Brazil, Argentina, the Netherlands or Spain, all of whom the U.S. has mercifully avoided in their bracket.
But first they will have to defeat Ghana, a country that was responsible for sealing the USA's exit from the 2006 World Cup in Germany on a controversial penalty kick. The Black Stars proved difficult to break down at the back in their group games, and they are by far the most strategically disciplined of the African squads. Add in home field advantage and being the only remaining hope for the continent, and you can see why Ghana may prove a major obstacle to the USA's chances of advancing.
At the same time they failed to score a goal in the run of play during their first three games. (Both of their strikes have come from the penalty spot,) And so if Michael Bradley can once again dominate the play through midfield as he so often has this World Cup, and the U.S. attackers can find a way to grab a goal, that could easily be enough to see them through. The one thing to worry about for the U.S. defense is Ghana's speed, given that the US back line is not the quickest. Yet if the U.S. can keep a clean sheet like they finally did against Algeria, there chances of going through without resorting to penalty kicks seem favorable.

Calling all HuffPost superfans!
Sign up for membership to become a founding member and help shape HuffPost's next chapter