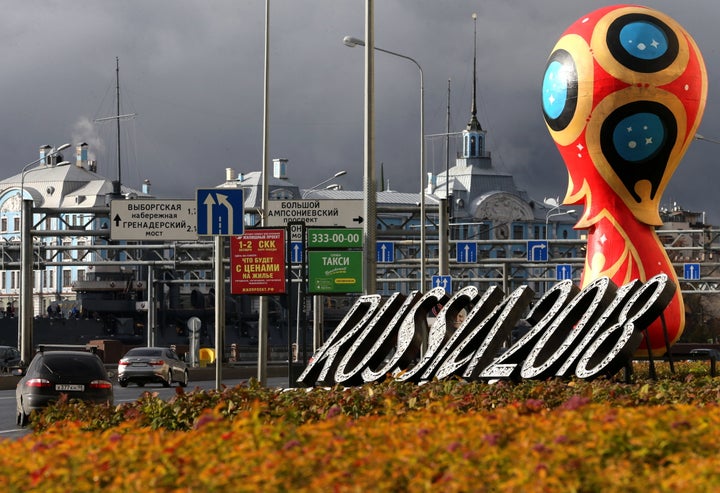 The 2018 World Cup in Russia is rapidly approaching. The United States and its allies would be wise to recognize the strategic implications of the event and agree on a joint approach before implementation becomes unachievable. The clock is ticking, however, and certain options will soon begin to fall off the table.
The worlds of geopolitics and sports often collide, though rarely does the relationship extend beyond practical public safety or global health issues, such as enhanced counterterrorism cooperation around big events or efforts to stem to the spread of Zika at the Rio Olympics. More often, international sports competitions are occasions for politicians to promote tourism, showcase local culture, rally national pride, and initiate infrastructure developments.
There are a few exceptions, however, in which such events took on strategic, even malign, foreign policy objectives. A prominent example is Hitler's hosting of the 1936 Olympic Games. In this case, the Nazi party was able to seduce global leaders with efficiency, cleanliness, and modernity to cover the truth of what lied beneath: racism, bigotry, and a truly evil master plan. While Hitler's attempt to influence and pacify the international community was acknowledged by some at the time—and indeed prompted several individual athletes to protest or boycott the games—the critical mass of public opinion failed to recognize the '36 Olympics for what they were, calculated misdirection, until Hitler's broader ambitions became clear.
In less than two years, Russia will have the opportunity to use the world's other most celebrated and prestigious sporting event—the World Cup—as a smoke screen to conceal its own nefarious geopolitical agenda. Putin's successful bid to host the 2018 World Cup could plausibly be seen the crown jewel of an active and systemic propaganda campaign meant to undermine Western unity, further consolidate power, and potentially create a diversion for something more sinister. The opportunistic Russian president has a history, after all, of capitalizing on the distractions provided by major sporting events. Recall, for example, that Russian military convoys were first sighted in Crimea on February 23, the day of the closing ceremonies of the 2014 Sochi Olympics; and that Russian tanks rolled into Georgia on August 8, the day of the opening ceremonies of the 2008 Beijing Olympics.
At the upcoming World Cup, Putin will attempt to work his way back into the good graces of global public opinion. In doing so, he is betting that his violent dalliances in Ukraine and Syria, lethal support to separatists that resulted in the downing of a commercial airliner, suppression of human rights, interference in foreign elections, and aggressive encounters in Eastern Europe will be overlooked or forgotten by foreign audiences in exchange for a good show. This is a dangerous proposition that could potentially impact the United States' leverage in dealing with the Russia challenge, including its ability to rally European support to maintain Ukraine-related sanctions.
U.S. Ambassador to the United Nations Samantha Power cautioned against falling for such tactics on September 17 following Russia's call for an emergency session on Syria at the United Nations Security Council: "It's a diversion from what is happening on the ground … When you don't like the facts, you try to create attention somewhere else. It's the classic magician's sleight of hand. Get the world and the media to focus here, so they will take their eye a little bit off what is happening over there. What's happening over there is so important."
Against the backdrop of the FIFA corruption scandal, organized Russian hooliganism, and state-sponsored doping that disqualified more than a hundred Russian athletes from competing at the Rio Olympics, the world of sports has engaged in a comparably more active conversation regarding the continued appropriateness of Russia hosting the World Cup in 2018. At last count, more than 25,000 people had signed an online petition in favor of moving the event following Russian-instigated violence at the recent EuroCup in France. BBC sports commentator Alan Green has likewise said he will skip the World Cup due to fears of fan violence. UEFA, European soccer's governing body, voted down the idea of an English Football Association-led boycott due to FIFA corruption, but at least they had a spirited conversation. By contrast—and despite having an equally long list of geopolitically-themed grievances—the world of politics has been deafeningly silent on this issue.
The one world leader who has spoken out, perhaps predictably, is Ukrainian President Petro Poroshenko. In a March 2015 interview in Berlin, he called upon Ukraine's friends to consider boycotting the 2018 World Cup, stating, "I think there has to be discussion of a boycott of this World Cup. As long as there are Russian troops in Ukraine, I think a World Cup in that country is unthinkable." Beyond Poroshenko, no other world leader has publicly taken issue with the grand stage being afforded Russia as host of the World Cup. There were rumors that the European Union considered adding a 2018 World Cup boycott to its list of sanctions in 2014 following the downing of Malaysian airliner MH-17, but the idea was dismissed as too divisive and ultimately less urgent.
Russian aggression has inspired U.S. presidents to boycott major international sporting events in the past. Indeed, the most well-known sports boycott was of the 1980 Summer Olympics in Moscow. In response to the Soviet Union's invasion of Afghanistan, President Jimmy Carter organized a global coalition of more than 60 nations to boycott the games. While it could have been better executed and elicited a strong rebuke from the athletes themselves, the boycott was supported by the American public and sent a strong signal to the Soviets, who had invested quite a bit of financial and political capital in the games. In turn, the Soviets staged a retaliatory boycott of the 1984 Summer Olympics in Los Angeles and were joined at their alternative event, the Friendship Games, by 14 Soviet-aligned nations.
As with the 1980 boycott, protesting the World Cup would be unlikely to change Russia's behavior. However, a similarly bold show of righteous indignation today could deny Putin the strategic messaging opportunity he so desires and potentially offer one to the United States and its allies, if well-executed. A boycott, combined with an alternative event, may even be welcomed (or at least not opposed) by the sports community given their own concerns over both Russia and FIFA. For a World Cup boycott to resonate, however, it must be supported and widely joined by the Europeans, including soccer powerhouses Germany, Spain, Italy, the Netherlands, England, and France. Since the World Cup was established in 1930, European teams have won 11 of the 20 tournaments, and 15 other European teams have appeared in the final championship match as the runner-up. Their absence would be a fatal blow to the event.
For the next U.S. administration, it may be worth considering some kind of reaction as part of a broader Russia strategy review to demonstrate strength and resolve in the face of Russia's aggression. The window to stage an alternative event, however, is rapidly closing given planning requirements. At a minimum, a discussion with our allies on a joint approach to the 2018 World Cup is warranted. If the decision is to do nothing, at least let this be the result of a thoughtful consideration of the pros and cons, and done in full acknowledgment of the potential consequences.
Calling all HuffPost superfans!
Sign up for membership to become a founding member and help shape HuffPost's next chapter