Soccer matches are chock-full of heart-wrenching missed goals and remarkable saves (here's to you, Tim Howard). And every once in a while, there's a winning shot so incredible you talk about it for years to come.
These dramatic hits and misses are what inspired a British graphic designer -- and devoted Manchester City soccer fan -- to document some of the most significant moments in the sport's history.
Though Rick Hincks has been developing these posters since last November, he says the World Cup gave him a chance to further develop his designs and add to his series.
His simplistic designs don't include people or grass; they're just stripped down replicas of iconic moments represented in two colors: white and the color of the team. Each poster shows players' positions (depicted by their number), the ball's trajectory and the points at which the ball may have bounced off the ground or the goal post.
Among the artist's collection are depictions of USA goalkeeper Tim Howard's 16 saves against Belgium in the 2014 World Cup and, Hincks' personal favorite, Manchester City's Sergio Aguero's last-minute goal against the Queens Park Rangers in May 2012.
(Story continues below)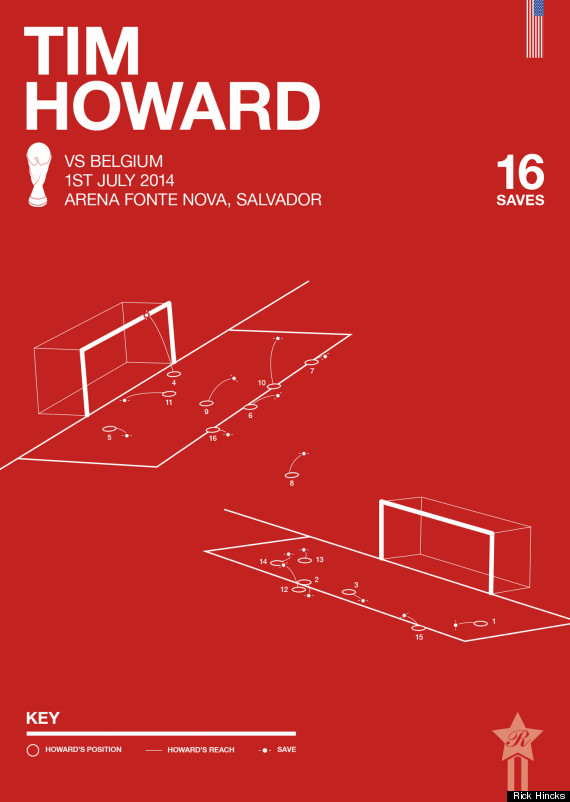 USA goalie Tim Howard's 16 saves against Belgium at the 2014 World Cup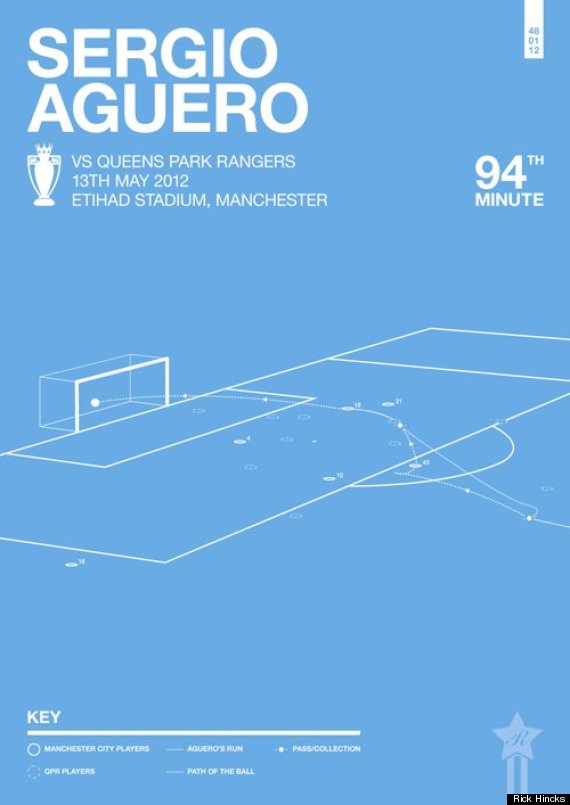 Manchester City's Sergio Aguero's winning goal against the Queens Park Rangers in the 94th minute of the May 2012 match.

To create his designs, Hincks spends hours looking at various camera angles of the specific moment. He then screengrabs as many frames as necessary to capture the correct trajectory and position of players in the shot. He says the process of creating the prints, which are available for purchase on his website, can be hard at times.
"The difficulty comes in tracking the movement. I've been asked if I use data and co-ordinates, I wish," Hincks told The Huffington Post in an email. "Some are really basic such as penalties or free kicks, others are quite complex, such as long runs, a lot of passing or where the ball bounces a lot. Other factors such as camera operators who like to zoom, low res footage and poor pitch markings cause a few problems at times."
Fans can even request specific moments for Hincks to recreate.
"I've had plenty of requests for incidents, own goals and classic misses," he told HuffPost. "John Terry's miss [in the 2008 Champions League final] being a popular request of my United mates. "
Hincks says the response to his work has been overwhelmingly positive.
"I think the best response is being told by people who aren't interested in football that they are happy for their partner to hang [the piece] in their house. Even though it's a football print, it means that the design is being respected and not just the sporting moment," he said.
Check out more of Rick Hincks' designs, below: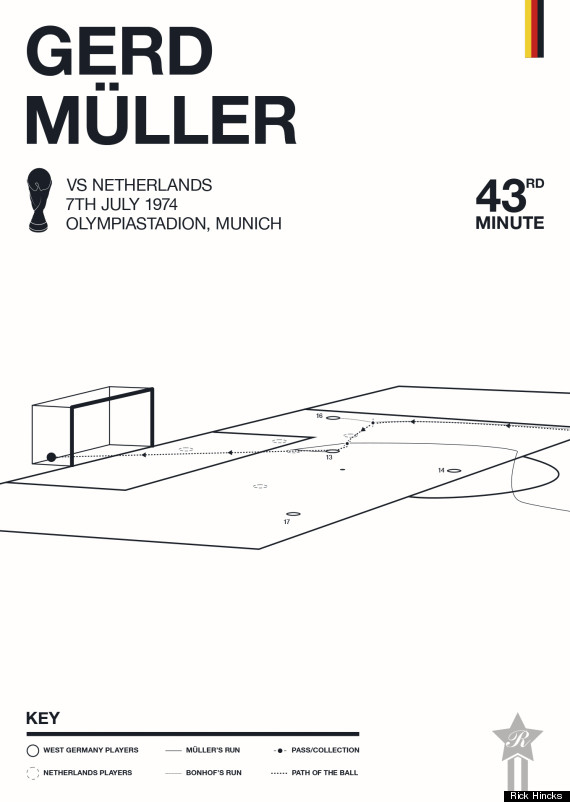 West Germany's Gerd Müller winning goal against the Netherlands at the 1974 World Cup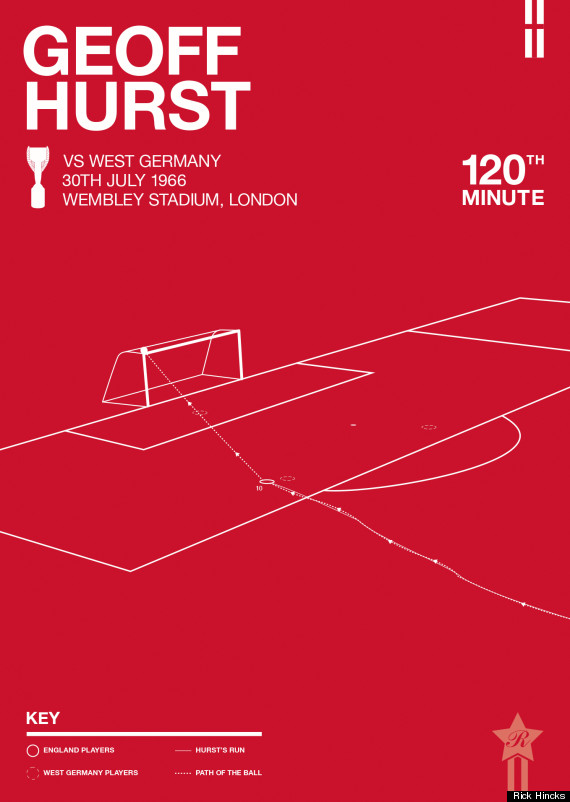 Popular in the Community