As the ringing of in our collective heads from the beloved/hated vuvuzelas subsides, let's take a look at the most important thing we've learned about the greatest soccer players in the world. Who's hot. And who's not.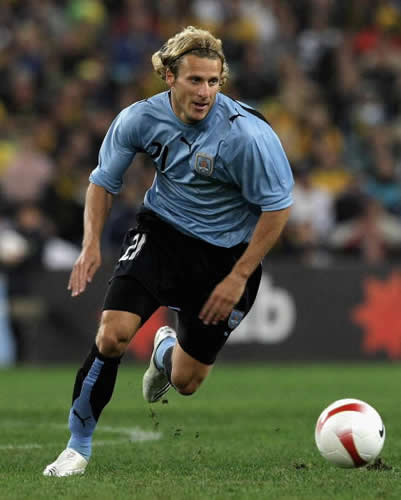 (picture from Sistemastintegrales)
ALL-HOTTIE TEAM
DIEGO 'THE MATADOR" FORLAN, URUGUAY. Looks as fabulous as he plays, has officially been named World Cup #1 hottie.
WESLEY SNEIJDER, NETHERLANDS. He may be small, but you just know he can go all night long, and he'll show you things you never saw before.
LANDON "THE MAN" DONOVAN, USA. I never thought of Landon as hot until he roofed that ball over the Slovenian keeper, scalding the poor man's scalp. He came into the World Cup a Manchild, and left Landon the Man.
RICHARD KINSTON, GHANA. Massive, talented, great bone structure. He stands tall and he's got great hands.
MEZUT OZIL, GERMANY. A temperamental artist with crazy flashes of brilliance, you never know quite where he's going to turn up, but when he does, good things will happen.
TIM "T-HO" HOWARD, USA. Battered ribs, bone-shattering assaults, seemingly heavily sedated defense, none of it fazed him. Coming up huge over and over, flying through the sky like Superman, T-Ho cemented his position is not just one of the greatest goalies in US history, but in the world at the moment.
GIOVANNI VAN BRANKHORST, NETHERLANDS. Laid-back, never in a hurry, lulls you into a sense of false security, then when you least expect it, he unleashes a thunderbolt worthy of Zeus.
GABRIEL HEINZE, ARGENTINA. Graceful as an angel, face of a sweet schoolboy, he's all silky skills until everything is on the line, then he plays like his hair's on fire.
CARLOS "THE BEAST" PUYOL, SPAIN. Sporting the worst haircut at this World Cup, a mindbending combination of Prince Valiant and Conan the Barbarian, he has a beauty-and-beast appeal that takes you by surprise and gets all up in you before you even know it's there.
MAICON, BRAZIL. Beautiful black bald head encases brilliant soccer brain. Tough, savvy, classy, skillful he will make you fall in love with them what you want to or not.
GIOVANI DOS SANTOS, MEXICO. Young, pretty, single and ready to mingle, he looks like he could step right into Menudo and never miss a beat.
ALL-NOTTY TEAM
CRISTIANO RONALDO, PORTUGAL. Pretty boy becomes petulant poser. No statue for you, Ronaldo.
WAYNE ROONEY, ENGLAND. By the end of the World Cup, after he had cursed his fans, who were cursing him following another loveless game, it was easy to imagine Wayne with a beard running a pig farm.
COUILBALY OF MALI. This alleged referee gave one of the most shockingly appalling displays ever seen on a world stage, robbing USA of a goal and disgracing himself forever.
RAYMOND DOMENECH. French coach lost control of himself, and his troops. Clueless and arrogant combined in a physically repulsive package.
ALEXI LALAS. Who knew this American commentator would be so shockingly dull without his long hair and goatee? If you're having trouble sleeping, this man will help, he is like human tryptophan.
EMILE HESKEY, ENGLAND. Lumbering around like a dinosaur on its way to the tar pits, he was a sad symbol for an old and tired England.
NEMANJA VIDIC, SERBIA. Vidic the Vicious turned into Vidic the Limp. Shocking how this immensely talented and powerful defender left himself get pushed around by 98 pound weakling Tim Cahill of Australia. Not sexy.
FELIPE MELO, BRAZIL. When he viciously stomped on the fallen Arjen Robben, he doomed the damned Brazilian squad to failure and forever branded himself an ugly thug.
FABBIO CANNAVARO, ITALY. World-beater to old clumsy has-been in the blink of my, this former champion should've spent this World Cup sitting in an espresso bar drinking caffeinated beverages.
FERNANDO TORRES, SPAIN. Even his world-class beauty couldn't stop him from making the All-Notty list. First, going from a blonde to brunette was not a good career move. Plus, when he was on the field, he sucked.
ARJEN "THE FLOPPER" ROBBEN, NETHERLANDS. One of the most talented players in the world, he continuously embarrasses himself and the sport by acting like a wounded pantomime pony in a kid show, flopping and writhing on the ground like he's been shot, when in fact he's only been hit by a stiff breeze.

David Henry Sterry is co-author, along with Bay Area literary legend Alan Black, The Glorious World Cup: A Fanatics Guide, for those who like their soccer with a side of kick ass.
http://www.facebook.com/pages/The-Glorious-World-Cup/302676965935
http://www.thegloriousworldcup.com


Calling all HuffPost superfans!
Sign up for membership to become a founding member and help shape HuffPost's next chapter