Like many other Americans, I have been struck by the soccer mania that has spread in the wake of the U.S. team's strong performance in the World Cup. Baseball may be my favorite sport, but it's hard not to get caught up in the enthusiasm of so many people watching the games at office parties, inside bars or on mobile devices at coffee shops.
As a marketer, I am intrigued by the case study that the World Cup offers brands and retailers on how to reach people when big events are occurring, such as the World Cup, the Superbowl, or the U.S. Presidential debates.
To get some perspective, we can look across the pond to England, where soccer -- or more accurately, football -- is hugely popular. According to Criteo's data on online shopping experiences in the United Kingdom, the number of page views on advertiser sites in the United Kingdom fell by 15 percent during England's game against Uruguay on June 19, which was a do-or-die game for England.
During the last 15 minutes of the game, sales were down by 13 percent compared to the same time a week earlier. In comparison, sales dropped by only two percent during the last 15 minutes of England's game against Costa Rica.
For more information, see the charts below, from Criteo's data, comparing the share of daily ecommerce sales in five-minute increments, compared to the time of day.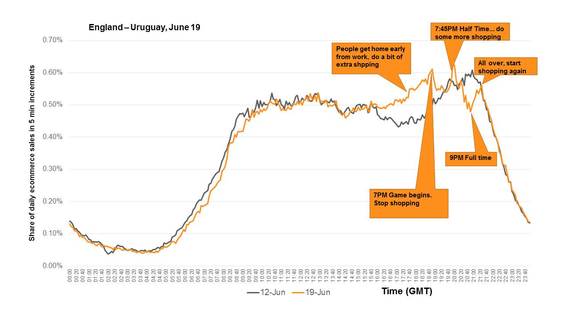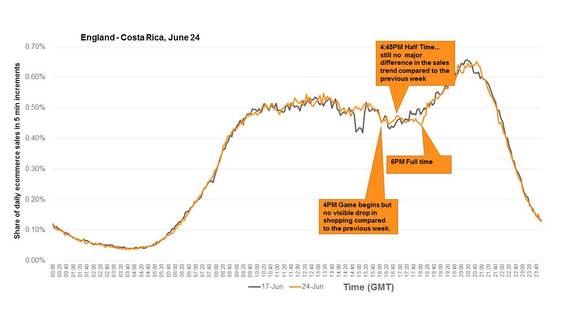 Those are incredible swings and point to the importance of engaging with customers at the right time, when they are in the market for your product or service. This tells me that brands and retailers must work with their advertising companies to thoughtfully consider the buying patterns of their consumers and would-be consumers.
We are all on-the-go so much more today, with many people shopping late at night while they are returning e-mails, watching television, streaming content on their laptops, or catching up with friends on social media sites. But just because your customers are online, don't expect them to necessarily be prepared to purchase your good or service -- especially if there is a good soccer game on the tube.
REAL LIFE. REAL NEWS. REAL VOICES.
Help us tell more of the stories that matter from voices that too often remain unheard.