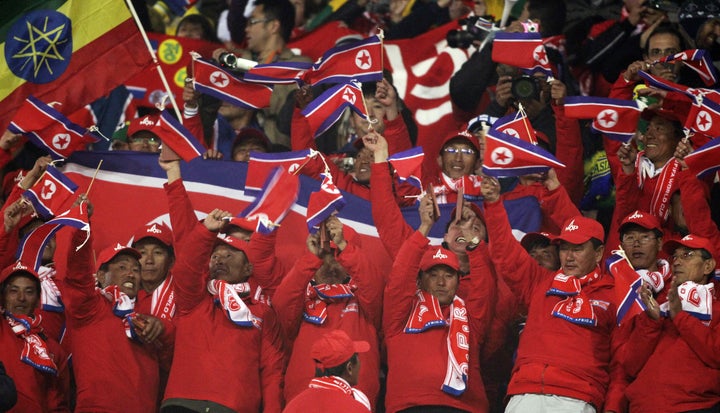 If you watched North Korea play a hard-fought game against Brazil in the World Cup on Tuesday, you may have wondered how all those North Korean fans were able to attend the game given the nation's dire economic condition and dictator Kim Jong Il's strict prohibitions on leaving the country.
Commentator Martin Tyler (in the video, below) answered your question:
We are told that the supporters of North Korea aren't North Koreans--they're handpicked actors from China who have been sent here to act out the part of North Korean fans. I haven't found one I can speak to, who can speak back to me to tell me whether that's the case--I doubt he'd tell me the truth if that is the case.
Although the news has been circling the Internet for a month, AOL's Fanhouse brought to our attention yesterday that North Korea provided 1,000 tickets to a group of Chinese fans, including actors and musicians, to fly to South Africa for the game.
China, who is one of North Korea's closest allies in the world, failed to qualify for this year's World Cup. North Korea hasn't played in the tournament since 1966.
Popular in the Community