The World Cup of Hockey is making its long-awaited comeback in the coming weeks, returning for the first time since 2004. This tourney will feature teams from Canada, the United States, Russia, Czech Republic, Sweden, Slovakia and Finland, but will also feature All-Star Teams from two continents: Europe and North America. It is the latter of these two squads that proves to be unique compared to the others.
Team North America will consist of American and Canadian-born players, all under the age of 23. With this comes a flow of doubt, as well as questions as to if a team with little NHL experience, veteran presence and long-tenured players can hold up in the tournament against the rough-and-tumble teams with years of practice, experience and perfection of the game.
When it comes to older guys in the League, such as Team Canada and Los Angeles Kings defenseman Drew Doughty, it would be somewhat humiliating to lose to a team.
"As the older guys in the League, there's no way you want to lose to the young bucks," Doughty told PostMedia. "The League's all about being a veteran and having experience. So there's no way you'd want to lose to them."
It is somewhat true that the NHL relies on veteran presence. The older players that have the know-how of the function of the league and how to win hockey games are often times the ones who prove more successful.
However, when it comes to Team North America, the void of veteran presence could be filled by overwhelming talent from its young, star-studded roster.
Edmonton Oilers centre Connor McDavid, who is on the path to becoming one of the best players in the game, headlines the roster, along with 2016 first-overall pick Auston Matthews, breakout forward Mark Scheifele, star winger Jack Eichel, dark horse defenseman Shayne Gostisbehere and even incoming sophomore Matt Murray, who led Pittsburgh to its 2016 Stanley Cup championship with an outstanding rookie campaign.
"If you look at who is going to be on these rosters... it's pretty hard to conclude anything except that this is going to be the best collection of hockey talent that has ever been around in this kind of a tournament. Usually when that happens, you get the best hockey played." -NHLPA Executive Director Donald Fehr
Along with the young talent, as well as obvious skill, the team will be coached by current Oilers head coach Todd McLellan, who previously served as the bench boss of the San Jose Sharks. McLellan led San Jose to multiple Pacific Division titles and playoff berths and is also currently leading Edmonton in its rebuild.
Though McLellan is not sure of how the team will perform, and knows that there is an overcast of hesitation and doubt when it comes to the U-23 team's potential, he sees these questions as a blessing in disguise.
"We really don't know what we have and how we'll react; we think we'll have a real fast team, young legs," McLellan told NHL.com. "Cna the team come together and who's going to elevate themselves in a leadership capacity? We're looking for that. I think the pressure on us is to go in and upset, where the pressure on some of the other countries like Canada and the United States is to win, so we'll happily take that underdog role and see if we can make it hard on some of those countries."
McLellan also mentioned that the "underdog-type team" has "energy" to make up for the fact that they are "youthful" and "haven't fully developed yet at that age."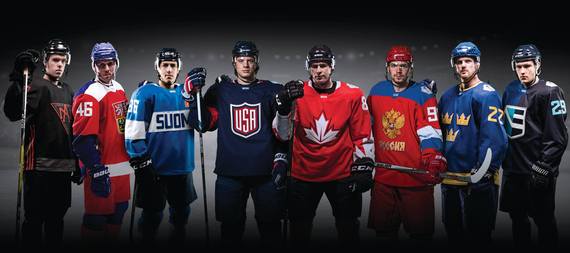 Team North America is considered an underdog. Photo from the NHL official Facebook page.

In the end, the young players know that it will take hard work, dedication and overall skill to prove they can compete against the more experienced, big-name clubs. They also believe that they will earn more respect, as they are being greatly underestimated.
McDavid, who could be named the captain of Team North America and the Oilers in these approaching weeks, referred to the team as having "quiet confidence," something that could help them stun in the upcoming tournament.
"I think the vets look at the young guys, the rookies and think they can't lose to us," McDavid told the media. "There's not a whole lot for us to lose in this situation. A lot of people looking in don't really expect too much from us, but we definitely have the talent to surprise some people."
In the end, this team may seem like they lack experience, and when matching them up against the other squads in the tournament, they look like the underdogs. They may not be older veterans with years of NHL games under their belts, but what they do have is determination, impeccable skill, talent and a stacked roster.
"Our biggest challenge will be gaining respect," Team North America and Florida Panthers defenseman Aaron Ekblad told NHL.com. "We're a young team and we don't have a lot of expectations going into it, but we do have a chance to win it. You look at some of the names on our team and we have some players who can do some damage. You see them doing it in the NHL. We are definitely a team you don't want to take lightly."
Calling all HuffPost superfans!
Sign up for membership to become a founding member and help shape HuffPost's next chapter