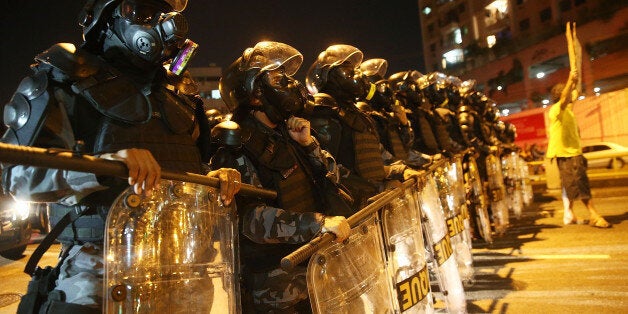 RIO DE JANEIRO, June 15 (Reuters) - Police blocked a small group of anti-World Cup protesters who were trying to reach the Maracana stadium in Rio de Janeiro on Sunday, before Argentina played Bosnia in the city's first game of the tournament.
About 150 bandanna-clad protesters carrying banners that said "Fifa go home" marched towards the stadium, causing some stores to shut their doors temporarily and one metro station to close briefly.
Police mounted on horseback formed lines to block the group's path to the stadium. Some deployed gas canisters and one protester was doused with pepper spray, local television station Globo News showed.
A spokesman said the military police were still compiling information on the protest and declined to comment otherwise.
A similar sized march was held ahead of the Switzerland-Ecuador game in Brasilia on Sunday, but the peaceful demonstrators simply laid down their banners in front of a police cordon and dispersed when the game started.
Protests against the World Cup have tapered off since Thursday, when police used stun grenades and tear gas against up to 600 masked protesters who were ripping up street signs and otherwise committing vandalism as they tried to reach Sao Paulo's Corinthians stadium on the tournament's opening day.
At least six injuries were confirmed, including several foreign journalists.
But anti-World Cup protests have never reached the size of the widespread demonstrations that rattled Brazil a year ago, when up to a million Brazilians at a time took to the streets to protest issues ranging from corruption to police violence.
The tournament, now in its fourth day, has been much smoother than many expected and some days have been entirely protest-free.
While many Brazilians believe the $11 billion spent to build stadiums in 12 host cities could have been better spent, most have resolved not to cause disruption as their country welcomes some 800,000 foreign visitors for the month-long event. (Reporting by Rodrigo Viga Gaier; Additional reporting by Anthony Boadle in Brasilia; Writing by Caroline Stauffer; Editing by Sandra Maler)
Calling all HuffPost superfans!
Sign up for membership to become a founding member and help shape HuffPost's next chapter